Tom Hanks Mourns Michael Clarke Duncan, Joins 'Stand Up to Cancer'
Tom Hanks, a friend and co-star to Michael Clarke Duncan, has not only offered his condolences to the fallen star, but has also signed on to a Stand Up to Cancer telethon.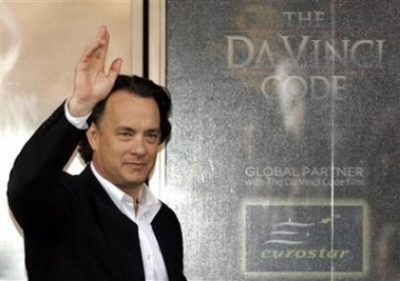 The hour-long television special will be the third of its kind and is set to air Friday on CBS, ABC, Fox, and more than a dozen cable channels.
Duncan died of natural causes at age 54 on Monday. The actor had suffered a heart attack in July and did not recover.
In 1999, Duncan starred alongside Hank in perhaps his most memorable performance as John Coffey in "The Green Mile."
The unexpected death of the actor left Hanks "terribly saddened … at the loss of Big Mike" this week, according to CNN.
"He was the treasure we all discovered on the set of 'The Green Mile,'" continued Hanks. "He was magic. He was a big love of man and his passing leaves us stunned."
Duncan leaves behind his mother, Jean, and his sister, Judith, as well as his fiancée, actress Omarosa Manigault.
In light of Duncan's abrupt death, Hank is reportedly joining a slate of recently announced stars at the Stand Up to Cancer telethon such as Eric Stonestreet, Ray Romano, Felicity Hoffman, Rocco DiSpirito and Maura Tierney.
Also, organizers said that Hollywood superstars including Julia Roberts, Matt Damon, Michael Douglas, Jessica Biel, Samuel L. Jackson, Jeremy Renner, Emma Stone, and Gwyneth Paltrow would be participating in the Stand Up to Cancer telethon.
Paltrow is an executive producer of the fundraiser, which will be commercial-free beginning at 8 p.m. EST from Los Angeles.
Taylor Swift, Tim McGraw, Coldplay and Alicia Keyes are set to perform during the special, and patients participating in Stand Up to Cancer trials will share their experiences.
Other A-list celebrities such as Halle Berry, Justin Timberlake, Sofia Vergara, as well as Olympic gold medalists Gabrielle Douglas and Missy Franklin are rumored be involved in the telethon.
Stand Up to Cancer has raised more than $180 million for cancer research and awareness since the first one took place in 2008. The event features a celebrity phone bank that allows donors who call in to have a phone conversation with the stars.
In Memoriam: Michael Clarke Duncan Before Fame