Usher Stepson Brain Dead, Celebs Tweet Support and Prayers
Usher Raymond's 11-year-old stepson Kyle Glover has been declared brain dead just two days after he was struck in the head by a passing jet ski while riding on an inner tube in Lake Lanier, Ga.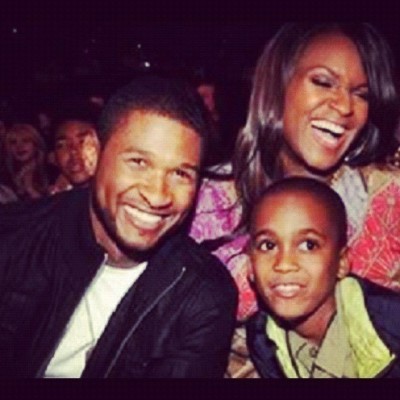 Despite currently being embroiled in a bitter child custody battle with his former wife Tameka Foster, the "Climax" singer chartered her a private jet so that she could fly to be by her son's side shortly after the July 7 accident.
Glover, the son of Foster's ex-husband Ryan Glover, was quickly air-lifted to Children's Healthcare at Egelston Hospital in Atlanta and there has not been any decision as to whether to take him off life support, according to TMZ.com.
"He's bad," Foster told Radar Online about Glover's condition.
Several celebrities and close friends of Usher took to social networking site Twitter to offer their support.
"My prayers go out to Usher and his family!" Tia Mowry tweeted.
"My heart hurts for Kyle Glover, @TamekaRaymond's 11 yr old son. Praying for her, Usher & family. #motherlove," Sherri Shepherd tweeted.
"Cant sleep.Thinkin abt life & how quick things can change.Tameka/Usher's situation really got 2me.Cant let my son go rt now.#Holdinghimtight," Royce Reed tweeted.
"My prayers go out desperately to Tameka and Usher Raymond. May God shine light on your entire family," Wendy Williams tweeted.
"My prayers go out to Usher @UsherRaymondIV and his family. His stepson was declared brain dead after a jet ski accident. Please pray 4 them," Donny Osmond tweeted.
"If u pray, please pray....RT @TMZ: Usher's Stepson Declared Brain Dead by Doctors http://www.tmz.com/2012/07/08/usher-tameka-foster-stepson-brain-dead/ #breaking," niecy nash tweeted.
"My prayers go out to Tameka and Usher. Please everyone pray for them and their family. #StrengthNPrayers," Angela Renee Simmons tweeted.
"My heartfelt prayers for Tameka and Usher. Can't even imagine... http://bit.ly/L2AMH7," Russell Simmons tweeted.
Foster recently requested prayers for her son in a statement that she posted on her Facebook page.
"Kyle, You are strong.. You'll be saved I know it. I love you my baby. I need all #Prayers for my son! thanks you everybody!" Tameka wrote on her Facebook page.
Usher's Ex Wife Tameka Foster Son Declared Brain Dead After Jet Ski Accident