Voula Papachristou, Greek Triple Jumper, Booted From Olympics for Racist Tweet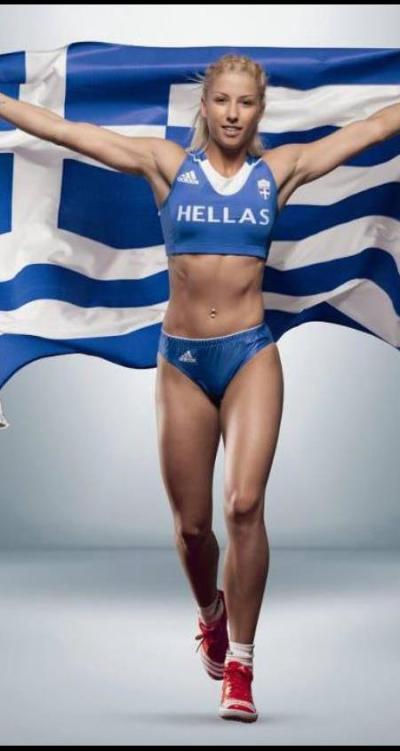 Voula Papachristou's offensive and possibly racist tweet ended up in Greece banning their own triple jumper from the Olympic games. Her posting about Africans, support for a far-right political party, and pictures of guns were at odds with the spirit of the competition, according to reports.
Voula Papachristou tweeted "With so many Africans in Greece… At least the West Nile mosquitoes will at least eat homemade food!!!" as translated by the Keep Talking Greece website. While she was referring to the West Nile virus in Athens that had broken out, many were offended at the posting.
Soon after, the 23-year-old blonde was expelled from the 2012 Olympics.
Paraskevi "Voula" Papachristou was "placed outside the Olympic team for statements contrary to the values and ideals of the Olympic movement," according to the Green Olympic Committee's statement.
The committee's reference to "statements" is most likely her other tweets encouraging her 7,253 followers to support Golden Dawn, a far-right, Greek extremist political party with ties to neo-Nazism, facism, nationalism, and politically-inspired violence. In the May 2012 elections, the party ran with the slogan "So we can rid this land of filth"- possibly referring to their anti-immigrant stance.
Realizing her mistake after being kicked out of the Games, Papachristou apologized for the "tasteless" joke, assuring the world that she does not "believe in discrimination."
"I would like to express my heartfelt apologies for the unfortunate and tasteless joke I published on my personal Twitter account. I am very sorry and ashamed for the negative reponses I triggered, since I never wanted to offend anyone, or to encroach human rights," she wrote on her Facebook page.
"My dream is connected to the Olympic Games … I could never believe in discrimination between human beings and races," she continued, adding that she apologized to her national team, coach, and family.
Voula Papachristou Booted From Olympics for Racist Tweet