At World Vision's Give-Back Gift Shop, a tree full of hopes and prayers and a push from Sadie Robertson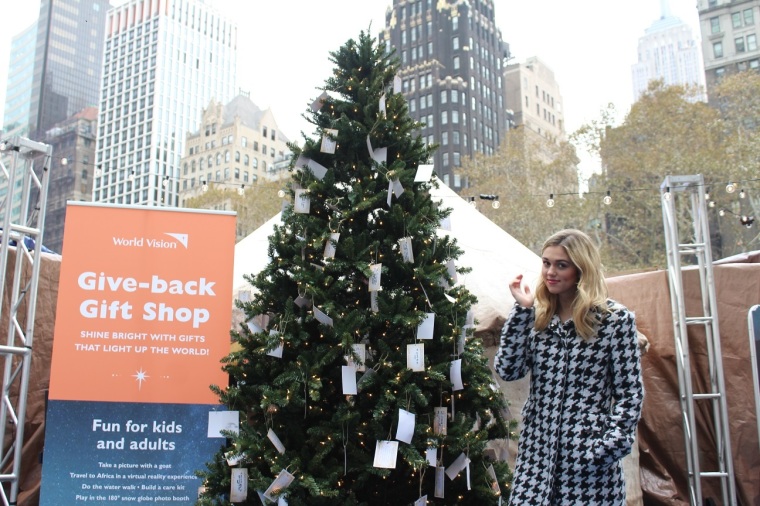 NEW YORK - There were scores of them scribbled on neat little postcards dangling quietly on a Christmas tree in the middle of the outdoor pop-up shop – hopes and prayers.
"I pray that hatred, intolerance & bigotry will stop. That all creatures of this planet will have enough to eat," said one note.
"Lord, please bless my family, friends, our city and our world. Help us to live for you and let our light shine," another said.
The tree full of hopes and prayers is a special feature of global Christian humanitarian organization World Vision's interactive pop-up shop inside Bryant Park's Winter Village.
"I think that's really special. I love analogies. I love visuals and so this is a great visual to tell kids, 'what do you hope for for kids around the world?' and bring this hope into this tree and show that when you hope for something it lights up this tree," Sadie Robertson, actor and former reality television star known for the A&E show "Duck Dynasty," told The Christian Post.
Robertson who began working with World Vision this year after they became sponsors of her Live Original Tour, said she was inspired to support  the organization's Give-back Gift shop after learning about the many projects World Vision works on at home and abroad to improve the lives of those in need.
"It's a great analogy for kids to see when you start to hope for people around the world it lights up the world …this is just a great example of the holiday season, … this is what we really want kids to start doing, to keep praying, keep writing letters," she said about the hopes and prayers.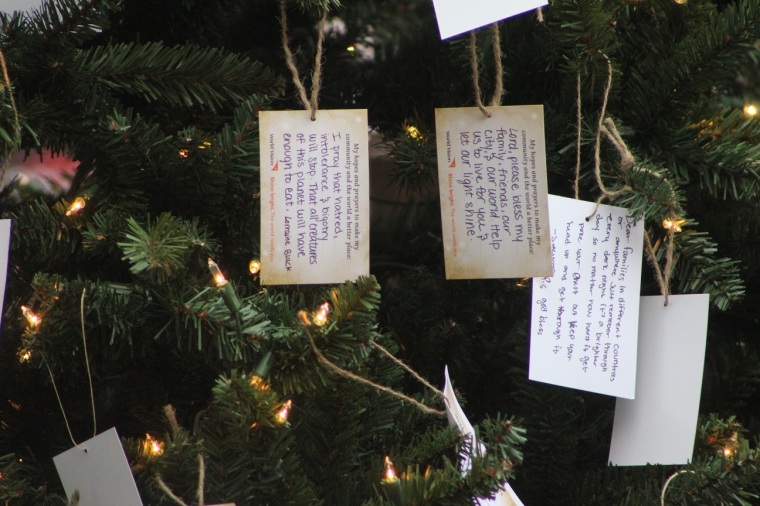 For the second year in a row, through their Give-back gift shop, World Vision is giving New York City's urbane crowd a chance to offer more than just thoughts and prayers to those in need around the world.
Through a number of options in the organization's 2018 holiday gift catalogue, people can donate different kinds of gifts that would help families in the developing world get better access to clean water or empower them economically with the purchase of a goat or some chickens or even commit to sponsoring a child. The pop-up shop with a donkey, sheep and other farm animals on display brought many of these gift ideas to life.
"I had the privilege of raising 12 children. I have four natural children and I had the privilege of raising 12 additional children. Six of them were Native Americans. I tell you that because I believe that God placed a burden for children on my heart. So now I have the privilege of being part of World Vision which is huge for children and giving children the opportunity to be all that God created them to be," said Dee Billing of New Jersey, who has sponsored 12 children over her lifetime rough World Vision and influenced about 250 other people to become sponsors.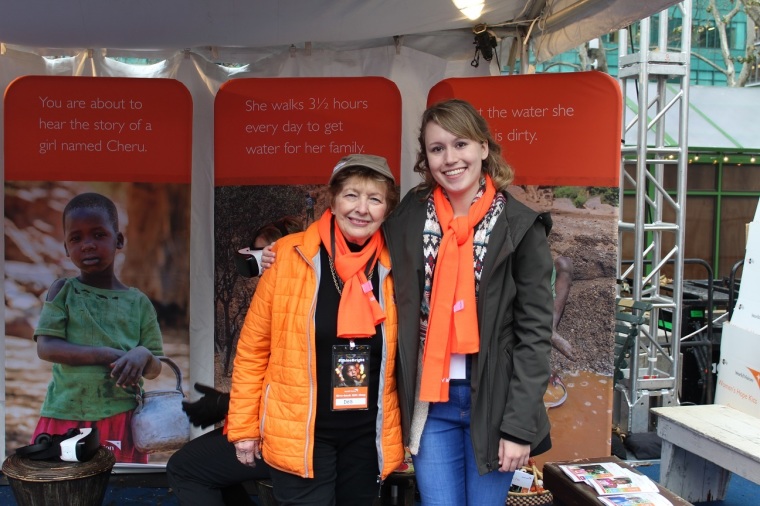 "I encourage other people. The people that become sponsors in my opinion are a special kind of people. I'll sit at a booth for hours and people pass by, but when that one person comes up, they are the ones. They put their finger on that child and they sponsor that child and make that child's life better," Billing said.
Last fall, World Vision featured a 5-year-old girl from Kenya named Cheru as a part of the shop's water walk activity, designed to give people a taste of what it's like for a child who walks hours a day to collect water in the developing world.  This year, officials reported that Cheru and her village now all have access to clean water and they no longer have to walk for miles to get a drink of water. Cheru is now attending school.
"Now she's able to go to school because sometimes her journey for water would be so long she can't make it to school. It's a beautiful thing," said World Vision staffer Wendy Pinero-DePencier.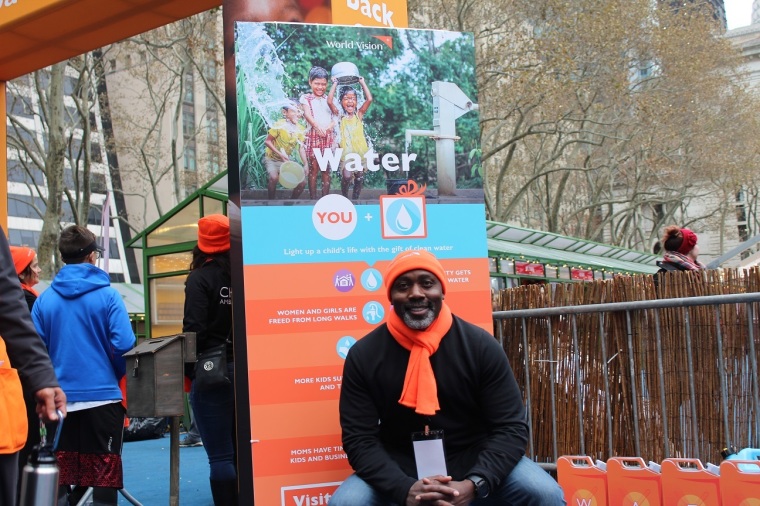 Peter Habyarimana, another World Vision staffer who said he got help as a child as a result of World Vision's work in Uganda was happy to be promoting the water walk experience at the shop because it is a story he knows all too well.
"That's what I did every day. I travelled four miles to get drinking water and I travelled one mile to just get dirty water for washing dishes," he said.
When it comes to the issue of access to clean water, Robertson believes it is an issue that many in the developed world find it difficult to understand.
"The water [issue] is really crazy. I think for us it's the hardest concept to get — we have water.  At our house we have bottled water and it's very accessible for us. People don't realize that kids in other countries not only do they have to walk so long, but that water weighs as much as a microwave in your house [and they have to carry it for long periods]," Robertson said.
The former "Duck Dynasty" star says she has been impressed the multi-faceted approach World Vision has taken to helping people in need through providing clean water, child sponsorships and providing Hope Kits for women who have been victims of trafficking in the U.S. and overseas.
"I am so thankful that they have this especially for women being trafficked in the U.S. Honestly, not everybody knows that it's in the US. Sometimes people think of it as something that's outside of the U.S. but it's happening right here," Robertson said.
Through their work this year, Robertson said World Vision has helped to shed light on the issue of trafficking and also given people an opportunity to help victims.
"I know a lot of people that work in trafficking in the U.S. and have been a part of many rescues so I'm able to know the impact that a toothbrush has, the impact that all of these things have. For us we have all of these things but for them its 'oh wow, we get back to this normalcy' just with our brush and our toothbrush," she said.
"On top of that the first thing they see is a letter from somebody here [at World Vision] that takes the time to say 'you know what? Tomorrow is going to be a better day and I love you and I'm with you.' Imagine being a person in that situation and receiving this little Hope Kit, that's going to lift their spirit so much. I think it's very timely for this year for that to be happening. It's awesome that World Vision is getting behind that and seeing the need and responding to it and we get to be a part of it too," she said.
Robertson is now hoping that people who want to make a difference in the world will turn their hopes and prayers into action and unite to make America and the world a better place.
"I think that a lot of times we say [things like] we want to be the generation that ends world hunger, we want to be the generation that stops sex trafficking and slavery and it's like if you want to be that generation, then you've got to do it. You've got to get behind it and give. Give of your time, give of your money, … selflessly, in love," she said.
The Give-back Gift Shop's last day of operation will be on Nov. 27 from 11 a.m. – 8:30 p.m.