FFRF claims Deion Sanders is 'receptive' to its calls to end coach-led prayers after complaints
University of Colorado Boulder says complaints did not originate from students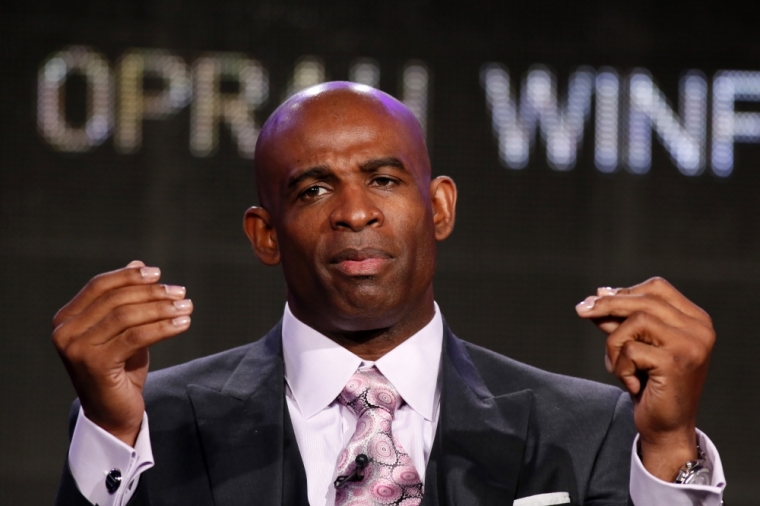 An atheist group claims that newly minted University of Colorado Boulder football coach Deion Sanders has been "receptive" to its interpretation of religious freedom protections in the U.S. following their complaint that led to compliance training.
The Freedom From Religion Foundation sent a letter to Chancellor Phil DiStefano on Jan. 24, outlining the organization's "constitutional concerns with new football coach Deion Sanders' promotion of religion and potential religious coercion through the football program." 
FFRF Staff Attorney Christopher Line wrote that "multiple concerned Colorado residents have reached out to FFRF to report that CU's new football coach Deion Sanders has been infusing his program with Christianity and engaging in religious exercises with players and staff members." Line expressed particular concern that Sanders, a former NFL football player, "directed a staff member to lead players and coaches in Christian prayer before a team meeting."
The letter outlined the contents of the prayer in question, which read, "Lord, we thank you for this day, Father, for this opportunity as a group." It continued with an expression of gratitude for "the movement that God has put us in place to be in charge of" and concluded with a prayer of thanksgiving for "each player here, each coach, [and] each family."
FFRF contended that Sanders leading the team in prayer violated the Establishment Clause of the First Amendment to the Constitution and amounted to an act of discrimination against non-Christian players.
After discussing case law surrounding what FFRF described as "school-sponsored proselytizing," Line demanded the University of Colorado Boulder "take action" to inform Sanders about "his [c]onstitutional duties under the Establishment Clause" and to "ensure that Sanders understands that he has been hired as a football coach and not a pastor." Line asked the school to provide "notification in writing of the actions the university is taking to ensure that Sanders will not continue to proselytize to his players or subject them to coercive team prayers."
Three days after FFRF submitted its letter to the school, the institution's Executive Vice Chancellor and Chief Operating Officer Patrick O'Rourke responded to the atheist group's complaint.
O'Rourke said, "Last Friday, the Office of Institutional Equity and Compliance personally met with Coach Sanders to provide guidance on the non-discrimination policies, including guidance on the boundaries in which players and coaches may and may not engage in religious expression." 
"Coach Sanders was very receptive to this training and came away from it with a better understanding of the University of Colorado's policies and the requirements of the Establishment Clause," he added. "The Office of Institutional Equity has also trained the other coaches on the football staff. These trainings will be reinforced through additional events the Athletics Department's compliance program offers on a regular basis."
O'Rourke stressed that FFRF's initial complaint letter "did not identify that any members of the University of Colorado's football program voiced a specific concern to you or the Freedom From Religion Foundation about having been coerced to participate in religious expression." He encouraged the atheist group to direct football players or anyone with such concerns to reach out to his office. 
In a statement published Wednesday, FFRF indicated that it "appreciates the University of Colorado taking seriously its commitment to secularism and diversity." The organization's Co-President, Annie Laurie Gaylor, added: "We can't coach Deion Sanders on sports-related matters, but we can certainly offer him corrective lessons on the Constitution. We trust that our communication to the University of Colorado has been conveyed to him and that he understands students should not have to pray to play." 
FFRF listed many examples of courts finding that "school-sponsored proselytizing" in public educational institutions violated the Establishment Clause of the First Amendment, including the 2022 U.S. Supreme Court decision Kennedy v. Bremerton School District. 
Line maintained that "the court's recent decision in Kennedy v. Bremerton School District did not alter the law regarding these kinds of coercive prayers, nor did it overrule those decisions." He noted that the decision determined that "schools cannot 'make a religious observance compulsory'" and dismissed the idea that participation in school-led prayer orchestrated by Sanders or other team officials could be considered "voluntary." 
The Kennedy case, a 6-3 ruling decided last June, found that the Bremerton School District in Washington state discriminated against high school football coach Joe Kennedy by suspending him for praying on the field after games. 
O'Rourke offered up his interpretation of the Kennedy decision in his response letter to FFRF, mentioning that the University of Colorado Boulder "recognizes its obligations under the First Amendment to avoid state-sponsored endorsement of religion under the Establishment Clause, while at the same time recognizing that members of our community who hold religious beliefs are free to express them within the boundaries that the United States Supreme Court recently clarified in Kennedy v. Bremerton Sch. Dist."