DeSantis proposes ban on critical race theory, diversity curriculum at Florida universities
No more degrees in 'zombie studies,' governor tells reporters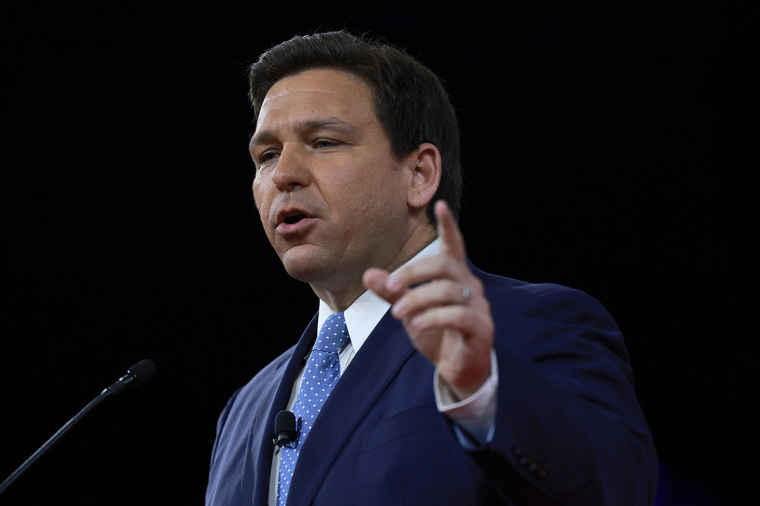 Florida Gov. Ron DeSantis unveiled a new series of proposed reforms Tuesday to the state's higher education system, including eliminating all diversity, equity and inclusion and critical race theory curriculum.
During a media briefing at the State College of Florida Manatee-Sarasota, DeSantis, a potential 2024 Republican presidential nominee, laid out a sweeping package of changes he said would help "to ensure higher education is rooted in the values of liberty and Western tradition."
Among those proposals is establishing tighter controls on faculty tenure, which in addition to the scheduled reviews that are currently administered, would allow Florida university boards and presidents to review tenured faculty "at any time."
With State University System of Florida Chancellor Ray Rodrigues on hand, DeSantis said he wants to return "authority over the hiring process" back to university presidents.
Alongside an effort to create "civics institutes" at three state campuses, DeSantis is also seeking to completely eliminate what he called the "bureaucracies" behind DEI and CRT curriculum.
"We are also going to eliminate all DEI and CRT bureaucracies in the state of Florida," he said at the briefing. "No funding, and that will wither on the vine. And I think that's very important because it really serves as an ideological filter, a political filter."
The critical race theory framework dates back to the 1970s. It is defined as a "movement" of "activists and scholars interested in studying and transforming the relationship among race, racism, and power."
Encyclopedia Britannica defines critical race theory as "an intellectual movement and loosely organized framework of legal analysis based on the premise that race is not a natural, biologically grounded feature of physically distinct subgroups of human beings but a socially constructed (culturally invented) category that is used to oppress and exploit people of colour."
"[C]ritical race theorists hold that the law and legal institutions in the United States are inherently racist insofar as they function to create and maintain social, economic, and political inequalities between whites and nonwhites, especially African Americans," the reference resource states. 
Conservatives have argued that critical race theory is divisive and wrongfully vilifies members of certain races.  
At the event Tuesday, the governor's staff handed out fliers with the heading "Education not indoctrination" to members of the media who attended the briefing. 
In the flier, DeSantis advocates for changes to university standards and course content, which includes requiring Florida schools to "prioritize graduating students with degrees that lead to high-wage jobs, not degrees designed to further a political agenda."
As part of the budget, the governor proposed $100 million for "recruitment and retention of highly qualified faculty at state universities," along with "world-class civics institutes" at Florida State University, the University of Florida and Florida International University. 
The proposals were announced as both DeSantis and state lawmakers unveiled their budget and legislative agendas ahead of the session in March. 
They also come just weeks after a report requested by DeSantis found Florida academic institutions spent more than $34 million on DEI and CRT curricula.
According to data from the Florida Department of Education, 12 State University System universities spent $34.5 million. 
Earlier this month, The College Board, a nonprofit organization that works to offer greater access to higher education, agreed to DeSantis' demand to revise its national Advanced Placement course in African American studies after it was found to contain CRT elements.
The Florida Department of Education's Office of Articulation wrote a Jan. 12 letter to the College Board informing the oversight body that the course doesn't comply with state law.
"The content of this course is inexplicably contrary to Florida law and lacks educational value," the letter reads. 
The relevant state law, known as the Stop WOKE Act, outlines a list of concepts that schools must not teach because they constitute discrimination based on "race, color, national origin, or sex." 
In response, Pastor Andy Oliver of Allendale United Methodist Church in St. Petersburg offered his church as a space to teach the subject.
In an interview with The Christian Post, Oliver said he sees teaching the content of the course as essential to his congregation's mission. 
"We have an important job as Christians to know our history, to know the history of harm specifically that African Americans have experienced in this country," he said. "I lead a congregation that sees it as a central part of our faith to stand with those who are marginalized and oppressed because that's where Jesus always located himself."