Ex-officer Amber Guyger wants murder conviction in death of worship leader Botham Jean overturned
Ex-officer Amber Guyger wants murder conviction in death of worship leader Botham Jean overturned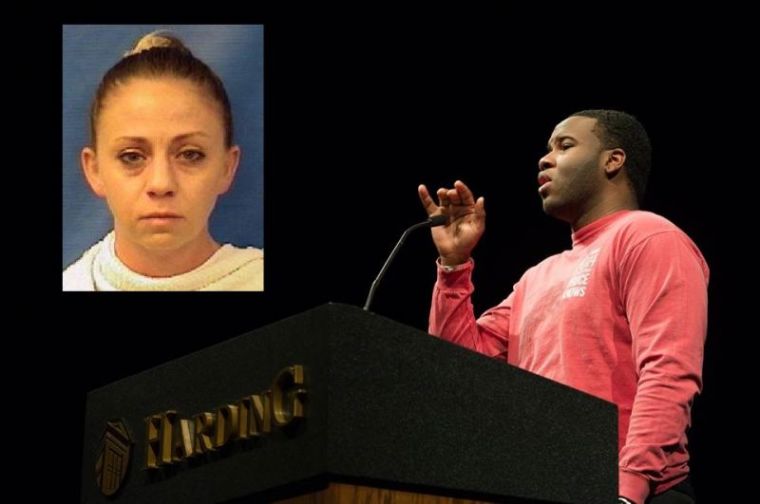 Former Dallas County police officer Amber Guyger, who fatally shot beloved worship leader Botham Jean in his apartment in 2018, is seeking to have her murder conviction for his death overturned in favor of a lesser charge of criminally negligent homicide because she believed she was in her own apartment.
A jury found Guyger guilty of murdering Jean and sentenced her to 10 years in prison in 2019. If she is successful in her appeal, and if found guilty of only criminally negligent homicide, she will likely be released as the punishment for that crime is six months to two years in prison.
Guyger submitted her request to the Fifth District Court of Appeals in Dallas, Texas, Tuesday presided over by Chief Justice Robert D. Burns III, Justice Lana Myers and Justice Robbie Partida-Kipness.
Defense attorney Michael Mowla, who represented Guyger, argued that the trial court did not allow his client to use the Mistake of Fact defense.
Under Texas Penal Code 8.02 (a): "It is a defense to prosecution that the actor through mistake formed a reasonable belief about a matter of fact if his mistaken belief negated the kind of culpability required for commission of the offense."
"In a legal sufficiency case, as the court knows, the issue is whether a defendant is guilty under a hypothetically correct jury charge. And under a hypothetically correct jury charge, I believe my client was entitled to a mistake of fact instruction," Mowla argued.
Mowla cited Granger v. State, a 1999 criminal appeals court case which he said addresses his argument thoroughly. In that case, the defendant shot into a car he thought was empty but ended up killing a veteran who was sleeping inside and he was convicted of murder. An appeals court later found that he could not have "intentionally or knowingly" caused the death of the victim or "intend[ed] to cause serious bodily injury" to the victim if he did not know that the victim was in the car.
"Now what Mr. Granger did was facially illegal. You cannot, under any circumstances, fire into a vehicle whether you believe someone is in there or not. However, although he couldn't justify shooting into the vehicle, he could not be guilty of murdering its occupant if he reasonably believed the car was empty," Mowla said, arguing that the same standard should apply to Guyger based on the evidence in the case.
"If Ms. Guyger had walked into, knowingly or intentionally, shot and killed a person, in this case, it was Mr. Botham Jean, a horrific result, no doubt. If she had intentionally or knowingly killed someone by intentionally or knowingly walking into her apartment, she would be guilty of murder. But if there was a mistaken fact, a reasonable belief in a mistaken fact which I assert she had, as I think the evidence showed, she thought she was walking into her own apartment."
During Mowla's arguments, Justice Burns pointed out that Guyger had testified that she did intentionally shoot Jean and suggested that he was overlooking that admission.
"Mr. Mowla, you're overlooking the fact that Miss Guyger testified that she intentionally shot Mr. Jean," Burns said.
Mowla explained that even though Guyger admitted she intentionally shot Jean, her response to him was based on a reasonable mistaken belief that he was an intruder in her apartment.
"I'm not overlooking the fact, your honor. I agree," he said. "She did intentionally shoot Mr. Jean because that was her intent. That was the truth. Those were the facts of the case. If she had walked into her apartment, and there was an intruder inside her apartment ... she would have been entitled to use deadly force in self-defense."
Burns also noted that the jury rejected Guyger's claim of self-defense in convicting her of murder. But Mowla said if the mistake of fact defense is applied, a reasonable apprehension of danger on Guyger's part could be argued.
"The evidence presented during the trial showed that many other people inadvertently walked to the wrong floor of the South Side Flats apartments. … They drove to the wrong level of the South Side Flats apartments. They walked to the wrong door. One witness was an attorney here in Dallas that works for a civil firm. He testified that one time he walked into the wrong apartment and didn't realize he was in the wrong apartment until he saw a lady sitting on the couch looking at him with amazement. So again, the issue is if the court believes her mistake in fact in going to apartment 1478, which is one floor above hers, the same side, the same part of the building was reasonable, then the mistake of fact instruction applies," he said.
Justice Lana Myers raised concern that Mowla was conflating self-defense with mistake of fact in his arguments.
"Mr. Mowla, aren't you erroneously mixing mistake of fact defense and self-defense justification? Those are under two different titles in our Texas Penal Code. Mistake of fact is a defense and self-defense is a justification. So doesn't the fact that she testified that she believed she was in her own apartment just go to whether or not she had a reasonable belief that she was in such immediate danger that she had to use deadly force?" Myers asked.
"Your honor, I'm not mixing the two because I think the only way what happened would make sense if you apply Section 8.02A to what happened," Mowla replied.
Justice Robbie Partida-Kipness noted that Guyger's "mistaken belief about where she was doesn't negate her intent to kill."
Mowla argued that the circumstances surrounding the fatal shooting show Guyger did not have "evil intent" and should not be held mentally culpable for murder.
"There are many, many cases in the court of criminal appeals that say mental culpability has to be inferred from the circumstances under which an act based on a defendant's words acts and conduct. I don't think you can reasonably state that when you consider all the facts of the case, when you consider what happened, that she had an evil intent when she walked into what she thought was her own apartment," he said.
He further noted: "As I explained in my brief in detail, I believe that Ms. Guyger at most is guilty of criminally negligent homicide. Because the evidence shows beyond a reasonable doubt, if the court were inclined to go this route, that she shot Mr. Jean causing his death. That's undisputed. That she should have been aware of the substantial risk of death from her conduct because she did not pay close enough attention to the cues that she was in the wrong apartment."
Dallas County Assistant District Attorney Douglas Gladden argued that mistaken belief and mistake of fact is not a justifiable defense.
"This is a murder case, not a criminal trespass case. When Amber Guyger shot Botham Jean, she didn't take someone else's property. She took the life of a human being," Gladden said.
He said the court has to decide what defensive issues were raised by the evidence in the first place and argued that the evidence in the case supports the murder conviction.
"This court has to decide whether mistake of fact was raised by the evidence in this case. This court has the responsibility to apply the correct law and do so correctly. This is the state's cross issue and we're not asking for an advisery opinion on this. Whether mistake of fact was raised by the evidence in the case is a legal question, and the state would benefit from it here because the question on the appeal is whether the legal sufficiency analysis should look at the mistake of fact defense at all," Gladden said.
Responding to Guyger's appeal, Jean's mother, Allison Jean, told CNN she was confident the appeals court would uphold the murder conviction.
"Amber Guyger needs to sit where she is in prison and accept responsibility for what she did to my son, my family, my country, my world," Allison Jean said.
She added that had roles been reversed, her son would be facing a much longer prison term.
"He was destined to lead this world. For his life to be taken away from us in such a careless manner, she needs to be given more time for what she did," Allison Jean continued. "Our life has just been turned upside down as a result of Amber Guyger's action, and she needs to leave us alone right now. She's done enough harm."
Guyger had reportedly just ended a 15-hour shift when she parked on the wrong level of the South Side Flats garage where she lived on the third floor directly below Botham Jean's apartment. She got off on the fourth floor where Botham lived and went to his door, thinking it was hers.
The four floors of the South Side Flats look the same with concrete floors and tan doors but a light at each door displays the apartment number. Guyger reportedly didn't notice that Botham's door had a red doormat in front of it. Hers didn't have one.
She went on to put her key in the door but it was unlocked, and the door opened. The lights were off and she saw a figure in the darkness and thought her apartment was being robbed. She pulled her gun and fired twice, hitting Botham Jean once in the chest. She only realized she was in the wrong apartment after she turned on the lights.
The appeals court is expected to make a decision in the case at a later date.