Hey Moms, Don't Judge Me
How we raise our families shouldn't define us. We have more to connect over than breast milk versus formula, than homeschool versus public school. We must get passed how we raise our kids in order to grow deeper connections with other moms.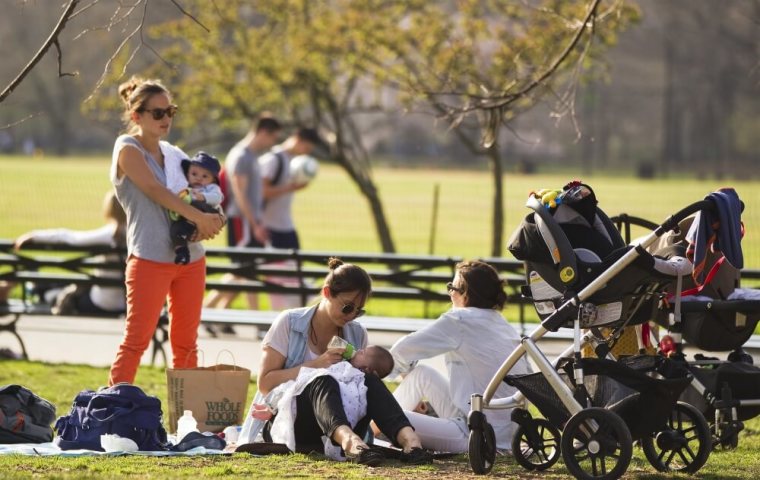 Recently I learned of three categories today's young moms assign to themselves and each other. In a blog post on the topic, Karlyn Bishop explains the categories.
A Crunchy Mom "practices natural living. She is an advocate of natural birth, non or selective circumcision, not vaccinating, baby wearing, breastfeeding, co-sleeping, cloth diapering, attachment parenting, homeschooling, organic and green living, etc."
A Scrunchy Mom "wants her child to live in a more natural, organic environment, but can't quite commit to all the activities and practices involved in being a crunchy mom. So she does some, but not all of it. A scrunchy mom is an in-betweener."
A Silky Mom "bottle feeds part or full-time, uses disposable diapers, pro-circumcision, pro-vaccination, trusts medical professionals completely, don't care too much about labels and buy most products out of convenience, homeschooling is not at all considered, and practice little or no green or organic living."
After reading this piece it occurred to me that my grandma was a crunchy mom. She was a farm wife in the late 1930's through the 1940's. She grew her own organic food. She had homebirths. She used cloth diapers. She breast-fed. They had little medical care because of where they lived.
My mom was a silky mom. She had five hospital births with lots of drugs and even (gasp) forceps (not endorsing, but how things have changed!). She bottle-fed and vaccinated her five children.
I was a scrunchy mom leaning more towards silky. I bottle and breast-fed. I used cloth and disposable diapers. I cooked from scratch as much as possible. I had an epidural for two of my three births.
My grandma was crunchy not because she felt she was a better mom than others, but because that's all she knew and those were her only choices.
My mom was silky in part because those were her only choices and the choices she believed were best for her kids as the culture dictated to her.
Forceps deliveries and bottle-feeding were considered progressive and to be the best options for moms and babies.
I was scrunchy because I could be. I had many choices and picked the ones I thought were best for our family. No judgment on others, just what my husband and I decided would work best for us.
My family's three generations were raised differently and all turned out very well. Each generation was healthy, grew into responsible adults, were good parents, and live happy lives.
It is fun to read Karlyn's piece and see where you and your friends fit. But we must be careful. As with all assigning of labels to people, the temptation is to feel one's own group is doing life right or best, even to become defensive of one's group. A brief glance through a young mom's Facebook newsfeed quickly reveals the lines that are drawn by the various categories of moms. Some moms in each category feel and teach that they are doing the parenting thing "right." Other moms feel judged because they are not part of a particular group. And the division between moms grow.
Crunchy, scrunchy, or silky—it doesn't matter. Each mom needs to do what is best for her family.
How we raise our families shouldn't define us. We have more to connect over than breast milk versus formula, than homeschool versus public school. We must get passed how we raise our kids in order to grow deeper connections with other moms. Crunchy moms can learn from silky moms and scrunchy moms can learn from crunchy moms. We all have something from each other. No one has the corner on parenting. We are all figuring it out as we go. We need to be there for each regardless of how we feed or diaper our babies.
If moms are passionate about making the world a better place for their kids, they need to start by not judging each other's choices. Think of what a great example we would be to our kids (and the culture) if we lived in a way that showed love and acceptance to others even though they don't eat the same food, get their education in the same way, or go to the same doctor. Imagine how we could affect our kids' lives if we showed them how to love to others that live differently than they do. This is how we will change the world.
Brenda Garrison is a speaker and author of four books including , Love No Matter What: When Your Kids Make Decisions You Don't Agree With, Princess Unaware: Finding the Fabulous in Every Day, and Queen Mom: A Royal Plan for Restoring Order in Your Home. She has spoken to audiences in Eastern Asia and throughout the United States. Brenda has been a guest on "Family Life Today", "Focus on the Family", and Moody Radio's "Midday Connection" with Anita Lustrea. Brenda and her husband, Gene, have three grown daughters, three son-in-laws, and one amazing grandson. They live near Metamora, IL.