How I Met the Man of My Dreams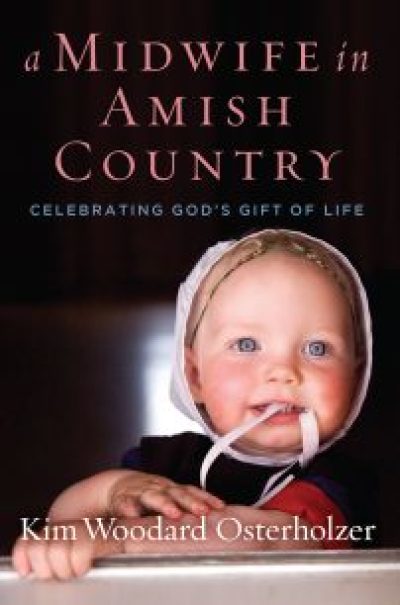 This is an excerpt from a new book, A Midwife in Amish Country: Celebrating God's Gift of Life (Salem Books, April 30, 2018) 
Three years later I was released from high school.
I say released because, though I made significant improvements in attitude and approach to my education, as my academic performance remained persistently less than stellar, my folks offered to provide me another year or two of homeschooling. I refused their offer, however, and heartily.
I also managed to wiggle out from under the pressure levied upon me to attend Nazareth Nursing College. Instead, I signed on with Carla Hartley's home study course, Apprentice Academics and, through Karen, slipped into the mysterious world of homebirth midwifery. I attended my first Michigan Midwives Association conference the autumn after my graduation and, there, met a midwife I hoped to secure an apprenticeship with.
But, alas, as is so often the case, I was more interested in working with that midwife than she was interested in working with me. Naturally, I can't blame her. I don't know how crazy I'd be over the idea of taking a squeamish eighteen-year-old virgin on as my next apprentice, either.
I met a cute boy around that time, anyhow, and most likely wouldn't have been quite as attentive as my apprenticeship would have warranted. He was, after all, really cute.
His name was Brent Woodard.
I wasn't so sure of Brent at first. One of the decisions I made as I surrendered the reins of my life to God was, rather than wasting my time and energy searching out a man I'd be willing to marry, I'd trust God to bring exactly the right man to me at exactly the right time. Then, in order to strengthen my resolve to wait and to help me recognize the man when he finally appeared, I crafted a fantastic description of him. I wanted a man who loved the Lord more than anything – who'd dedicated his life to God and to his God-ordained destiny, just as I had. I wanted a man who'd appreciate and celebrate my strength and my potential – who'd realize I, too, was created with purposes to fulfill – purposes sure to extend beyond being a wife and mother – and who would consider it his sovereign duty to see all my purposes realized.
There were other things I wanted, besides. I wanted him to be frugal and practical and adventurous, to be handy and hardworking, to be an outdoorsman, to be brave and tenderhearted, strong and gentle, wise and fun. I wanted my family to approve of him, and I wanted him to share my vision for homebirthing and homeschooling our children. I also hoped he'd be tall and handsome and young.
I studied my depiction awhile, once I completed it, and recognized I'd likely have to be flexible about the tall and handsome and young part. Otherwise, I considered it spot on. Then I shared what I wrote with the women of my community and was informed no such man existed – especially not a tall, handsome, young one.
At first, I was surprised by their collective assessment, and then I was disheartened. And then I was resolved. I'd really wanted to be both a wife and a mother, but the more I thought about it, the more I felt I'd rather live my life unmarried than to settle for less than what I penciled onto paper.
I spent the rest of my school years strengthening my resolve to remain single and sending all would-be admirers to my dad for re-direction until I woke one fresh Sunday morning in early June, about six weeks before my eighteenth birthday, with a strange sense of anticipation stirring inside me. That sense swelled as a voice whispered into my spirit, "Today's going to change your life forever."
I can still feel the electricity that sentence sent snapping over the surface of my psyche. I moved on into the day buzzing with expectation, but, as the day progressed as predictably as the Sundays of my youth generally did, the buzz gradually tapered to a tingle.
Then, just as quick as anything, one unusual thing after another happened. I was invited to a neighboring city for the graduation ceremony of a bunch of semi-strangers. Though my dad initially said I couldn't go, he stepped entirely out of character and relented. On the drive to the ceremony, I discovered we were, in fact, about to attend one of those stranger's open house. I was uneasy about being an uninvited guest, but what was I to do? My uneasiness increased when we arrived at the scene and I was abandoned by my ride. Fortunately, though, being a friendly sort, I was soon in conversation with the graduate's Aunt Rose.
Rose was interesting, and I was just beginning to relax into the surrounds, when a tall, athletic, brown-eyed, redheaded young man with the most dazzling smile and intoxicating presence stepped into the corner of my vision.
Whoosh.
The tingly buzz of electricity tantalizing me since morning surged into a crackling bolt of lightning sending the day's second strange sentence zinging through my mind, "And that's the man you're going to marry."
A current of heat washed over me, stinging my skin crimson, spreading from my throat to my cheeks. I staggered backward slightly. A mild look of confusion crossed Rose's face, but she kept right on talking and my sense of civility forced me to return my attention to her, though I failed to hear anything else she said.
Good God Almighty, what is this? I don't know a solitary thing about the glorious boy before me – Hey! Geesh! Quit! Don't call him glorious! No, don't look! Don't look at him! Don't look at him again! I don't even know his name.
What I did know was I'd been assured by a good many reliable sources that the sort of man I desired was nonexistent. This guy's age and appearance only served to confirm there was no way in a million years he could be my future husband.
That's it! This is the plan of Satan himself! His evil attempt to distract and derail me from my destiny!
I spent the remainder of the afternoon doing everything I could to avoid him – to avoid Brent, for I'd learned he was Brent – in fact, he was the very graduate we were celebrating – though the insane words I heard earlier ricocheted mercilessly through my head forever and ever afterward. I was to learn many weeks later he spent the rest of my visit trying to catch and meet me.
We had one close call at the doorway. I was coming and he was going. The nearness of him was heady, and I couldn't help but notice how nice he smelled, but I steeled myself well enough by then to return his friendly greeting with an uninviting, "Hi." I hung in there, skirting and dodging until, at long last, my friends were ready to depart. I collapsed into their car, flaccid with relief until I learned, instead of going home, we were heading across town to visit with a family who stayed back from Brent's party because they were sick.
I was too worn out to be especially surprised, and soon I was chatting pleasantly with the coughing, sneezing family as if I'd known them for ages. Toward the end of our visit, which occurred in the driveway, now that I think of it, a member of the family asked if I'd like to take a job with them at a summer camp.
What? Seriously? "Oh, I have a job lined up already, thanks."
"Well," Elizabeth said, "If you change your mind, or want to keep in touch, here's how you can reach me." She scribbled her telephone number on a scrap of paper that somehow happened to be handy.
I was completely enervated by the time I climbed the stairs to my room that night. Even so, and even while I was sure that handsome boy was a dangerous dart from the devil, I poked my head through my sister's doorway and said, "Brent Woodard, Kris. Remember that name."
Two weeks further along the path of my life found me working at Michigan School for the Blind's Camp Tuhsmeheta with Brent Woodard in the flesh. I panicked to find Brent there at the start, but Camp T proved the perfect place to inspect the warp and woof of a soul, as it's impossible to spend nine weeks of the hottest, driest summer of a lifetime working day in and day out with multifariously challenged children, and not discover what the people you're working with are made of. Brent revealed himself crafted of gold from the inside out, young and handsome as he was.
We spent the summer getting to know one another and, with every morsel of time we were able to steal together, we each were increasingly smitten.
Though I did nearly lose him over his misunderstanding of the word midwife––
"So, hey, Tony?" Brent said to a buddy after one of our talks in Camp T's kitchen.
"Yeah?"
"Yeah, so, Kim's nice and everything. Really nice. But I'm thinking she's not for me after all."
Tony looked up from the book in his lap. He knew Brent was crazy about me. "Why not?"
"Well, get a load of what she wants to do for a living––" Brent lowered his voice and Tony leaned in. "––She wants to have other people's babies for them."
Tony sat back and frowned, shaking his head a little. "No, she doesn't, dude."
'Yes! Yes, she does! She just told me herself."
"No. She doesn't." Brent opened his mouth, but Tony held up a hand. "She doesn't want to do that. Look. Hold on." He nodded his head. "What'd she call it?"
"She called it midwife. She wants to be a midwife. She wants to be the person who gets in there in the middle – you know, in there in between the husband and the wife – for folks who can't have babies – to, you know, have babies for them. Mid – middle – wife. Midwife. See?"
Tony threw his book at Brent's head. "You're such an idiot. Did you really just graduate high school, or not? A midwife's like a doctor. They deliver people's babies."
"Whoa! Wait! Are you sure?"
"Dude––" Tony retrieved his book and went back to reading.
So, point by point, he made my list and, two years later, just a sliver past our twentieth birthdays, he proposed marriage with the help of all our friends, his entire family, a late-night ride through the country side, and a stuffed tabby cat.
I accepted and we married four months later.
Kim Woodard Osterholzer, CPM, RM is a homebirth midwife of fifteen years with an active practice in Colorado Springs, Colorado. Kim has attended the births of more than 500 babies, including the births of her grandchildren. This content was adapted from her new book
A Midwife in Amish Country: Celebrating God's Gift of Life
available in stores or on Amazon.com. You can find her on social media @KimOsterholzer or at her website, KimOsterholzer.com