I'm ashamed how this church treated a stripper. Here's how I changed my church (book excerpt)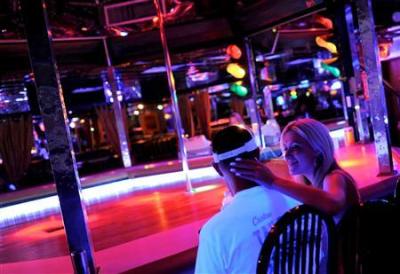 Out in ministry, I have been in trouble for doing something because the leaders of my church didn't understand what Jesus meant when He said on the cross, "It is finished."
Let me give you an example. I was in seminary in Virginia but spent a summer in the Myrtle Beach area working three jobs. I worked at the gym, which was directly across the street from a strip club; I waited tables; and on Wednesdays and Sundays, I worked in the youth ministry at a small legalistic denominational church.
My main job at the gym was working the smoothie counter, and because the owner of the gym gave free memberships to the strippers who worked across the street, I was presented with a unique opportunity.
Every Wednesday and Sunday, I had to write a talk for that night's youth service, so when I wasn't working at the gym, I'd spread my Bible and notebook out across the counter and work on my sermon. Sermon prep for teenagers. After the girls who worked across the street worked out, they'd sit at my countertop bar and order their smoothie.  Since I wasn't asking them for their phone number and they thought me relatively harmless, they'd ask, "What're you doing?"
Knowing I needed practice, I would ask them if I could go through my little sermon with them, and they'd all say yes.  So I'd just go through my talk with them and then ask what was confusing.  "Did this make sense?" I figured if it was clear to my stripper friends, then it would be clear to my students. (I know this sounds disparaging, but I'm not sure which group should be offended.)
Inevitably, somewhere across that counter, I'd share the Gospel and invite them to church. About a month in, this super sweet girl whose stage name was Sunshine said, "Well, I'll go to church with you." And about there, I thought, oh no. I didn't think this through very well. But how do you uninvite somebody to church? So I said, "All right."
Sunshine said she'd drive, which was awesome because her car was a lot nicer than mine. So Sunday morning she showed up at my little apartment in a brand-new white Corvette convertible. Just her, her daughter, and me. It was a two-seater, so her daughter just sat on her lap. The church was 24 miles away from my house, inland, and she let me drive. The license plate read TPLSS FUN. A little play on words. So we drove to church. I got there in 16 minutes.
We dropped her daughter off at the children's church and then the two of us walked into church — together — at which point the stares and the looks started. Boring a hole into both of us. Sunshine didn't look like a typical front-pew Baptist. She was uncomfortable and I was uncomfortable. The judgment was tangible. I think we sang a few hymns. I seem to remember "Amazing Grace" was one of them. I did the announcements and the pastor preached, and I have no idea what he preached on because I was feeling so bad for her. Afterward, she and I were walking out of the sanctuary to pick up her daughter when one of the deacons asked to talk to me in private for a minute.
She picked up her daughter and waited by the car while I walked into an ambush in the senior pastor's office. In the Bible, the title deacon means servant. In this church, it meant power broker. They looked down their noses at me and asked why I would bring someone like her to church.
One of the other deacons started hammering me. "The reason this church exists is to protect our children and good, clean people like us from people like that at the beach. And for you to bring her in here, what kind of example is that setting for the kids and for the students that you're supposed to be in charge of?"
To this day, I'm still ashamed of my answer. I just caved and said, "I'm sorry."
I knew that their response to her was wrong and my response to their response was wrong. To this day, I still know it's wrong. At the time, I was 22 years old and didn't want to get fired from my little job.
When I got back to the parking lot, Sunshine and her kid were sitting in the car.  We were the last one in the parking lot, finishing coloring a picture of Jesus she got in Sunday school. Even though I tried to deny it, she knew the conversation I had with the deacons inside was about her. When I asked what she thought of church, without hesitation, she said, "I've never felt more degraded in my whole life."
She said this while her daughter was coloring a picture of Jesus.
For the rest of the summer, my friendship with Sunshine was significantly strained. She didn't sit at the counter, didn't order smoothies, and wasn't a part of Bible talk. And then, quietly, she left town.
When I realized she was gone for good, I promised myself that if I ever had the chance, I was going to make sure that any church that I was a part of would be welcoming to the people that Jesus welcomed, which was everybody.
I've been a pastor for more than 20 years, and this memory hurts as much today as the day it happened. Today, in our church, we have a strip club ministry. Once a month my wife, along with several other ladies, goes in and sits with the girls in the dressing room. They take them to dinner, ask about their kids and their plans, and just share the love of God and an invitation to our church. We just get to know them, and we don't judge them. And I thank God that we've had multiple girls come to our church, feel loved and welcomed, and walk away from that lifestyle.
When Jesus said, "it is finished," he also put to rest your and my right to judge others — of which we are all guilty. As a 22-year-old naïve youth pastor, I caved and let the judgment of older men keep me from just loving on a lady who needed Jesus. A lot. Who knows how many times she'd been betrayed and rejected and here we were, doing it all over again.
The word "tetelestai" allows every one of us, regardless of our sin, to walk into His presence without shame and without judgment. Each of us, because of the shed blood of Jesus, has not only the right but also the invitation to stand before the throne of God and receive the love He alone offers. "It is finished" drove a stake in the ground for all of us who would cling to it, and it means exactly what Paul told the Romans.
Nothing can separate us from His love. All barriers have been torn down and our behavior and our unrighteousness can no longer exclude us from Him. That doesn't mean He won't look at our behavior and say what he said to the woman caught in adultery, "Go and sin no more." Some of us are just flat-out walking in sin and it's time we give that to Jesus. "It is finished" is not a license to sin, but it's an invitation to walk through the doors and bring it to Jesus without condemnation or finger-pointing shame.
---
This article was adapted from the newly released book by Joby Martin, "If the Tomb is Empty: Why the Resurrection Means Anything is Possible." 
Joby Martin is the founder and lead pastor of The Church of Eleven22 in Jacksonville, Florida. Since launching the church in 2012, he has led a movement for all people to discover and deepen a relationship with Jesus Christ. In addition to providing The Church of Eleven22 with vision and leadership, Pastor Joby is an author, national and international preacher and teacher.