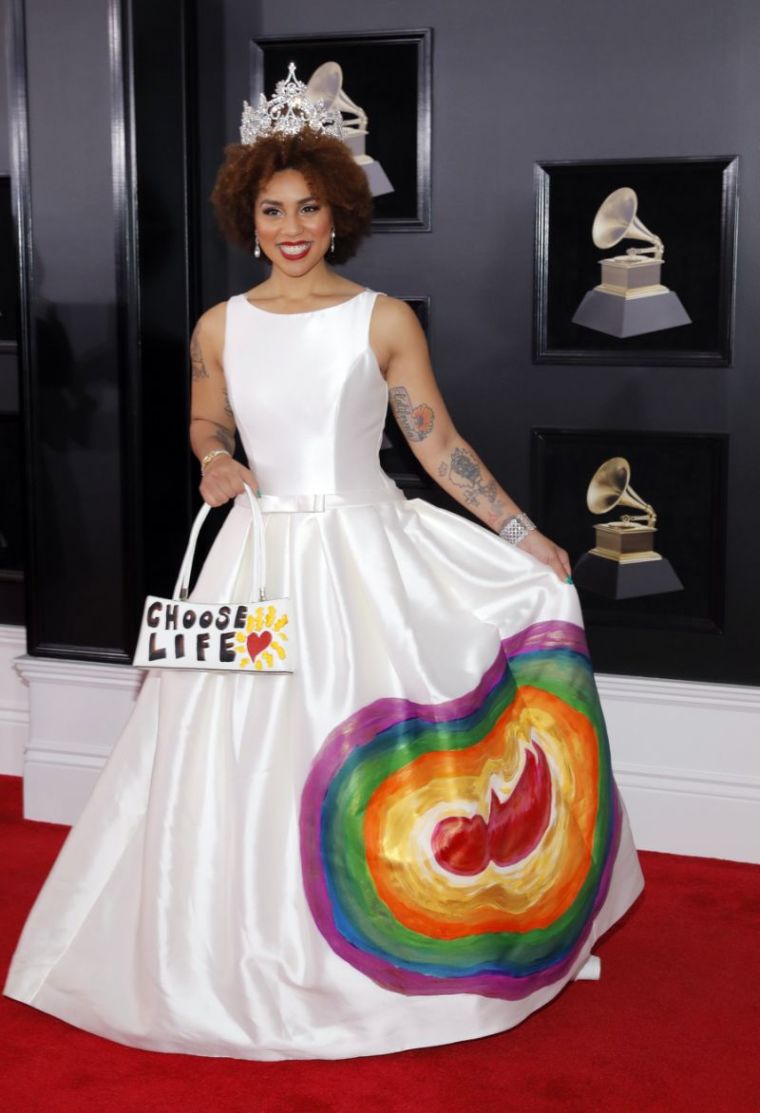 One of the most hotly debated topics in America is abortion. While its normally the center of political debates, we saw Joy Villa bring this controversial topic into the fashion spotlight at the 2018 Grammys. The singer made a very powerful statement at the popular awards show when she arrived in a white floor-length gown with the flowing skirt decorated with a hand-painted picture of a fetus in a rainbow. This grand outfit was paired with a purse that had the phrase 'Choose life' written on it, a very fair complement to her outspoken attire.
Villa proudly showed off her gown and purse for the cameras and when she was interviewed about her choice clothing, she reportedly told Fox News; "I'm a pro-life woman."
While Twitter didn't have many positive things to say about the 26-year-old singer—with many claiming Villa's outfit was a cry for attention—I am very proud to see there are still some celebrities who maintain conservative values, even when the cameras are looking. It's about time America sees someone who is young, beautiful and unashamed to voice their beliefs and opinions—no matter how politically incorrect they may seem.
There is nothing wrong with being pro-life and there is nothing wrong with expressing your support of the pro-life agenda but, as a Believer, I must always stop and ask myself; where is the righteousness in this situation?
A successful abortion means the end of an innocent human life which is most definitely a sin against God as stated in the scripture; Exodus 20:13 KJV "Thou shalt not kill."
As a Christian, I can very proudly describe myself as pro-life; so, naturally, when I saw Joy Villa's dress I was ecstatic. But I could not ignore the disturbing accusations she faced on social media.
Was this singer just using her conservative beliefs to seek attention? Was she trying to steal the spotlight by purposely striking up controversy and debate? While there is nothing wrong with being pro-life, you have to ask the question: why choose to demonstrate your pro-life views at the Grammys?
My response to that is ... why not?
Joy Villa has had a target on her back since she wore a 'Make America Great Again' dress to the 2017 Grammys to show her support for President Trump. It's no surprise that she arrived at the 2018 Grammys in a pro-life dress, making yet another powerful statement with her attire. Many disagreed with her decision, but it should be noted that the First Lady was also spotted in an all-white getup at the President's State of the Union Address on January 30. Considering her conservative views, it's not too farfetched to assume she was tipping her hat to Joy Villa. Or perhaps standing in opposition to the all-black dress code worn by women who wanted to display their dissatisfaction with the lack of political concern on sexual harassment.
We may never know what the First Lady's intentions were but there is something we can learn from Villa's dress:
People are entitled to their own beliefs. And just because you disagree with someone's beliefs doesn't mean they are seeking attention when they express those beliefs.
If you're interested in the Gospel then check out my Rebel Blog here. Indie or Self-Published authors looking for a free book review click here. Authors of unpublished manuscripts looking for a critique partner, click here to check out my beta-reading/editing services. Lastly, if you'd like to check out my own book, which I know you do, then click here.