Renaming military assets: Censoring history will undermine America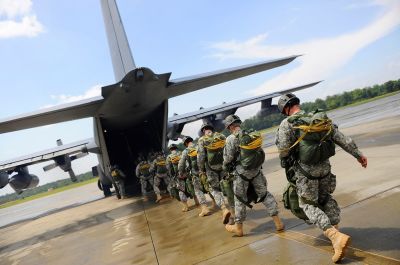 Since January, multiple historic military bases have been renamed. According to the Small Wars Journal: "Calls to rename military bases and other military assets began in earnest after the 2020 murder of George Floyd ... The 2021 National Defense Authorization Act called for a commission to identify military assets that commemorate the Confederacy. As a result of the commission's report to Congress, the services are moving to rename nine Army posts, two Navy ships, and remove or modify a host of monuments and tributes to the Confederacy."
Most of us were witnesses to the 2020 tearing down of memorials, from Confederate statues to founding father statues. Regardless and despite applauding media, during the height of the unrest the clear majority of Americans were against renaming bases. 

Unfortunately, base renaming is now back in vogue. I would like to offer a personal perspective on why this decision is not only demoralizing but why it involves contradictions and a political agenda to undermine the nation.
Having spent my Army career in the Infantry, I lived a total of almost seven years at the traditional "Home of the Infantry," Fort Benning, now renamed Ft. Moore. Two of my three children were born there. My father, grandfather and I went through Airborne school at Benning, and my father and I also went through Ranger school at "Benning." We are only one of thousands of such families with this kind of personal connection to the post. While changing these names at a cost of over $60 million, the Army is facing the greatest recruiting crisis in history, with many Army families losing faith due to the propagation of "wokeness."
I want to make it clear: The namesakes, LTG Hal and Julie Moore, are worthy of honor. LTG Hal Moore is an American hero and respected Infantryman whom I knew. However, knowing Hal Moore, I am certain he would have opposed changing the name due to his love for Ft. Benning. Battalion Commander Moore deployed to Vietnam from Ft. Benning in 1965 and led his men fighting at LZ X-ray in the Ia Drang Valley. The families of the men who fought and died in that battle were at Ft. Benning when they received news of what happened. Going back further in time, General of the Army George C. Marshall, then Benning's assistant commandant in the 1920s, brought what became known as the "Benning Revolution" which helped win World War II. "Benning Revolution" is a term all Infantry leaders know, and Hal Moore taught those tactics to the men he led.
It's relevant to note what the newly named base personages thought about the subject. Ft. Gordon, GA was renamed "Fort Eisenhower" and "Ft. Lee" was also renamed. The following is from a 1960 letter in which then-President Eisenhower wrote defending Robert E. Lee's portrait on his office wall: "General Robert E. Lee was, in my estimation, one of the supremely gifted men produced by our Nation. He believed unswervingly in the constitutional validity of his cause which until 1865 was still an arguable question in America; he was a poised and inspiring leader, true to the high trust reposed in him by millions of his fellow citizens … Through all his many trials, he remained selfless almost to a fault and unfailing in his faith in God. Taken altogether, he was noble as a leader and as a man, and unsullied as I read the pages of our history…" 

Maury Hall at the Naval Academy was recently renamed for former President Jimmy Carter due to a Confederate connection with Maury, and yet this is what then President Carter had to say about the top Confederate General: "Robert E. Lee was a man who understood the values of a region which he represented. He was never filled with hatred. He never felt a sense of superiority. He led the Southern cause with pride, yes, but with a sense of reluctance as well. He fought his battles courageously." 
The attacks on historic memorials quickly moved from Confederate connections to founding fathers and have continued to move forwards. By 2021, a statue of Thomas Jefferson which had stood in New York City Hall for 187 years was removed.
It's time to stop this progressive agenda bent on undermining the nation. America rose to greatness honoring our history. A nation under God and home of the free because of the brave. The brave trained to win wars at places like Fort Benning. We can't afford to forget that.
Bill Connor, a retired Army Infantry colonel, author and Orangeburg attorney, has deployed multiple times to the Middle East. Connor was the senior U.S. military adviser to Afghan forces in Helmand Province, where he received the Bronze Star. A Citadel graduate with a JD from USC, he is also a Distinguished Graduate of the U.S. Army War College, earning his master of strategic studies. He is the author of the book Articles from War.