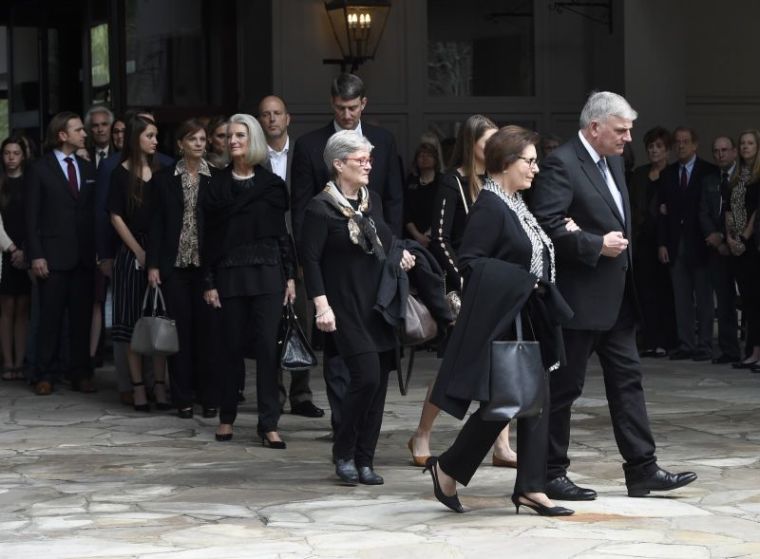 Billy Graham had an enormous impact on my life. I even named my first son after him.
I only met him once when he spoke at the Liberty University commencement when his grandson graduated.
But his influence on my life and ministry is immense. I first saw him when I was seven-years-old. I went with my family to Madison Square Garden where he held a crusade. I can still remember it to this day.
When God called me into the Christian ministry it was a surprise to many family and friends. I was not a likely candidate. And I did not have an interest in being a pastor. I wanted to be a preacher like Billy Graham. I wanted to proclaim the Gospel.
When I came to Richmond, Virginia almost 25-years-ago it was to start a different kind of church. It would be a church for the unchurched, where the Gospel would be made relevant to everyday life. A place where people could accept Christ into their lives just like they did at Billy Graham crusades.
Billy Graham was totally faithful to the Gospel his whole life and ministry. He never veered off course. He had offers from Hollywood, from colleges, even churches but he refused to change his mission. He was simply an evangelist.
Evangelist comes from the word Gospel meaning the "Good News." This is the central message of Christianity. The Good News is that God loves everyone and wants to have a relationship with each person. His love reaches beyond racial, ethnic or geographical boundaries. He wants everyone to know Him and spend eternity in heaven with Him.
But there was a problem. God is perfect, and humanity is not. Jesus became the solution. He came to earth and lived a perfect, sinless life. He then gave Himself for our sins dying on the cross. When He rose from the dead He proved His victory over sin and death. Now anyone who acknowledges they are not perfect and receives God's forgiveness through Jesus is born again. They are born spiritually and enter a relationship with God through Jesus Christ.
Billy Graham spent his entire ministry proclaiming this good news. He explained it clearly and called people to respond to it. He wanted everyone to know they could live their life on earth with purpose and then when life was over go to heaven with Jesus.
The results of his faithfulness are staggering. His preaching through crusades, television, radio and movies reached over two billion people. No one has ever come even close to such a worldwide reach. More people came to Christ and were born-again through his ministry than anyone in history.
He preached in 185 nations and territories. He literally ministered around the world. Billy preached on one day in Seoul, South Korea to over one million people. He preached in New York City for 100 days in a row. These numbers are mind-boggling.
I once preached for 14 straight days. I thought it was an accomplishment but I'm 86 days short of what Billy did. I have preached on six continents and been to 25 countries. Nothing compared to what he did. I have seen thousands come to Christ he saw millions accept Jesus into their lives.
Some have criticized Billy over the last few days. I know no one is perfect but it is a bit shocking to me. George Will wrote that Graham was not a theologian or a prophet. I'm sure Billy would agree. He was an evangelist. Apparently Will doesn't know there is a difference.
Teen Vogue's Lauren Duca tweeted, "Have fun in hell." Graham's entire life was dedicated to keeping people from going to hell. Such a statement is so bizarre it is beyond comprehension.
Billy Graham was in Gallup's Top 10 poll of the Most Admired Men 61 straight times. There is no one else even near that number. His integrity was beyond reproach. No scandal was ever attached to his name or ministry. There is virtually universal respect for him across every ideological spectrum.
He acknowledged later in life he wished he had gone with Martin Luther King Jr. to march in Selma. But he was the one who took down the segregated barriers at his Southern crusades in 1953, a year before the Supreme Court's school integration ruling. And when Dr. King was arrested in Birmingham, Alabama during the civil rights protests it was Billy Graham who posted his bail.
He was a counselor to 12 U.S. presidents. And he received the Presidential Medal of Freedom, America's highest civilian honor. His leadership was pervasive across political lines and religious ones.
His final homage will be to lie in honor in the Capitol Rotunda in Washington, DC. February 28 - March 1. A respect last bestowed in 2005 for civil rights hero Rosa Parks.
And today I will travel to Washington, DC to pay my respects to Billy Graham, America's pastor and my hero.
Rick McDaniel is the senior pastor of Richmond Community Church in Richmond, VA and
highimpactchurch.tv.
He is the speaker on the High Impact Living broadcast and the author of 5 Habits of Happy People. @rickmcdaniel