13 Reasons Why Students Need to Read The Delusion, a Young Adult Novel about Teen Suicide
Here are 13 reasons why I'm over-the-top passionate about getting The Delusion to every teen and household.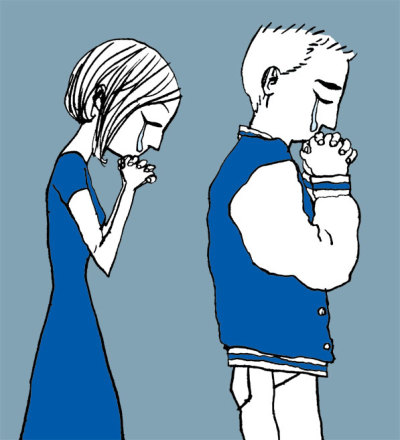 If you're a teenager or the parent of one, you've probably heard of the Netflix original series 13 Reasons Why. My eighth-grade daughter described the teen drama to me this way: "It's about suicide, and lots of my friends are watching it, but Mom, it's, like, making some of them depressed and stuff."
Based on a book of the same name, the show's theme centers around 17-year-old Hannah Baker, a suicide victim who leaves behind audio recordings for those she blames for causing her to want to die—13 people, to be exact. The show's producers maintain that they hope to shed light on the tragic issue of suicide, but various suicide prevention groups say it's actually glamorizing suicide and putting teens at risk.1
I too have a heart for this cause, so much so that I chose teen suicide as the driving theme of my young adult novel, The Delusion. But I come at it from an entirely different angle—a biblical, spiritual perspective.
Here are 13 reasons why I'm over-the-top passionate about getting The Delusion to every teen and household who speaks and reads English (and beyond that once the book is translated into other languages!):
While The Delusion depicts how peer-to-peer conflict can escalate suicidal thoughts in teens, the ultimate source of dark, depressing thoughts is not the people around us. Instead, 18-year-old Owen Edmonds becomes an eyewitness to the otherwise invisible demonic forces that whisper soul-sabotaging lies to troubled teens in a deadly mission to provoke them to end their lives (see Ephesians 6:12). It becomes Owen's mission to convince his vulnerable classmates to combat depressing thoughts with hope and truth, a real-life strategy.
Throughout The Delusion, readers are shown the crucial importance of reaching out with concern to friends and loved ones who show signs of depression, committing to be a source of support and encouraging them to seek counseling. At the same time . . .
The Delusion portrays how some students show few or even no signs of depression, yet are suicidal. With this in mind, readers are inspired to go beyond surface-level conversations with those within their sphere of influence and seek to build deeper, more meaningful friendships that help prevent emotional isolation.
As an atheist, The Delusion protagonist Owen Edmonds wrestles with the real-life struggle to understand why a supposedly good God would allow evil to prevail at times, particularly when forces of light (angels) have the power to overcome evil. Eventually he learns that it's our responsibility, as human beings, to yield to good and resist the evil that seeks to overtake us.
The Delusion powerfully illustrates how abusing antidepressant drugs and alcohol to numb emotional pain only leads to more suffering and dysfunction.
The Delusion gives a vivid—okay, completely horrifying—account of what it's like to face eternity without Christ, exposing the lie that all turmoil ceases after we take our own lives. At the same time, it dispels the notion that suicide is an unpardonable sin that automatically damns a person to hell. The takeaway is that we must accept His saving grace in this life.
The Delusion shows the harm bullying can do, but goes a step further to show that even the bully is a troubled person worthy of receiving help.
The Delusion focuses on the healing power of forgiveness as opposed to fixating on a bitter need for revenge against those who've wounded us. This theme is also powerfully illustrated in the movie portrayal as The Delusion is currently being prepped for the big screen.
The Delusion makes the case that those hearing tormenting voices may be in a spiritual battle as opposed to suffering a solely psychological issue. This empowers readers to consider solutions beyond antipsychotic drugs alone.
Even teens who don't like to read are engaged by The Delusion storyline, which intentionally depicts how abusive teen dating relationships greatly increase a young person's likelihood of suicide.

The Delusion reveals how cutting and self-harm are destructive ways to cope with painful emotions and only serve to invite more darkness into our lives.
The Delusion helps young readers grasp the awesome power of prayer in way that is uplifting and engaging, not stuffy or boring—and faith and prayer have been proven to combat the negative effects of stress and depression.

Delivered in a form of page-turning entertainment, The Delusion communicates the hope-filled message that God has a profound plan for each of our lives, and that plan is worth living for, no matter our current setbacks or disappointments.
The Delusion released in October 2017 from Tyndale House Publishers.
Follow #TheDelusion book and movie-making journey @DelusionSeries on Twitter, Facebook and Instagram.