3 ways Christians can serve military families beyond purple ribbons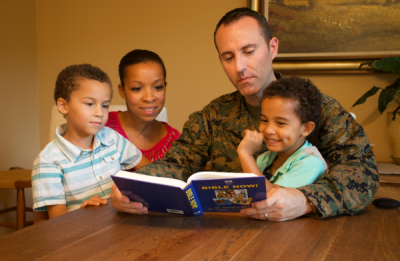 April 15 is Purple Up! For Military Kids Day, when Americans are encouraged to wear purple to show support for Military children and thank them for their strength and sacrifices. But it's important to remember that our Christian mission can last far longer than a single day.
More than two million children in the U.S. today have had a parent deployed to Iraq or Afghanistan. At least 19,000 of them have had a parent wounded in action. More than 2,000 have lost a parent to war, and an untold number live with parents with post-traumatic stress disorder.
Years of research have found that the families of active-duty Service members experience higher stress, anxiety, depression, and financial struggles than civilian families – and this has worsened during the pandemic. For example, more than 84% of enlisted families worry about personal finances; 34% say they don't pay their bills on time. In addition, 17% of Military spouses reported having lost their job as a result of the pandemic, increasing their already higher rates of unemployment. And 23% of Military family respondents without a depressive disorder or anxiety diagnosis before COVID-19 now report having symptoms.
This month, First Lady of the United States Dr. Jill Biden announced new plans to aid Military families. Although government action is important, our country also needs people of faith to lead initiatives that support struggling Military families.
Here are three ways you and your church can support Military spouses and children:
1. Understand their struggles and offer practical aid.
Military families struggle in different ways, but the most typical areas are: 
Unemployment
Mental health
Lack of family support
Financial stress
Loneliness and Isolation
Lack of childcare
Frequent moves
Deployment separation
If you know a Military family, see if you can determine which kind of help would be most beneficial to them. Alternatively, if you have experience in a certain area, reach out to your nearest base (specifically their Family Support Center) and offer your services. For example, if you are a realtor, you could offer to help newly relocated families find housing at a discounted commission. If you own a business, you could advertise open positions on base. Offer discounts for Military kids at play spaces, toy stores, and more. Many bases have a welcome packet with resources for new families where you can advertise free or discounted services.
2. Proactively be their community.
Often, Military families are hesitant to join a church community, because they don't know how long they will be in an area and may not know any church members. Churches need to be proactive in reaching out to these families. Connect with a nearby base or find an organization that supports Military families and is looking for volunteers, donations, or supplies. The Navy-Marine Corps Relief Society collects hand-knitted blankets to give new mothers on base. Operation: Love Reunited connects photographers with families who want to capture their Service member's homecoming; these photographers typically offer their services for free in exchange for being able to use the photos in their portfolio. For spiritual strength, American Bible Society's Armed Services Ministry provides free Military-specific Scripture resources for Service members, Veterans, and their families; you can help connect Military families in your area to these free resources.*
When service members are deployed, Military spouses often struggle with childcare and managing household duties. Offer to shovel snow, mow their lawn, or do house repairs; offer to babysit on a weekend so they can have time to themselves.
If you're near a larger military base or VA hospital, Fisher House offers Military families a free place to stay while supporting their loved ones in the hospital (many who are recovering from significant injuries and illnesses or other combat injuries). Most are looking for volunteers to babysit, bring in meals, or collect supplies.
3. Pray for them.
Prayer is powerful. Surround these families with prayer as often as you can. Make them a part of your weekly prayer list at church. Pray for deployed service members, their families, and those who are adjusting after returning home. Perhaps most importantly, encourage and love these families year-round – not just on patriotic holidays. We can be the hands and feet of Jesus for those who have experienced trauma we may never see.
Hanging a purple ribbon outside your house this month, or posting on social media, is a wonderful way to bring awareness to the struggles of Military families. But as Christians, we have the opportunity to look beyond the short-term. We can walk alongside, serving those whose loved ones are defending our freedom.
*American Bible Society's Armed Services Ministry (ASM) launched a program in December 2020 to show children of the Military the support of a grateful nation. Through donor commitments, the program provides four annual gift packages containing Bible-based resources to children with a parent serving in the Military. Due to overwhelming demand, ASM had to begin waitlisting children in March. You can help share the hope of God's Word with waiting children by donating at myherosquad.org
Gordon Groseclose is a retired U.S. Army Chaplain (Colonel) and program representative of American Bible Society's Armed Services Ministry.