7 Deadly Worldviews That Threaten Christianity
We are required by God to know why we believe in him, his word, law and Gospel of his son.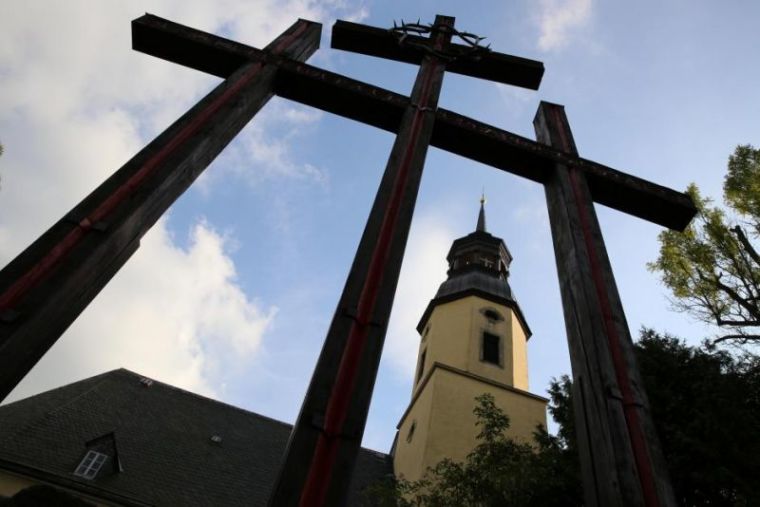 Steve Deace kicked off the new year with a very important series of shows for CRTV.com and his podcast via Westwood One/Cumulus Media. It was a series of shows describing "Seven Deadly Worldviews" that not only compete and is seducing (and even trying to literally kill) the Christian faith, but actually created (as we know and understand it) the overall worldview that dominates our culture. That worldview would be called "progressivism."
I am in total agreement with Deace that progressivism is the heresy of the day. In fact, Deace's transition from Sports Talk to News/Talk was with the goal of exposing progressivism's stranglehold in the 21st Century. After gigs with WHO Radio in Des Moines, Iowa, Salem Radio Network, USA Radio Network, Salem Radio Network (again) and now with CRTV and the audio podcasting side with Westwood One; Deace finally gets around to what he has wanted to do in the first place. Go right after the roots of progressivism and its main seven sub views that have taken us to where we are now. He does this by focusing on one world view per show. In fact, right to the very beginning of the apostasy that began with the conversation that the devil (via a snake) had with Eve. After all it is good to start to go from the ground up and build upon layer after layer of the overall progressive heresy. To take out progressivism you must know and work hard to knock out the seven legs of the modern day progressive table. Here are those seven deadly worldviews that make up progressivism.
1. Gnosticism: The rejection of God's Word as not sufficient for us to know our true purpose or for life to have its ultimate meaning. The seeking of extra or special knowledge elsewhere other than God himself.

Gnosticism actually comes from Lucifer himself. Steve points outs the books turned movies "The Da Vinci Code" and "The Golden Compass" (the later was planned as a movie franchise but due to 'Compass' being a box office bomb the plans were scrapped) as the biggest promoters of gnosticism. Philip Pullman who wrote Compass in the respected sequels in the "His Dark Materials" trilogy admitted (in spite of his own atheism) that Lucifer is the hero and he is claiming that the devil is (and I am paraphrasing here) 'freeing us from the tyrannical Great Grandfather in the sky who is passed his prime.' Talk about the devil in the details.
2. Legalism: A religious system that puts more emphasis on works based righteous than the saving grace of Jesus Christ.
This too comes from the Garden. While Gnosticism comes from the Devil, you can blame Eve for laying the ground work for legalism. Eve fell right into Lucifer's trap in which she said something that God did not say. God only said that if you eat of the Tree of Knowledge of good and evil then you shall die. Eve added on to that statement saying if you "touch it" and then eat it of the fruit you shall die. Again, God said nothing about touching the fruit, only eating of it. Adam who should have been a better protector of his wife left her alone to be seduced by the fallen angel, and Eve was either native or trying to out due her husband. We may never know Eve's heart in this matter. Regardless she ate the fruit and Adam came tumbling after. Lies cannot be truly defeated with another set of lies. Eve did lie about what God said about that forbidden tree. There is no excuse. Keep in mind that Legalism should not called out when preaching certain actual truths from God's Word. It may be offensive, but it's not Legalism. Touching the forbidden fruit was legalism. Eating that respected fruit is not legalism.
3. Dualism: The belief that good and evil are equal in power and essentially two sides of the same coin.
Eastern mystics adopted the Yin/Yang symbol, the west took that ideal and we have the famous good angel/bad angel conflict (or other variations like Dr. Dre/Eminem in the hit rap tune "Guilty Conscience") or Light/Dark sides of The Force based on the Science Fantasy Trilogy "Star Wars." Harry Potter and The Lion King bring up the concept of "The Circle of Life" in different means. Another way to put it; we as humans proclaim ourselves as sovereign instead of God. We determine what is good and evil and acquire what those terms mean for ourselves. Overall Dualism views good and evil as part of the same framework, and not as separate concepts. God is not evil but rather Holy and set apart from our sinfulness. Our sins would burn us to a crisp in front of a Holy God.
4. Darwinism: The belief the universe is the result of random chance occurring completely in the natural world and not the purposeful plan of a creative and sovereign God.
Charles Darwin (who it is named after) might have never found the missing link in the natural world, but it became the found link in the heart of sinful man who refuses to bow before the God of Abraham. Deace puts it another way. "Every religion needs a creation myth. Darwinism is the creation myth of the religion of self." Darwinism magnified what God pointed out in Romans Chapter One regarding those who would not worship God who is forever praised but the creation. Contrary to popular belief Darwinism is not science, it is a faith, and very dogmatic. You dare question it regardless of who you are and even if you present the most logical facts debunking it, the Darwinists will hunt you and eat you alive. Darwinism has been the worldview that is most responsible for the dismantling of the western world. It is the religion of self, and when a few elite hardcore Darwinists take control, they really play god and have no problems when it comes to blood shed of so many innocent people, and thinking that they will never be held to an account for those vile actions (they would consider it 'the greater good'), especially God almighty. Darwinism allowed for the 'law of the jungle' to take effect in the human world.
5. Pragmatism: A utilitarian ideology that says something can only be true if the practical consequences of accepting it satisfies our needs, desires and wants.
Pragmatism is "the first-born child of child of Darwinism." It conflates situational ethics with situational shrewdness. It allows people to change from what is truth and absolute to a truth they feel is right for themselves. Pragmatism has become the worldview for most of our political figures regardless of what major party they belong to. You want to know why you have an incompetent government? You can thank pragmatism for this. Our political figures are more concerned about doing the things that will make their constituents and/or cultural elites happy rather than doing the right thing regardless of the consequences, not to mention growing their own bank accounts. We as a society have become "functional atheists" who will break God's Law at times when it really matters. Not just in government political situations, but even in the corporate world and then some. What if you had to fire a good worker (who is a single mother) just because your superior hated that person for no good reason at all (she would not let this punk "pick her locks"). You submit to your boss and fire that worker and you will reap the rewards...you hope. Meanwhile that fired worker can't land on their feet and her family suffers the unnecessary consequences of a punk superior who is likely enjoying his payback whatever that is. You however, try to shake it off but you know deep down it was wrong. Well you functioned like an atheist of sorts. You did the wrong thing because you did not want the immediate pain of doing what is right. Your boss, your personal interests, your family's needs take God's place. I slightly added and altered to the situation that Deace presented regarding pragmatism, but hey maybe someone higher up will turn this boss in for being a sick puppy (or get caught). Meanwhile, this single mom might figure out a way not to take the law into her own hands, but "take them to court."
6. Syncretism: The blending of two or more distinct belief systems for the purpose of creating a new system.
We as humans need some kind of civility in our lives and try to get along as much as possible. It is a challenge but it can be done if we share common interests and/or goals in this life. However, Christians should never embrace syncretism as a way to get along. Syncretism is basically your "Co-exist" motto (with all of the religious symbols). Truth of the matter is that syncretism is at the heart of the matter, the very essence of intolerance while claiming to be otherwise. The light and dark will eventually come to a conflict and eventually someone's worldview has to prevail and syncretism proves to be a downright joke. Not to mention a true heresy. Eventually those who have the power will impose their worldview on others and we must submit. In the end confusion becomes the norm and clarity is thrown out the window. This whole transgenderism battle comes more/less out of this belief of syncretism. "We Are the World?" No, we are the "Land of Confusion."
7. Secular Humanism: A belief system that rejects virtually every single principle of God's Word.
All that we have left is our primal instincts, and the teaching that human nature is basically good in spite of proof that is contrary to this. Secular humanism truly does bring the worst out of human beings, but yet they claim to be good. Eventually secular humanism will collapse a culture and will leave a society in tatters and something worse takes over. Right now, that big threat that will take over a society once Secular Humanism does it damage is Islam. Either that or you will have what Russian has become...just without the images of tools that were used be the farmer and the steel worker in front of a cloth of bright red. The only thing that could prevent either tyranny or others like China's from happening is Christian revivals not only in America but Europe not to mention the whole world. In the meantime, secular humanism has its own God and Church. That being large and centralized government. It has to be for them, but the problem with big government, it loves to impose itself on the infidels that oppose it, especially Christians.
In every show of the mini-series after Deace describes the worldview, a video montage that features Jeremiah J. Johnston from Christian Thinkers Society in Houston, Texas helps viewers understand how the worldviews impacted our culture by going deeper with pictures, video and/or audio clips about how these worldviews are promoted and their impacts on the modern culture.
After the montage, Deace applies "Three Dimensional Thinking" to every worldview presented, which breaks down to these three steps.
1. Know why you believe what you believe.
2. Know why others believe what they believe.
3. Know why others believe what they believe about what you believe.
It may sound confusing at first but let us break it down and the lay the foundation. We are required by God to know why we believe in him, his word, law and Gospel of his son. As humans we desire and are encouraged to seek fellowship with others and many others are not going to agree with us in lock step so we learn about our neighbor's faith and/or worldview. Sometimes collectivity and other times individually. With those things in mind, and you want present the Gospel of Jesus Christ to your neighbor and/or a group; you need to know what they think of you and your faith. It may not always be pretty but sadly perception is reality, even if that perception is false. We still have to try to debunk any false perceptions and more often than not our neighbor will present objections and we must be ready to present an answer to our faith. For the purpose of the CRTV program coupled with the podcast that complements it, Deace does 3-D thinking with his production team (and regular contributors to the program) of Todd Erzin and Aaron McIntire who are in agreement with Deace on most of the issues but have their own takes on the issues and worldviews.
If your able to take out a subscription to CRTV.com, please do it so that you can watch these seven programs. The audio podcasts are free but it is very important to watch and listen to both versions for they complement each other. It is not impossible go with one form without the other however. Now more than ever, we need to move forward with our faith and be bold about it. To do that we really need to understand the Christian faith and show our neighbor that Christianity just does not work for certain people nor should it. It is a way of life, a way that promotes life and gives life not only in this world but the world to come. If we can't do this, then progressivism (which emerged out of these seven worldviews) will destroy what is left of the western world, while trying to prove God that he is in the wrong.