A Pro-Choice Christian? Then You Are A Pro-Choice Heretic
God made mankind for the purpose of mirroring him. In light of creation, the image of God in man is meant to be displayed physically in a physical world.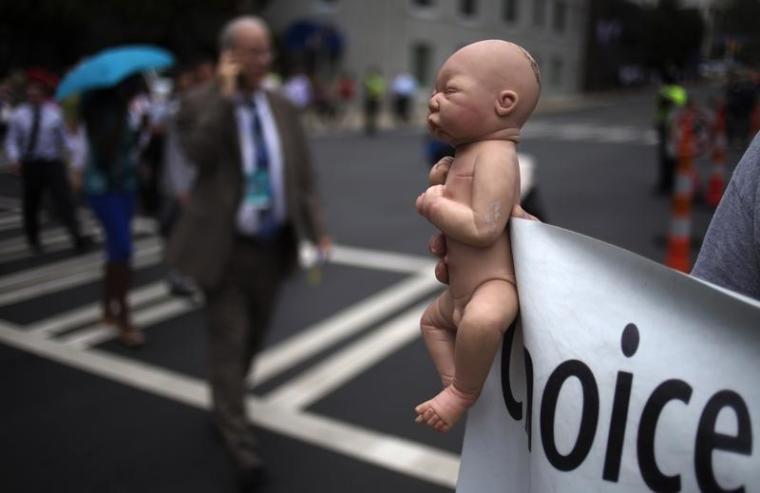 *This article was discussed on the author's podcast, All Truth is God's Truth, recently. You can find the episode here (iTunes or Google Play). Subscribe for more interaction with culture from a consistent Christian worldview.
In the beginning, God created mankind, body and soul, male and female, in his image (Gen. 1:26-28; Matt. 10:28). God made mankind for the purpose of mirroring him. In light of creation, the image of God in man is meant to be displayed physically in a physical world.
Created in the image of God
Body and soul exist in unity and they make up human nature. Natures do not act on their own; rather, persons act through their natures. This is not to say persons can be separated from their natures. They cannot be separated from their natures; persons are the acting subjects.[1] Natures do not subsist in themselves, but in persons.[2]
Human persons act in and through their natures, their souls and bodies, simultaneously to make up a human being in unity.[3] One cannot act through his soul without also acting through his body unless the soul has been separated from the body, meaning that the body is dead. In other words, the soul is the non-physical substance and the body is the physical substance, and these make up a single substance, a capacity known as the human nature.[4] If you have a human nature, you necessarily have a person; if you do not have a human nature, you necessarily do not have a person.
To summarize, the person is the acting subject, and persons act in and through their natures. To have a human nature on earth, one needs a human body (regardless of how minimal) and a human soul. If the body is ensouled, the soul is embodied, and a human nature and person exists.
With these truths in mind, we ask, "Does Scripture teach that human embryos are human natures that subsist in persons?" The answer to our question is found in understanding the most important human who has ever lived, Jesus Christ.
Jesus Christ, fully human, a human nature subsisting in a Divine Person from conception
For Jesus Christ to represent the human race, he had to come from Adam's race (Gen. 3:15; John 1:1, 14; Heb. 2:14-17). Mary is treated as Jesus's mother, not because she was a mere surrogate for the implanted embryo of Christ, but because it was her egg that was fertilized by God miraculously. The same process that you and I went through in embryonic stage onward to birth is the same process Jesus Christ went through. Yet, he was not conceived in iniquity like us because he was conceived sinless by the Holy Spirit from His Father, the first person of the Trinity (Matt. 1:18; 2 Cor. 5:21; 1 Pet. 2:22; 1 John 3:5).
Before Jesus was conceived in Mary, her cousin Elizabeth became pregnant with John the Baptist. John was filled with the Holy Spirit from his mother's womb (Luke 1:15, 41). An angel told Mary she would be pregnant by the Holy Spirit and that Elizabeth, her cousin, was already six months pregnant. Mary then hurried to see Elizabeth. Mary greeted her and John the Baptist jumped in Elizabeth's womb (Luke 1:26-41).
"And Elizabeth was filled with the Holy Spirit, and she exclaimed with a loud cry, 'Blessed are you among women, and blessed is the fruit of your womb! And why is this granted to me that the mother of my Lord should come to me? For behold, when the sound of your greeting came to my ears, the baby in my womb leaped for joy. And blessed is she who believed that there would be a fulfillment of what was spoken to her from the Lord'" (Luke 1:42-45).
It had only been a few days or a few weeks at the most since Mary became pregnant. She was still very early in the first trimester, and it's even possible that the embryo had not even attached to the uterine wall yet, a process that takes 6-10 days. Based on what Elizabeth said to Mary, Mary was already pregnant when she entered the room. Elizabeth referred to Mary's baby, her embryo, as tou kuriou—the Lord.
Pro choice heretic
These realities now bring us to the title of this article, "Pro choice heretic." There are two dominant positions when it comes to the discussion of abortion: pro-life and pro-choice. Those who affirm the pro-life argument believe babies are living human persons from conception. All that human beings need to possess in order to be considered persons, babies possess from conception. On the other side, those who affirm the pro-choice argument believe that mothers should have the choice concerning whether or not to bring their babies to delivery, because only they should determine what to do with their own bodies. Since the baby is inside the mother's body, she alone should have control over her body. Some in this movement justify abortion by arguing that babies are not human persons until they possess higher brain function, self-consciousness, autonomy, etc. This "transformation" into human personhood takes place at some point late in the second trimester.
If the pro-choice movement is correct about when personhood begins, what does this say about God the Son Incarnate at conception? Was he something less than human from conception to late in the 2nd trimester or birth? If so, what was he, and how does this fit with orthodoxy?
The Chalcedonian Creed and Orthodoxy
For example, consider the Creed of Chalcedon. The Chalcedonian Creed was written due to heresies forming in the early church. The church needed to precisely understand and officially confess what Scripture said in order to answer heresy and prevent error. They had their Fourth Ecumenical Council in Chalcedon in 451, and the result was the Chalcedonian Creed:
Following, then, the holy Fathers, we all with one voice teach that it is to be confessed that our Lord Jesus Christ is one and the same God, perfect in divinity, and perfect in humanity, true God and true human, with a rational soul and a body, of one substance with the Father in his divinity, and of one substance with us in his humanity, in every way like us, with the only exception of sin, begotten of the Father before all time in his divinity, and also begotten in the latter days, in his humanity, of Mary the virgin bearer of God.
This is one and the same Christ, Son, Lord, Only-begotten, manifested in two natures without any confusion, change, division or separation. The union does not destroy the difference of the two natures, but on the contrary the properties of each are kept, and both are joined in one person and hypostasis. They are not divided into two persons, but belong to the one Only-begotten Son, the Word of God, the Lord Jesus Christ. All this, as the prophets of old said of him, and as he himself has taught us, and as the Creed of the Fathers has passed on to us.[5]
The Chalcedonian definition rejected heresy while reaffirming what had been done in the three previous great councils—Nicea in 325 (Christ is fully God), Constantinople in 381 (Christ is fully Man; Holy Spirit is fully God), and Ephesus in 431 (Christ is one Divine Person with two natures: fully divine and fully human).[6] Chalcedon drew the orthodox boundaries for discussion of the God-Man Jesus Christ even up to the present day.
Notice that the Chalcedon creed argued that God the Son is fully God and fully Man. Also notice that they argued that God the Son is united to two natures, divine and human, which means that God the Son has never been united to anything less than a human nature. Thus, in order to affirm the pro-choice argument that a baby is less than human until late in the 2nd trimester, pro-choice advocates must also argue that God the Son Incarnate was less than human until late in the 2nd trimester. To argue that God the Son Incarnate is less than human at any point in His life is heresy.
But, as we have already read, what do the Scriptures say?
God the Son Incarnate from conception
Returning to Luke 1:26-41, John the Baptist, filled with the Spirit while in the womb, jumped for joy due to his Lord and Savior entering the room as a divine person united with a human embryo (the God-Man). Remember, natures do not subsist in themselves; they subsist in persons. God the Son had already united with his human nature at conception, for Elizabeth called him "the Lord." Though it was very early in the first trimester, God the Son did not unite with a mere "fetus" or a mere "clump of cells." That would mean there are two incarnations, God the Son Clump of Cells and God the Son Incarnate, which adds a heretical "nature" to Christ in addition to his full humanity and full deity.
Additionally, due to Adam's sin, sinful mankind needed a Second Adam, not some other substance incapable of sin. Clumps of cells do not need saviors for they do not and cannot sin; only persons are sinners and only persons sin. Therefore, God the Son united with a human nature, embryo (body) and soul, not an inhuman clump of cells. John the Baptist did not leap over what Mary's "fetus" would become; he jumped for joy over what her embryo already was, even at a few days in utero—God the Son Incarnate.
Jesus Christ's human nature subsisted in his divine Person from conception. To argue otherwise is to deny orthodoxy, to deny Scripture, and to affirm heresy.
Therefore, reader, if you consider yourself pro-choice, you just might be a pro-choice heretic. If you affirm the full humanity and full deity of Jesus Christ, then you must also affirm that if your Savior was fully human from conception, then so is every other human being who has ever lived or will live. As Voddie Baucham has said, "The only differences between an infant and an embryo are age and location."
Christians, it's time leave abortion on the ash-heap of history. The Scriptures tell us who a person is. If Jesus Christ was a full human being from conception, then so are we. The blood of millions of dead babies cry out, "We are persons!" Will we listen to them? Or, have we become dull of hearing?
Jared Moore was dead in his sin and God raised him to life in Christ Jesus. Because of Christ's finished work, he will live forevermore. Jared has served in pastoral ministry in a Southern Baptist context since 2000. He currently pastors Cumberland Homesteads Baptist Church in Crossville, TN. He is married with four children. Jared has authored several books. He is also a PhD candidate in Systematic Theology and a Teaching Assistant for Dr. Kyle Claunch at Southern Baptist Theological Seminary.
Books: http://amzn.to/2h6rpQ8
Website: http://jaredmoore.exaltchrist.com/
Facebook: https://www.facebook.com/Jared-Moore-134396103280214/
Twitter: https://twitter.com/jaredhmoore
Enjoy God Through Popular Culture: https://t.co/Bm6YFmRh9q
All Truth is God's Truth Podcast: https://itunes.apple.com/us/podcast/all-truth-is-gods-truth/id830829832
Pop Culture Coram Deo Podcast: https://itunes.apple.com/us/podcast/the-pop-culture-coram-deo-podcast/id1332025685
---
NOTES:
[1]See Richard Swinburne, The Evolution of the Soul (Oxford: Clarendon Press, 1986), 10, 145, 310-311. Swinburne argues that the soul and body affect one another. I agree with this premise. But, he then argues that the soul is like a light bulb and the brain like a light socket. The bulb can exist apart from the socket, but will not light. I, however, want to argue that the human nature, body and soul, is the light bulb and the human person is the light socket, since natures subsist in persons. Of course, then the bulb (human nature) cannot exist without the socket (human person) and the socket cannot exist without the bulb; the analogy then fails. Truthfully, the analogy fails even with Swinburne's original use since the bulb does not affect the socket like the soul affects the human body. Also see Alvin Plantinga, "Materialism and Christian Belief," in Persons: Human and Divine, eds. Peter Van Inwagen and Dean Zimmerman (Oxford, NY: Clarendon Press, 2007), 100-101.
[2]Jove Jim S. Aguas, "The Notions of the Human Person and Human Dignity in Aquinas and Wojtyla," Kritike 3:1 (June 2009): 50-51.
[3]Ibid., 51. Also, see Millard Erickson, where he suggests that man's nature is analogous to two elements that combine to form a molecule or compound. "We might think of man as a unitary compound of a material and an immaterial element. The spiritual and the physical elements are not always distinguishable, for man is a unitary subject; there is no struggle between his material and immaterial nature. The compound is dissolvable, however; dissolution takes place at death. At the resurrection a compound will again be formed, with the soul (if we choose to call it that) once more becoming inseparably attached to a body." Millard Erickson, Christian Theology (Grand Rapids, MI: Baker, 1990), 537-538. I would rather say man is like a mixture, a liquid solution. Erickson mentions a mixture analogy, but then suggests that the human person would be able to choose which element to act through, the body or the soul, at any given point. I think a better analogy would be a liquid solution where one has a minor (the solute) and a major component (the solvent). The solute is uniformly distributed throughout the solvent to form a solution. The original properties are still intact in each element. Yet, the two are indistinguishable in the mixture, and they can be separated through a special process (evaporation). If the soul is analogous to the solvent and the body the solute, the two would subsist uniformly in the human person while still maintaining their distinct properties and still possess the ability to separate due to a special process (death). Yet, the human person would act through both simultaneously since the nature is unified until physical death; then the person would act through only the soul, which is what is left of the human nature in the intermediate state.
[4]Jove Jim S. Aguas, "The Notions of the Human Person and Human Dignity in Aquinas and Wojtyla," Kritike 3:1 (June 2009): 51.
[5]Justo L. Gonzalez, The Story of Christianity: The Early Church to the Dawn of the Reformation, vol. 1 (New York: HarperCollins Publishers, 1985), 256-257. Also, R. L. Reymond argues that the Council of Chalcedon's creedal labors produced the Christological definition that fixed the boundaries for all future discussion; R. L. Reymond, "Incarnation," in the Evangelical Dictionary of Theology, 2nd ed., ed. Walter A. Elwell (Grand Rapids: Baker Academic, 2001), 601.
[6]Gonzalez, The Story of Christianity: The Early Church to the Dawn of the Reformation, vol. 1, 256.