Aleksandr Isayevich Solzhenitsyn and his 'Gulag Archipelago'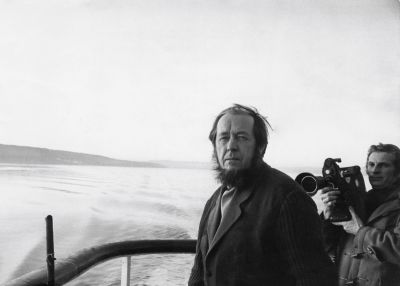 This year, 2023, we celebrate the 50th anniversary of the publication of The Gulag Archipelago, Aleksandr Solzhenitsyn's literary and historical masterpiece which described brilliantly the inhuman "archipelago" of horrific concentration camps established by Lenin in the wake of the creation of the Soviet Union in 1918 and expanded and refined under Stalin and his successors.
Solzhenitsyn, born in 1918 to a Russian father and a Ukrainian mother, was raised in poverty in the early years of the Soviet Union. While his mother was devoutly Russian Orthodox, Solzhenitsyn gradually became an atheist socialist before serving as a decorated artillery officer in the Red Army during World War II. After criticizing Stalin in a private letter, Solzhenitsyn was sentenced to 8 years of hard labor in the Siberian concentration camps.
During his imprisonment, he regained the Christian faith of his childhood, partly by observing the faith of Christians in the terrible conditions of the camps (he alludes to this in his first novel, One Day in the Life of Ivan Denisovich (1962)).
Upon his release in 1954, he was able to continue his literary career under the reforms implemented by Nikita Khrushchev. His extraordinary writing included Cancer Ward (1966), Inthe First Circle (1968), and August 1914 (1971). Solzhenitsyn was awarded the Nobel Prize for Literature in 1970.
The GulagArchipelago, published in 1973 after being smuggled out of the Soviet Union, was a remarkable literary and historical achievement. In chapter and verse, torture chamber by torture chamber, Solzhenitsyn laid bare the detailed history of this monstrous creation. "The Gulag Archipelago: An Experiment in Literary Interpretation," published 50 years ago this year, was "arguably the 20th century's greatest piece of nonfiction prose." (Books and Masterpiece, "'The Gulag Archipelago': An Epic of True Evil").
"Dedicated to 'all those who did not live to tell their story, 'The Gulag Archipelago' demonstrates a nadir of humanity with nearby unfathomable cruelty." (Ibid.)
Solzhenitsyn's indictment of the inhumanity of the Soviet system is made even more powerful by his acknowledgment that he himself had "once accepted official ideology and behaved loathsomely." (Ibid.)
Amazingly, in spite of his life experience and the horrific events he had witnessed and suffered, Solzhenitsyn remained an incredible optimist, an apostle of hope. He was convinced that the "Gulag" "was destined to affect the course of history" (Edward E. Ericson, Jr. "Solzhenitsyn, Optimist" Wall Street Journal, 8/9/08).
George Kemman, the famous American diplomat and father of the Cold War "containment strategy" which eventually brought about the downfall of the "evil empire," described "Gulag" as the "greatest and most powerful single indictment of a political regime" that would  stick in the craw of the Soviet propaganda machine…with increasing discomfort, until it has done its work." (Ibid.)
That was precisely Solzhenitsyn's goal as he believed there was "no answering the 'many-throated groan, the dying whisper of millions' that he transmitted." (Ibid.)
When Solzhenitsyn was exiled from the Soviet Union in 1974 Harrison Salisbury wrote:  
"Against a powerful state stands a single man. . . The odds against Solzhenitsyn seem tremendous.  Yet I know of no Russian writer who would not trade his soul for Solzhenitsyn's mantle, who does not know that one hundred years from now all the world . . . will bow to his name when most others have been forgotten." (Ibid.)
And victorious he was.  Before he dies (2008), he moved back to Russia as the Soviet Union collapsed in 1991, had his Russian citizenship restored and all of his books were published in Russian, in Russia. 
And it should be remembered on the 50th anniversary of the publication of the Gulag Archipelago, Solzhenitsyn's victory was not a victory of capitalism over communism, nor a victory of the West over the East, but a victory of the Judeo-Christian understanding of the dignity, worth, and value of each human being, imparted by the Creator Himself.  
Do yourself a favor.  Read the Gulag this year. Read anything by Solzhenitsyn, the greatest Russian writer since Leo Tolstoy. It will lift your spirit, feed your soul, and restore your faith in your fellow man.
Dr. Richard Land, BA (Princeton, magna cum laude); D.Phil. (Oxford); Th.M (New Orleans Seminary). Dr. Land served as President of Southern Evangelical Seminary from July 2013 until July 2021. Upon his retirement, he was honored as President Emeritus and he continues to serve as an Adjunct Professor of Theology & Ethics. Dr. Land previously served as President of the Southern Baptist Convention's Ethics & Religious Liberty Commission (1988-2013) where he was also honored as President Emeritus upon his retirement. Dr. Land has also served as an Executive Editor and columnist for The Christian Post since 2011.
Dr. Land explores many timely and critical topics in his daily radio feature, "Bringing Every Thought Captive," and in his weekly column for CP.