Biden silent on Azerbaijan's attack in Nagorno-Karabakh; 2 children among dead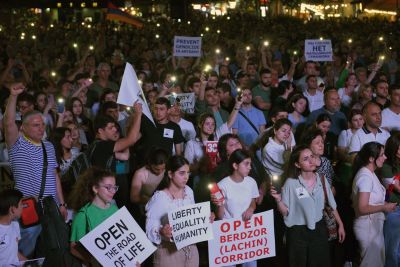 "Our goal is the complete elimination of Armenians. You, Nazis, already eliminated the Jews in the 1930s and 1940s, right? You should be able to understand us" – Hajibala Abutalybov, former mayor of Azerbaijan's capital city, Baku, to a German audience in 2005.
Abutalybov's dream came one step closer to reality on the afternoon of September 19, the 271st day of Azerbaijan's blockade of Artsakh (also known as Nagorno-Karabakh). At approximately 1 pm local time, Azerbaijan unleashed artillery fire on the starving civilians below. As the bombs dropped, children could be heard screaming from cellars where they were hiding from the assault. Multiple casualties have been reported, including children. This is just the latest chapter in Azerbaijan's 9 month blockade of the region. A population that is on the verge of starvation now has to defend itself against a full-fledged invasion. 
It is telling that just as the invasion began, Azerbaijan opened the Lachin Corridor to outgoing traffic from Artsakh to Armenia proper. Azerbaijan President Ilham Aliyev's goal is clear: To make Artsakh's ancient population choose between dying or leaving and never returning. 
An optimist might think that these civilians will be safe once they leave Artsakh. While the loss of an ancient homeland is heartbreaking, at least their lives are spared, right? Sadly, Azerbaijan has made clear that it has designs for Armenia proper as well. Territorial incursions into Armenia's territory are commonplace, and Azerbaijan refers to Armenia as "Western Azerbaijan." Aliyev's regime has also crafted an alternative historical narrative that claims Armenians are not actually native to the region, despite the fact that they have been living there for thousands of years. 
While the conflict is not explicitly religious, there is an undeniable religious component. The Armenian people formally embraced Christianity in the fourth century. Christianity has proven to be the glue that holds Armenian society together. It is the single greatest marker of Armenian culture. Azerbaijan, on the other hand, is a majority Muslim nation. Its closest ally is Turkey, which is responsible for killing 1.5 million Armenian Christians during the Armenian Genocide.  
Most Americans would be surprised to know that in spite of its Western values and Christian faith, Armenia has largely been rejected by the American foreign policy establishment thanks in part to robust Turkish and Azeri lobbying. The Biden administration has been no exception. Azerbaijan has garnered enormous influence on Capitol Hill by marketing itself as a bulwark against Russia and Iran. It has also spent considerable resources on capturing the support of American Christians by hosting delegations in Baku and touting Azerbaijan as a land of religious tolerance. In reality, Azerbaijan is manipulating Americans in order to provide cover for its revisionist ambitions. 
While American indifference is concerning, the silence from the White House is especially deafening considering the events have been declared a genocide by the former Chief Prosecutor of the International Criminal Court. President Biden, the man who declared human rights to be the north star of his foreign policy, is sitting quietly in the White House as Armenian children scream in their cellars. Despite 9 months of desperate pleas from the people of Armenia and Artsakh, Biden can't seem to find the energy to get out of his chair and make a phone call to Aliyev.  
To be clear, the United States can make this conflict end overnight. Azerbaijan receives millions of dollars' worth of aid and military support from the U.S. and its allies. If the U.S. and its partners cut off support immediately, the conflict would end overnight. Of course, this requires leadership; something that Biden is seemingly uninterested in. It requires President Biden to publicly and unequivocally condemn an assault on a democratic, Christian population by an authoritarian Muslim regime. It requires President Biden to signal to the rest of the world where the U.S. stands on this issue and to lobby allies to follow suit. 
The U.S. is the leader of the free world. If America remains silent, the people of Artsakh will die quietly.  
Dan Harre is the Leadership Network Associate at The Philos Project where he works on a host of issues including the persecution of Armenian Christians. He is a graduate of Regent University's Robertson School of Government where he earned an M.A. in National Security Studies with an emphasis in Middle East Politics. Dan is passionate about foreign policy, the MENA region, and international religious freedom.