The crisis for Armenian Christians isn't stopping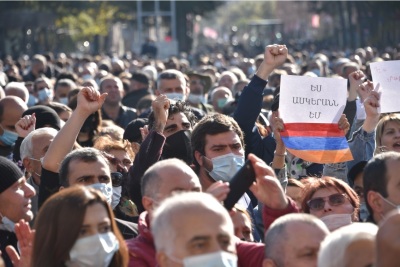 In a little-known part of the globe, the world's oldest Christian community is literally being starved to death. The Nagorno-Karabakh region has long been a place of religious and ethnic strife. In 2020, a significant and deadly escalation of a long-standing dispute between Armenia and Azerbaijan over this region occurred. As a result, both sides suffered significant casualties and territorial changes.
Though the region is internationally recognized as part of Azerbaijan, it has a predominantly ethnic Armenian population. The two countries have warred over this territory since the early 20th century, but it became particularly intense after the dissolution of the Soviet Union.
Russia brokered a ceasefire agreement between the two parties in November 2020 and deployed Russian peacekeeping troops to monitor the situation and maintain the ceasefire. However, it is no surprise that while Russia is now engrossed in its battle with Ukraine, its troops are no longer monitoring this region. Meanwhile, the Azeri government uses this as an opportunity to finish what it started back in 2020. Beginning in July 2023, Azerbaijan has blockaded the only road to the region known as the Lanchin corridor, causing dwindling food, medicine, and electricity.
Turkey, a NATO member with longings for increased global influence, supports its longtime ally Azerbaijan on the battlefield or the negotiating table against the Armenians. Turkey and Azerbaijan have strong ethnic and cultural ties, including their religious affiliation with Islam. The two nations also have strong economic ties, including oil and gas exports, as well as large-scale military training and arms sales together. In solidarity with Azerbaijan, Turkey has no diplomatic relations with Armenia and sealed its border with the nation in 1993. Historically, relations between Armenia and Turkey have remained hostile due to the mass killings of Armenians by Ottoman Turks over a century ago. Historians mark those events as the first genocide of the 20th century, which Turkey denies to this day.
Although Russia and Armenia do not share a border, Armenia is a close ally of Russia, including hosting a large Russian military base. With a garrison of about 3,000 soldiers, the base is characterized as a critical barricade against a possible Turkish invasion. But with Russia largely distracted by its turmoil with Ukraine, it leaves this embattled community of Armenian Christians at the mercy of its aggressive Muslim neighbors. Ultimately, the goal appears to be eradicating this ancient Christian population like many other Muslim-majority countries have done throughout the Middle East. 
As we commemorate the loss and devastation we suffered here in the US as the result of 9-11, the crisis in Nagarno-Karabakh reminds us of the far-reaching consequences it had on the rest of the world as well. The Arab Christian communities have a rich history that dates back to the early days of Christianity. They have been integral to the Middle East's social fabric for centuries. With roots tracing back to the birthplace of Christianity, these communities have played significant roles in various fields, including culture, education, and politics. However, in the aftermath of the tragic events of September 11, 2001, these communities have faced unprecedented challenges and destruction.
It started with the invasion of Iraq in 2003 and spread throughout the world in what we called the "Arab Spring." US policymakers had this lofty notion that these countries would easily evolve into bastions of freedom if only the West could liberate them from the dictators who oppressed their people. Though the idea sounded appealing, it was naive and impossible to impose or create by external forces what would be seen as occupiers and invaders.
Revolutions in Libya, Egypt, and Tunisia, as well as uprisings in Iraq, Syria, and Lebanon, led to guerilla warfare on the Arab street. The breakdown of law and order created an environment where extremist groups flourished, leading to violence against religious minorities, including Arab Christians. Islamic extremist networks rose in prominence and gained control in many parts of the world. Naturally, the civil war in these countries quickly turned religious, and Arab Christians often found themselves caught in the crossfire. As suspicions grew, Arab Christians faced discrimination and persecution, with their religious identity becoming a source of suspicion.
Fearing for their safety, a significant number of Arab Christians chose to leave their ancestral homelands in search of safety and opportunities elsewhere. This mass migration has led to the dwindling of once-vibrant Christian communities in the Middle East. Churches and religious sites have not been spared either. Throughout the region, countless churches have been damaged or destroyed due to conflict, leaving Arab Christians without places of worship and symbols of their faith. In addition to the physical threats they face, Arab Christian communities have also suffered economically. The breakdown of stability in their regions has disrupted their livelihoods, leading to unemployment and poverty.
The destruction of Christian communities like Nagaro Karabakh is a tragedy with profound consequences. These communities, which have preserved their faith and heritage for centuries, are now facing extinction in many parts of Asia, the Middle East, and Africa. The events of September 11, 2001, and their aftermath have played a pivotal role in exacerbating these challenges, from increasing religious tensions to regional instability and mass migration.
Unfortunately, the U.S. and our European allies have done little to protect their fledging communities. The U.N. makes statements calling for the end of the blockade or criticizing the attacks, but no real effort is made to threaten the aggressors with sanctions or other diplomatic consequences. Efforts must be made at both the international and local levels to protect and support these vulnerable communities. This includes addressing the root causes of instability, promoting religious tolerance, and providing assistance to those who have been displaced. Preserving Arab Christian communities is not only a matter of cultural and religious heritage but is a testament to the importance of coexistence in a world that is increasingly less tolerant and diverse.
Hedieh Mirahmadi was a devout Muslim for two decades working in the field of national security before she experienced the redemptive power of Jesus Christ and has a new passion for sharing the Gospel.  She dedicates herself full-time to Resurrect Ministry, an online resource that harnesses the power of the Internet to make salvation through Christ available to people of all nations, and her daily podcast LivingFearlessDevotional.com.