Could you be a friend to a minister of God?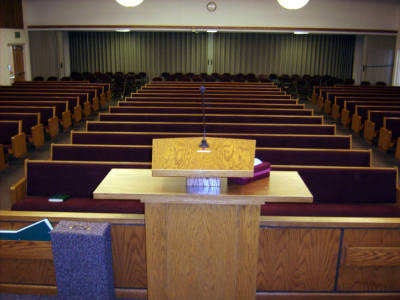 I know we all admit that we accept that those called unto the ministry are human. I just don't know whether we truly believe that or not, judging by the way we treat them. One thing for sure is that those in the ministry need friends and good ones. It is also true that those in the ministry could write a book on the times they have been burned, thinking they could trust someone to be their friend, only to find out the hard way that the person was not trustworthy!
Scripture declares: "For every high priest taken from among men is ordained for men in things pertaining to God, that he may offer both gifts and sacrifices for sins: who can have compassion of the ignorant, and on them that are out of the way; for that he himself also is compassed with infirmity." (Hebrews 5:1,2 KJV) 
We must understand the absolute necessity of God to choose very normal and sometimes even less than average human beings to anoint to be ministers among his people! God's purpose is to ensure that, knowing their own frailty the people He chooses will have compassion on those that they are called to minister to.
However, we so want our pastors or evangelists or missionaries or even prophets to be perfect! Yet scripture so clearly admonishes us very clearly that "Elijah was a man subject to like passions as we are and he prayed earnestly that it might not rain and it rained not on the earth for a space of three years and six months." (James 5:17 KJV)
I remember several years ago hearing a pastor who had been exposed then to a lot of southern influence make a racial slur during a private conversation. I was a fairly new Christian but I allowed it to devastate me. "Wow, and I thought he was a man of God!" was the first thing that went through my head. Fortunately, I allowed God's Spirit to minister to me and the minister's comment did not become a permanent stumbling block. However, I think many of us have our own stories of how someone who was in leadership showed signs of imperfection, and we coldly judged them without any grace or mercy. 
Another thing to be aware of is the impact of the mystical "They're not from around here" ministerial aura? If you live in, for instance, the northeast, and someone comes to town or your church from California, then a "wow" factor seems to immediately pop up in your mind. Or how about New Zealand, or Australia? I mean, that's the other side of the world! Wow how anointed they must be! I have jokingly said "I'm going to move to Australia because all of their ministers must have moved here. Its been proven over and over that people will get very motivated to come hear a speaker from a long way away but if they find out they are from a neighboring state or community they "Ho Hum" the entire meeting! Why do we see people as superhuman or super spiritual just because they are from a long way away? Jesus put it this way "A prophet is without honor only in his hometown! (Mark 6:4 KJV)
Do you know what else is true? Your minister friend would really love it if he could just get silly and act like a nut sometimes, but he knows he can't unless he is performing at a kids' comedy night. A very close pastor friend confided in me one time that years ago he learned not to attend pool parties put on by his congregants because people just had no respect for him after seeing him in his underwear! (meaning swimsuit!). Ministers are well aware of the scripture. "Dead flies cause the ointment of the apothecary to send forth a stinking savor: so doth a little folly him that is in reputation for wisdom and honor!" (Ecclesiastes 10:1 KJV) So ministers frequently feel they have to project an attitude of wisdom and spirituality or people just won't take them seriously!
Research tells us that most ministers don't even have one close friend. If you really desire to be a friend to a minister, first ask God to use you as an instrument of His grace, understanding God's great grace that is being shown to him or her through you. Solidly realize that as God has set apart this person for His ministry, God has also His own plan and agenda for dealing with Him or Her! He knows their calling is very difficult and will lead to many challenges. That is why he says, "Their righteousness is from me" (Isaiah 54:7b KJV)
If you make yourself available to him or her, your minister friend may choose to spend some casual and recreational time with you. Remember that he or she is a human just like you are and that we are all on our personal path to spiritual growth. Speaking as a minister let me remind you of one fact that may help you bring us all down off the pedestal you have put us on. Jesus had to go to the bathroom every day! Now that's not an image we want in our mind, but it is true as he was both God and man. Your minister has to go to the bathroom every day too. He or she may burp or pass gas! They may take a second look at an attractive person walking by, and may even go to the restaurant and order the most expensive thing on the menu! GASP! But guess what? Their righteousness is of God and He and He alone will deal with them should He choose to!
So, do you still want to be a minister's friend? Maybe you are even married to one? Guess what they need you and God needs you to love them where they are! Please help hold up the hands of your Moses today!   
Rev Nolan J Harkness is the President and CEO of Nolan Harkness Evangelistic Ministries Inc. since 1985. He spent most of his adult life working in youth ministry. He also felt the calling of Evangelist/Revivalist and traveled as the door was open holding evangelistic meetings in churches throughout the Northeast. His website is www.verticalsound.org.