Could You Be a Matt Monster in the Making?
If the allegations against Mr. Lauer are true, a good question to ask right now is this: How did Matt become such a monster?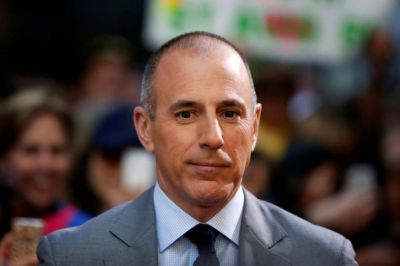 Disgraced former anchor of NBC's top rated "Today" show, Matt Lauer, was fired Wednesday for "inappropriate sexual behavior" allegedly against as many as eight women. The accusations are shocking and represent a completely different, dark side of the media star most of us think we knew. As of this writing, Mr. Lauer has not made a statement about the allegations.
Multiple witnesses claim he had a button under his desk that enabled him to secretly lock his office door so he could engage in sexually explicit acts with women without the fear of being unexpectedly interrupted. Mr. Lauer is married. It remains to be seen if his marriage lasts. His career, it seems, has been obliterated.
No doubt, Matt didn't have this kind of career implosion mapped out in his life goals. I'm sure he is nowhere near where he envisioned he would one day be when he was a little boy. His family, reputation and the lives of at least eight other women may have been irreparably devastated.
The objectification of women has become so culturally acceptable in America that many people think it's okay to say and do things to women that are absolutely inappropriate. If the accusations are true, Matt sinned against his wife, other women, and the men who may now be or were at the time, in relationships with them. Sin has tentacles, and it doesn't let go easily. If you don't believe me, think about Mr. Lauer.
The eighth of the 10 Commandments is, "You shall not steal" (Exodus 20:15). We usually think of stealing in regard to money and our use of time (think of your employer or company). Rarely do we think about how taking advantage of another person is a graphic, gross form of theft. It is, big time.
If the allegations against Mr. Lauer are true, a good question to ask right now is this: How did Matt become such a monster? The answer is not complex at all, and it's one that we really need to commit to memory. Matt became a monster gradually, over a long period of time. Most likely, it was a series of small choices made over time that hardened his heart and conscience to such a point that he was willing to do what was once unthinkable. Moreover, his mischief grew to the point where he was no longer content to merely do what was unthinkable, but to also feed his growing appetite for more. When we feed small sins, they grow into bigger ones.
"When tempted," says James, "no one should say, 'God is tempting me.' For God cannot be tempted by evil, nor does he tempt anyone; but each person is tempted when they are dragged away by their own evil desire and enticed. Then, after desire has conceived, it gives birth to sin; and sin, when it is full-grown, gives birth to death. (James 1:13-15, NIV). Mr. Lauer's sin was murderous in multiple ways, and everyone aware of what he did should take heed.
Ignore your conscience and it will go away. Ignore the Holy Spirit, and you will become hardened toward the Chief Shepherd and Architect of your soul. Gradually, not overnight, you could very well become a monster, just like Matt. You may even find yourself heading in the wrong direction as you read this. Repentance, by definition, is to make a change in the opposite direction.
Now is the time to run toward God, not away from him. Now is the time, before you begin to think and do things that you, others, and the LORD would despise.
Matt Lauer never dreamed he would wind up where he is. But here he is, nonetheless. The best way to recover from a crisis is to prevent it from happening in the first place. Our small choices in life are not that small after all. They accumulate to make us who we are.
What kind of person will you become if you continue to make the small choices you've been making? Could you be a Matt monster in the making? Right now is the right time to make the choice of surrendering to God, so that you honor him and experience all the benefits that come as a result.
No one who resists God will ever come out a winner. No one who surrenders to God will ever live to regret it. If we ignore our God-given conscience and the very Spirit of God placed within us from the moment we accept Christ, we begin a dark, devilish journey into territory that is absolutely destructive. No one in their right mind wants to go there. But sin creates a form of temporary insanity, where we begin to do things that no one in their right mind would do if they understood the consequences.
Jesus offers hope. When we look for satisfaction and fulfillment apart from God and his provision, there is eventually – and always – hell to pay.
Michael Anthony is the author of the book A Call For Courage, a blogger (CourageMatters.com), host of the "Godfactor" radio program and lead pastor of Grace Fellowship in York, Pa.