Former NFL player turned pastor: I can't stop thinking about the Damar Hamlin incident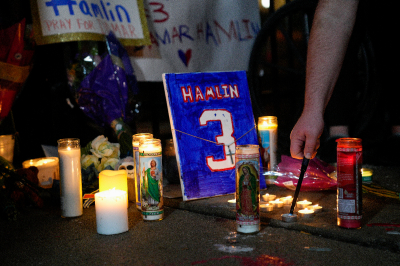 History was made on Jan. 2 at the Bills-Bengals game, but it was not the kind of history we hoped to see.
Guys get hurt all the time in the NFL. They end up with broken bones, torn ligaments and massive bruises. I saw all kinds of injuries when I played in the NFL. But this was different. This was the first time in NFL history that someone has received CPR and defibrillator shocks on the field. And this was the first time that a game has been postponed due to a medical complication.
With almost six minutes remaining in the first quarter of the game, the world watched in disbelief as Buffalo Bills safety Damar Hamlin collapsed on the field — and didn't get back up. The crowd of nearly 70,000 people went quiet as they watched medics give CPR compressions for 10 minutes. Players and staff — some of the toughest men in the world — sobbed and consoled one another as they watched one of their own lay helpless. Then, players from both teams came together to take a knee and pray for Damar.
NFL teams pray before every game, but this time, they prayed together. In that moment, nothing else mattered — not the game, not whose team they were on, nothing. The only thing that mattered was seeing their brother recover.
Damar was later taken away in an ambulance, and the NFL made a historical decision: the show would not go on. This was uncharted territory for everyone involved, but the right decision was clear. The game was postponed.
You may have heard the phrase, "football is family." Whether it be the NFL, Pop Warner or high school football, there is a certain bond and brotherhood amongst players, coaches, staff and anyone who is associated with the team. I certainly experienced this when I played football, and I know the Bengals and Bills feel the same. And when a tragedy like this occurs, it does not matter if someone is on the other team. The game takes a back seat. This is real life.
I can't stop thinking about the moment when the players stopped and gathered together to pray with one another. Prayer is powerful. God is powerful. In the midst of this tragedy, people on the news and social media keep saying that they are sending their "thoughts and prayers" to Damar and his family. In my opinion, the assumption behind this phrase is that there is a God to whom we are praying! There is a God who can answer those prayers. And we need to step back and ask, "How is my relationship with God?"
I want to encourage everyone who has heard this story to pause and consider that life is brief. Damar is only 24 years old. We are praying that he comes out on top of this and is healthy, but this is an important reminder that we don't get to live forever.
When you are playing in the NFL, it may seem like all of your dreams have come true, but what is really important? The Bible says that life is like a vapor (James 4:14). We really need to ask ourselves, "Are the people that I love aware that I love them?" And we need to reflect on how we are living our lives. We need to ask, "Am I living the life God created me to live?" This is not a multiple-choice question. This is not about doing whatever we want in life. This is about using our time and talents and treasures to make a difference in the world while, at the same time, glorifying God.
Life is too short to be wasted or for you to be distracted. This week, I encourage you to pause and think about your life. Think about where you're going, what you're doing and who you are spending your time with. Is it worth it? God put you here for a reason, and I pray that He would give you clarity, wisdom and clear direction.
And please continue to pray for Damar, his family and all the players and staff. Pray that God would reveal His love and miraculous power to them in the midst of the chaos.