Gaza's terrorists bombed a playground
Last week another barrage of rockets rained down on the Israeli communities bordering the Gaza Strip. It happens so frequently here that it seems the world hardly notices, anymore.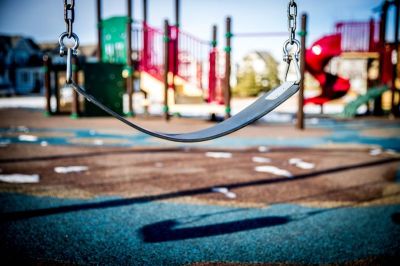 Another warning. Another rocket. Another day.
The terrorists in the Gaza Strip aim them directly into the communities of the elderly, targeting also parents and their children in towns like Sderot. Then last week, they hit a playground – a playground – not far from a park where we will soon install six new, mobile bomb shelters provided by Christian friends of the Jewish people.
As a mother of four, it's terrifying to see pictures of that playground destroyed by Gazan terrorists with their rockets. I can't imagine the number of young lives that would have been lost if Israel had not worked as hard as it has to provide an early warning system to its citizens, while also destroying many rockets in the air, and had organization like ours take it as our personal responsibility to do our part in protecting the Jewish people.
Because the International Fellowship of Christians and Jews engages in extensive humanitarian work throughout this part of Israel, our staff is connected via a messaging service, so that anytime another incident happens, we are immediately notified. In these moments of crisis, we have volunteers and staff calling and visiting the elderly living alone to check on them and ensure their safety. It seems as if our phones never stop lighting up, and neither does the sky above us. Day or night, there's always an alert warning us that another Israeli community is in the line of fire.
This latest attack, on a playground, occurred just hours after a much-publicized rift between AIPAC and Senator Bernie Sanders. AIPAC's annual meeting is being boycotted by Sanders, which has caused particular alarm among Jews around the world.
The senator told the American people in a tweet, "I remain concerned about the platform AIPAC provides for leaders who express bigotry and oppose basic Palestinian rights. For that reason I will not attend their conference."
There was an immediate avalanche of criticism from virtually every one of the major, American Jewish organizations — left, right and center. Traditionally, gatherings like AIPAC are bipartisan and have existed to find common ground among all of America's politicians in order to bring peace and security to Israel.
The criticism of Sanders was justified. For as long as the rockets keep falling on Israel from terrorists in the Gaza Strip, and whatever the machinations of American politics bring us in 2020, there is no room for any waffling by any American politician as it relates to the United States' unwavering support for the State of Israel.
We must all stand against this renewed and unjustified politicization of Israel in American politics. While American politicians argue about policy and consider optics, in Israel, our mothers and fathers, along with their children, will have just have to keep running towards their bomb shelters the next time they hear a siren.
Their ultimate hope will rest in the God of Israel, and the strength of the State of Israel. 
But, hopefully, their hope will also remain fixed upon the confidence drawn from our American allies, in both political parties.
For the sake of Israel's children, American people who cherish freedom must not allow the further politicization of the State of Israel where some things are clearly, morally right and morally wrong.
There is no room for hedging when rockets fall in playgrounds. 
Yael Eckstein is the president of the International Fellowship of Christian and Jews. As President, Eckstein oversees all ministry programs and serves as the organization's international spokesperson. She can be heard on The Fellowship's daily radio program airing on 1,500 stations worldwide. Before her present duties, Yael served as global executive vice president, senior vice president, and director of program development and ministry outreach. Based in Jerusalem, Yael is a published writer, leading international advocate for persecuted religious minorities, and a respected social services professional. As President of The Fellowship, she also holds the rare distinction of being a woman leading one of America's largest religious not-for-profit organizations. www.IFCJ.org