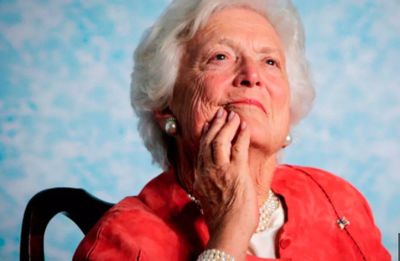 She grew up in an Episcopalian family in Rye, New York. Like many in her generation of mainline Protestants, she was reserved about public expressions of faith.
Her son, the former President George W., has been more outspoken about his faith in Christ, which helped him win a battle with alcoholism as a younger man. If anyone is in a position to express confidence in her eternal destination, her son has the utmost credibility.
"It's the end of a beautiful life," Mr. Bush told Fox Business on April 18th in his first interview following Mrs. Bush's death. "She truly believes that there's an afterlife, that she'll be wonderfully received in the arms of a loving God and therefore did not fear death.
"And as a result of her soul being comforted on the deathbed, my soul is comforted."
Like many presidents, the Bushes enjoyed a close personal friendship with the legendary evangelist Billy Graham. When the elder Bush was president, Mrs. Bush and son George had an intense discussion about the exclusivity of Jesus Christ.
George W. stated his belief that there is no salvation apart from Jesus Christ. Mrs. Bush countered with the view that God's grace would certainly allow for the earnest followers of other religions.
After the discussion went back and forth Mrs. Bush said to a staffer, "Get me Billy Graham." Remarkably, White House phone operators soon had Dr. Graham on the line.
Billy Graham told Mrs. Bush that as a follower of the New Testament, he had to agree with her son that there is no other name given under heaven by which we are saved. Since no one knows a man or woman's heart except God, Graham said we shouldn't try to answer questions that only God can answer.