Want to help your child build lasting, meaningful friendships? Here's how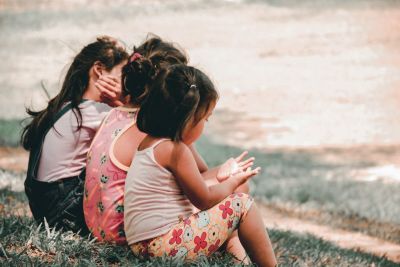 As parents, we want our kids to grow up to be confident, compassionate and connected. But the rise in anxiety, depression and loneliness carries with it a very real potential of hampering their formative growth. We all know that raising kids these days is hard, but encouraging strong bonds of friendships can help them overcome these hurdles.  
According to the American Academy of Pediatrics, "making friends is one of the most important missions of middle childhood — a social skill that will endure throughout their lives." These relationships are forged across every environment they will enter, from family to school to church. These spaces, and the relationships found in them, are foundational and important. 
The phrase "back in my day" has been uttered by generations of parents to express how "kids these days" have it easier than they did growing up. 
But the data tells a different tale: A 2021 study by the Centers for Disease Control showed an increase, over a decade, from 26% to 44% of children 18 and younger who say they have "persistent feelings of sadness." 
They might live more convenient lives, but easier? With these numbers, that's a hard one to argue.
And parents are feeling the pressure, too. A Pew Research study from the same year found four in 10 parents are "extremely or very worried" their child will suffer from anxiety or depression in the future.
Why is this crisis growing so rapidly? The latest explanation could be the COVID pandemic, but the data shows fear and sadness among children and teens were rising before COVID. 
There have been other culprits over the past 10 years, such as the constant bombardment of a 24-hour news cycle, and the most notable instigator of social-media use increasing while human interaction is decreasing. Studies show social media directly ties to an increase in mental health issues, especially during the formative years of 11 to 13. 
So, what does a parent or guardian do when their child is struggling? How can we help our children build deep, lasting relationships not just now but also for their future?
Over the last six years leading WinShape Camp for Girls, I've found that summer camp is fertile ground for sowing good friendships that can last a lifetime. Summer camp is a great place to make friends, first and foremost because there are no distractions — no iPhones, TikTok or streaming TV. It may take campers a little while to adjust, but once they do, they're all on the same page, interacting with each other instead of sitting on bunks staring at a screen. 
Spending day in and day out alongside friends, trying new things together, sharing meals and cheering each other on — both literally and figuratively — is a recipe for friendship grounded in trust and meaning. There's a layer to it that you simply can't replicate through a virtual setting.
Add to this the hard work of camp counselors making sure everyone is included and valued. Yet, I see over and over again the confidence that camp gives kids when they leave and go back to home and school — confidence that they can take the initiative to do hard things, including finding and being a good friend.
Camp will not fix everything in one week, but it's one healthy step toward re-engaging in human interaction as a part of everyday life. Children today face challenges we didn't "back in our day," and it's our job to help them build community and cheer them on.
This is why I love working at a summer camp, helping kids cultivate life-giving friendships that help them grow toward a happier and healthier life. 
Amy Lowe is the director of WinShape Camps for Girls and oversees WinShape Camps for Families. She has a Bachelor of Science in Business Administration from Samford University and a Master of Arts in Theology from Fuller Theological Seminary. Like most other moms, her hobbies include laundry, running the robot vacuum, and unloading the dishwasher.