How Iran is pioneering a new era of oppression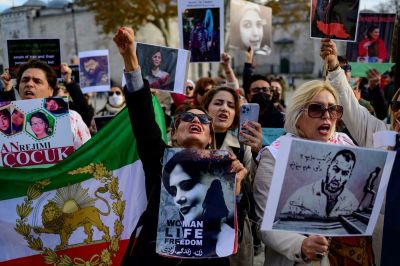 In another attempt to rein in the increasing number of women defying Iran's mandatory dress code, Iranian authorities have begun installing facial recognition cameras in public places and thoroughfares to identify and penalize unveiled women. It's a major setback for activists following months of protests for women's rights and regime change. 
Iranian official Mohammad Saleh Hashemi Golpayegani said the new surveillance is based on the July 5, 2022, order by President Ebrahim Raisi to enforce an updated hijab and chastity law. It is the first time that an official in Iran has publicly admitted the presence of facial recognition technology in public locations.
For a brief period, there was a hint of softening the hijab laws, but it's clear the Iranian government is not giving up full power over the people anytime soon — if ever. They have violently shut down the protests and "Mahsa Movement" by arresting over 20,000 people, killing them in the streets or hanging many of them in public. They feel like they have control once again, as evident by their weaponization of Chinese AI technology to hunt down women who stand up for their human rights.
Those who oppose the Islamic regime are very concerned about the use of cameras combined with violence to suppress dissent and enforce the will of the state. It's next-level surveillance that effectively ushers in a new era of oppression and persecution. Sadly, women and Iranian Christians will be most affected.
In general, the goal of the Islamic government is to identify all who oppose it and arrest them one-by-one to bring fear and intimidation to all their opponents. Aside from the violent crackdown on protests over the death of Mahsa Amini last year, 2023 is poised to be another year in which Iranian women, those who support women and Iranian Christians will face harassment, arrests and imprisonment only for exercising their faith and protesting for freedom.
The protests were primed in small part by economic distress and human rights violations. Ultimately, the upheaval was about suppressed anger and a desperate need for hope. Iranians are thirsty for truth, peace and salvation, opening the door for many of them to pursue a better understanding of Christianity. Ironically, the best evangelist for Jesus was Ayatollah Khomeini, who revealed the true face of Islam. After 40 years under Islamic law, Iranians have experienced the worst devastation in the 5,000-year history of the country.
Today, the primary threat to the Iranian government's stranglehold of fear is the growth of Christianity. As Iran pioneers the modern surveillance state with the use of facial recognition cameras, the persecution of Iranian Christians will increase right alongside its young women. The government will follow through with the threats it has made against the underground church in Iran, such as arrest, imprisonment and even death.
For the last few years, Iran's underground church has been the fastest-growing Christian church in the world. It has no property, no buildings, no central leadership, and unlike the west, it's predominantly led by women. This group of people who have been rejected, abused and told they have no value for their entire life is clinging to Jesus for hope.
They're at tremendous risk of severe persecution, yet they continue to practice their Christian faith. They know they daily face the threat of rape or death anyway, so why not die standing up for their Savior, which means something?
There's an incredible spiritual awakening happening in Iran. The people are disgusted by militant Islam and more open to Christianity than ever before. Iran will be a Christian nation someday, but not without a fight. There's never a big victory without a war. As the Church grows in Iran, so will the persecution.
We must have compassion for those who are fighting for their lives, their rights and their faith. Stand up for them and support them in their tribulations, but also be inspired and learn from their boldness in the face of adversity. 
Dr. Hormoz Shariat is the founder of Iran Alive Ministries, which utilizes Satellite TV to reach the millions of lost and broken people in Iran and the rest of the Middle East. Today, they broadcast the Gospel 24/7 from their studio in Dallas to Iran and the Middle East, trusting the Lord to use them to transform an Islamic nation, which is responding to the Gospel unlike any other time in history. Dr. Shariat firmly believes that Iran will be the first Islamic nation that turns to Christ. He is the author of the book Iran's Great Awakening, which is the No. 1 source of information about what is happening in Iran today, and how the Bible prophecies align with the current events.