How to win the war on Christmas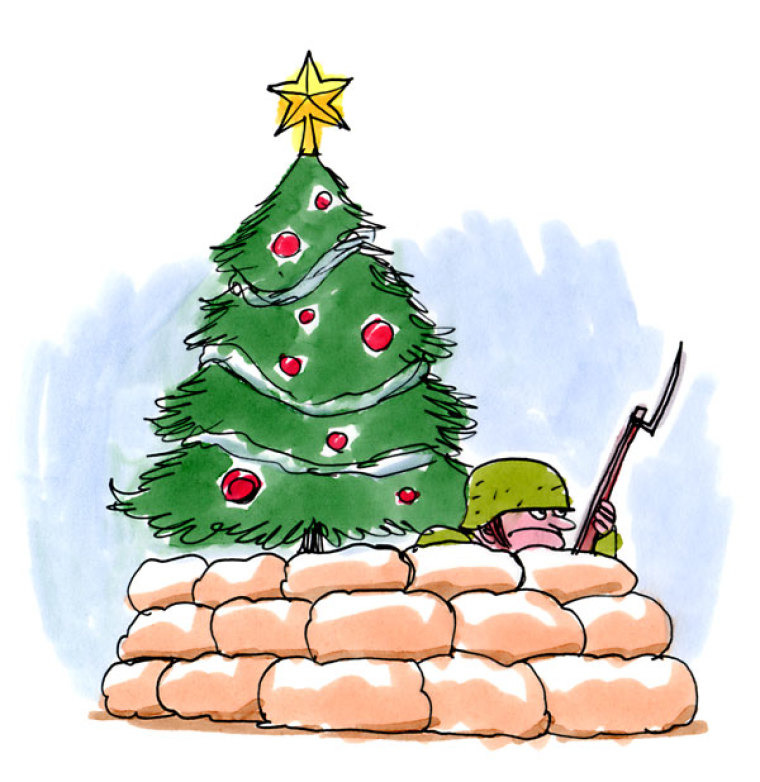 In recent years, we have heard a great deal of complaints about a "War on Christmas," provoked by the efforts of ardent secularists to eliminate such things as the greeting "Merry Christmas" and the public display of government-funded or even privately-funded Christmas exhibits.Mainstream media assure us that the whole thing constitutes just another wild overreaction from conservative Christians, while some politicians undoubtedly gain Christian votes by hyperbolically promising that if they are elected, "we're going to be saying Merry Christmas at every store."One side of the debate would mock Christians to accelerate a decline in Christian influence in American culture and politics, while the other would seek to exploit a religious controversy to gain our political loyalty.Whatever anyone believes about Christmas, seeing it used as a political tool should bother everyone.
How should Christians respond to the War on Christmas when it inevitably arises again this year?As Americans, we certainly have a right to stand up for religious freedom if we come under attack for its exercise.Taking the matter to court can give a tiny number of Christians an opportunity to declare their faith and defend it in the public square.But the hundreds of millions of us who do not have an actionable case of discrimination to litigate have even more effective means at our disposal.
First, we should recognize that "evangelism by whining" is not effective.We are at our best when we maintain a joyful attitude at Christmas.When greeting people with the phrase "Merry Christmas," we do not seek to convey the message "I'm going to assert my rights no matter what anyone says," but rather, "I am a Christian, and I pray that God will bless you with faith and hope this season," and even, "I hope you'll become a Christian, too."Whining about how we feel mistreated doesn't make our faith attractive, but genuine love for others makes an impact.Instead of simply saying, "Merry Christmas" as an act of subtle evangelism, we might actually make a list of people we want to invite for an eggnog latte so that we can tell them why celebrating Christmas fills us with joy.Rather than tossing out a "drive-by" crypto-Christian salute, we could actually schedule time to share our faith in detail.
Second, we should lean into the spiritual message of Christmas and let it fill us with the Spirit of Christmas.The Spirit of Christmas is not some Dickensian ghost from the past, present, or future, nor is it some form of infectious cheer that comes from defying winter gloom with lights and tinsel and tunes.The true Spirit of Christmas is the Holy Spirit of God.The Holy Spirit overshadowed the Virgin Mary to make the first Christmas real (Luke 1:35). By the Spirit, Zechariah spoke the first public prophecy announcing the coming of the Messiah (Luke 1:67). As a baby, the forerunner of Christmas, John the Baptist, leapt in his mother's womb, full of the Spirit before his birth (Luke 1:15). Simeon, moved by the Spirit, appeared at the temple courts to meet the newborn King and declare his coming to bring light to the nations and glory to Israel (Luke 2:25–30). Such intimate involvement in the first Christmas merited the title "Spirit of Christmas," and the Holy Spirit continues to deliver every good and perfect gift that comes from the Father. As Christians, we have the Holy Spirit living in us, and if we allow the fruit of the Spirit (love, joy, peace, etc,) to emerge in us at Christmas by tuning into God's presence in daily times of prayer, Scripture, devotional reading, worship, and witness, we will see the Spirit's power in our efforts (Acts 1:8) to share the true meaning of Christmas.
Finally, we can win the War on Christmas when we accept the fact that Christmas has suffered hostility and attack from the very beginning.The arrival of the Mary in Bethlehem, great with child, met more than a lack of hospitality.When a culture famous for its hospitality refused any lodging or comfort beyond a stable to a woman on the verge of childbirth, evil was doing battle.The birth of the Christ child immediately occasioned warfare from the evil King Herod, who slaughtered the boys of Bethlehem in an attempt to kill Christmas.Jesus said he came to bring a sword, not peace (Matthew 10:34)—not meaning that he and his followers would wield swords, but that violence would come against him and his message. When our celebration of Christmas creates a backlash, that may be a sign that we are doing it right.As Jesus said in the Sermon on the Mount, "Blessed are you when people insult you, persecute you and falsely say all kinds of evil against you because of me. Rejoice and be glad, Rejoice in it!"
Christmas offers us the best the time to rejoice and be glad.While Americans have rights and there is nothing wrong in fighting to preserve them, our "warfare" for Christmas must be consistent with the Spirit of Christmas.We can only win the war by using the spiritual weapons of God's declaration of peace.This Christmas let's set aside the politics of division for a season to call our neighbors to rejoice with us in God's love.
Joseph Castleberry is the president of Northwest University and author of 40 Days of Christmas: Celebrating the Glory of Our Savior.
Joseph Castleberry is the president of Northwest University and author of 40 Days of Christmas: Celebrating the Glory of Our Savior.