Is the Church being 'out-coordinated' by the world on discipleship?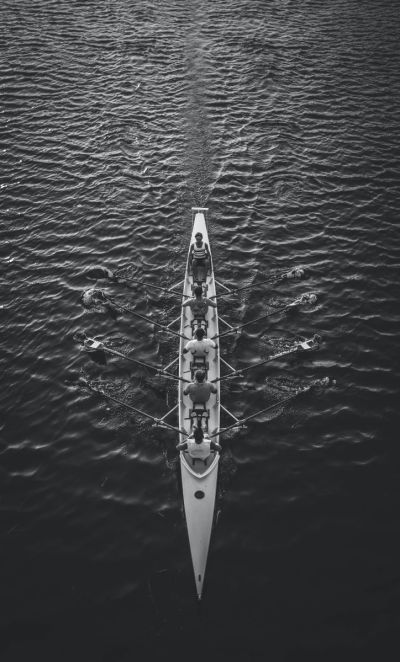 Coordination is key to the success of any concerted effort. In order to achieve a goal of any magnitude, cooperation is essential in order to bring that vision to fruition, whether it be for individuals, businesses, and even the Church. When it comes to discipleship, however, the Church has been and continues to be at risk of being "out-coordinated" by the world.
Such a claim may seem odd since discipleship is often understood as a uniquely Christian venture. Yet when considered from the perspective of the Great Commission (Matt. 28:18-20), discipleship involves two basic movements: 1. initiating a commitment and 2. learning to observe a specified authority by participating in the way of life endorsed and empowered by that authority. Discipleship, then, may be understood to extend beyond the Church so that the world affords us opportunities (however unfortunate) to become disciples of someone or something other than Christ. 
In order to achieve the goal of the Great Commission, the Church must remain unified and coordinated internally lest the world commandeers the mission for its own agendas. The body of Christ needs to look less like an awkward teenager that just hit a growth spurt and more like a professional dancer or athlete whose body moves with grace and fluidity. The body of Christ is and always will be unified in Jesus Christ. We are members of one another and that won't change. That unity needs to be displayed through the coordination made possible by discipleship. 
Coordinating with others is a crucial aspect of discipleship because there are some things we don't want to do alone. A biblical example may be found in Elijah who perceives himself to be the last of the faithful only to learn that God has preserved seven thousand who "have not bowed to Baal" (1 Kings 19:18). We might be more likely to avoid the suffering, persecution, and discomfort characteristic of Christian discipleship without the encouragement that comes from a coordinated group that considers "how to stir up one another to love and good works, not neglecting to meet together, as is the habit of some, but encouraging one another, and all the more as you see the Day drawing near" (Heb 10:24-25). While coordination is crucial to discipleship, there are at least two factors that diminish the Church's capacity for coordination.
First, coordination requires the production of common knowledge through communicative acts like speech, writing, art of various sorts, and public rituals. Everyone needs to know what everyone else knows, as well as knowing that everyone else knows it. As such, we need to avoid what economist Timur Kuran calls preference falsification or "living a lie," which is "the suppression of individuality under the burden of getting along with others." Our desire to avoid "real or imagined social pressures" — either online or in person — can result in an unwillingness to express our true convictions in speech and action.
To the extent that our decision to "live a lie" (despite the burden we may feel in doing so) reduces, if not eliminates, the sort of communication necessary for common knowledge formation, we 1. reduce the possibility of coordination around the true conviction we are not expressing and 2. add to the "common knowledge" associated with beliefs and practices with which we don't agree but participate in so as to avoid negative social pressures. When we decide to live a lie to avoid negative social consequences, we implicitly encourage others to live that same lie.
Second, as I suggest in Christian Resistance, the Church has, at times, relied on secular coordinating mechanisms to preserve public rituals and reinforce a common knowledge approximating the "Judeo-Christian ethic." The abolition of prayer in public schools in Engel v. Vitale, for instance, did not explicitly preclude organized prayer in public school but school-sponsored prayer. A legal prohibition against any sort of organized prayer was not the problem, but the removal of coordinating mechanisms embedded within the administrative structure of the public school system. Once the school was no longer coordinating prayer, the Church was unable or unwilling to do so. Instead, Christians seemed largely to accept President Kennedy's "easy remedy" of individual and familial prayer. 
The Church's primary means of coordination is discipleship. To borrow a concept from Gibson's The Ecological Approach to Visual Perception, discipleship is the broader "space" or "unit" in which everything else is "nested." Our day-to-day activities are to be nested within discipleship so that our other activities are performed with discipled posture. Yet, a variety of recent reports including "The Great Opportunity" and research from the Pew Research Center point to a decline in the composition of those identifying as "Christian", particularly amongst younger generations. While such studies do not point directly to a coordination problem, they gesture toward it in so much as we might infer a diminished influence of the Church as a coordinating mechanism and the increasing influence of education, media, and government. If our lives are no longer nested within discipleship as the primary means of coordination, they will be nested in something else. For Christians, there is no political or educational posture that can substitute for a discipled posture. 
Christians face a myriad of problems. We exist in a world that is becoming increasingly proficient at telling stories that deny God outright or marginalize Him by recasting Him in our own image. In Rational Ritual: Culture, Coordination, and Common Knowledge, "Rebelling against a regime is a coordination problem: each person is more willing to show up at a demonstration if many others do … Regimes in their censorship thus target public communications such as mass meetings, publications, flags, and even graffiti, by which people not only get a message but know that others get it also." There is a regime against which the Church is meant to rebel. We wrestle against "the rulers, against the authorities, against the cosmic powers over this present darkness, against the spiritual forces of evil in the heavenly places" (Eph 6:12). By not committing fully to discipleship, we allow ourselves to be out-coordinated by the world and, thus, less capable of demonstrating the "manifold wisdom of God" (3:10) as we patiently endure a world so broken only God can fix it.
Dr. James Spencer currently serves as President of the D. L. Moody Center, an independent non-profit organization inspired by the life and ministry of Dwight Moody and dedicated to proclaiming the Gospel and challenging God's children to follow Jesus. He also hosts a weekly radio program and podcast titled "Useful to God" on KLTT in Colorado.  His book titled "Christian Resistance: Learning to Defy the World and Follow Jesus" is available on amazon.com. He previously published "Useful to God: Eight Lessons from the Life of D. L. Moody," "Thinking Christian: Essays on Testimony, Accountability, and the Christian Mind," as well as co-authoring "Trajectories: A Gospel-Centered Introduction to Old Testament Theology."