I've had my dreams crushed in LA, but here's the secret to success…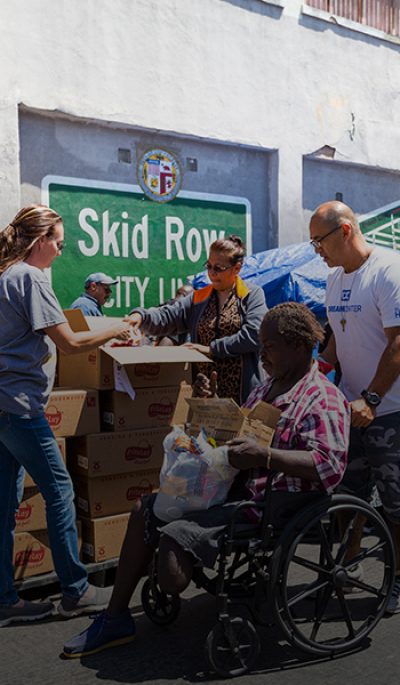 It's hard to fathom that I've been ministering in Los Angeles since 1994. If you can believe it, the same year that "Forest Gump," "Lion King," and "Shawshank Redemption" were released, I began a wild journey here in Southern California.
On a more somber note, fuel back in 1994 was on average only $1.09 per gallon, and you could get a dozen eggs for 86 cents.
It feels as though a full lifetime has passed since the mid-90's!
When I first came to LA to pastor Angeles Temple and create the very first Dream Center, I struggled in this big city. I went from one failure to the next. There's no more appropriate city to have your dreams crushed than in LA, right?
But from rock bottom, God recreated my dreams for this city in ways I never saw coming.
Back in 1994, my father was looking for a pastor to take the helm at a little church in inner-city Los Angeles. But because of the neighborhood, many others turned down the offer. So, at 20 years of age, I found myself tasked with leading this church.
We didn't have any staff, no structure around operating the church, and I could hardly get anyone to even come to church. I was discouraged.
But one day God spoke to me and told me, "Forget about where you want to be, and just start serving with whatever I put in your hand."  My ministry truly started when one day soon after I moved my desk outside of the office, onto a street corner, with three bags of food, and an old soccer ball to play with kids in the neighborhood.
That's where the vision for the Los Angeles Dream Center began. God soon opened doors and provided us with the old Queen of Angels Hospital on the 101 Freeway, and the rest is history. Fast forward 29 years, and we're serving 45,000 people every single month, distributing 5 million pounds of food per year, and we can house over 500 people at our campus in Echo Park.
In just the past year, we've served over 10,000 unhoused individuals, ministered to over 8,000 inmates through our prison ministry outreach, and even distributed over 200,000 clothing items to families in desperate need of basic necessities.
There are now thousands of youth volunteering here on a regular basis, hundreds of Dream Centers established worldwide, and I don't know that we could count the number of lives changed for eternity here in this city I now call home. 
The secret to surviving in a City like Los Angeles can be narrowed down to one thing — saying "Yes."  "Yes" to helping the man or woman with a needle in their arm by bringing them to a safe place to start recovery. "Yes" to creating shelter for a homeless family living in their vehicle over the last year. "Yes" to providing five million meals during a pandemic with a drive-thru that lasted 380 consecutive days.
The word yes is powerful. And why do we keep saying "yes?" Because we see everyone's potential like God sees our potential.
Thanks to a number of relationships, we've cultivated here, and great favor from Heaven, we've become a place of miraculous healing for nearly three decades. Any program we operate not only provides struggling individuals and families with resources to fill their basic needs, but also provides spiritual, emotional, and vocational support needed to equip every soul for long-term success outside our walls.
While it's important to recognize how far God has brought us, it's equally important to remember the battle is not yet over. In a county where 1 out of 4 people suffer from food insecurity, homelessness rose 9% this past year, and fentanyl deaths soared 1,280% in a five-year span, our mission to find a need and fill it and find a heart and heal it are as important now as ever before. We must stay vigilant and agile in the face of evolving struggles for the people of Los Angeles.
Wherever you find yourself — whether it's one more setback away from throwing in the towel, waiting on a miracle of Biblical proportions, or finally on the cusp of a breakthrough — always remember Paul's encouragement to the church in Galatians 6: "Let us not become weary in doing good, for at the proper time we will reap a harvest if we do not give up."
I know we are in the middle of something special here in LA. I hope you feel the same way wherever God has placed you in this season. Yes, it's true, a lot has changed since 1994. But some things are the same. Year after year I am amazed at God's consistent, unwavering goodness no matter the obstacle. He has never failed me. That promise alone will carry me through wherever I'm called to minister.
Matthew Barnett is the co-founder of the Los Angeles Dream Center and senior pastor of Angelus Temple. The Los Angeles Dream Center is a faith-based non-profit dedicated to transforming the lives of individuals and families in Los Angeles through residential and outreach programs.