Jesus the great optometrist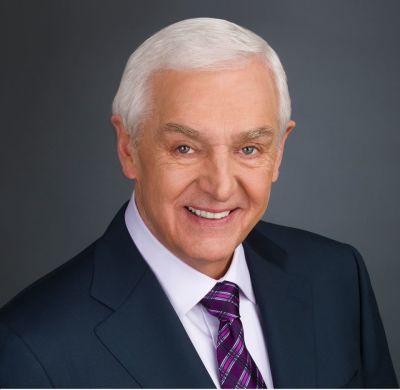 When I was a youngster, an issue of Popular Mechanics came out, and on the cover was a man pushing a small, yellow helicopter into the garage of his modest home. The magazine was sure that within a few years, whirlybirds would replace cars. That prospect was exciting, but predictions are often perilous.
Thomas Edison was one of the greatest inventors in history, but when it came to the future, he got a few things wrong. In a 1911 interview, he predicted, "The day is near when bars of [gold] will be as common and as cheap as bars of iron or blocks of steel. We are already on the verge of discovering the secret of transmuting metals, which are all substantially the same in matter, though combined in different proportions." Great ocean liners, he said, would be made of solid gold and we would be riding in golden taxicabs.
Well, maybe in heaven, the Golden City. But Edison's mistake left his reputation, well, tarnished a bit.
Get ready for more predictions! We just began a new year, a new decade, and in America it's an election year to boot. I predict you'll hear a lot of predictions, a lot of gloom and doom, a lot of disturbing speculation, and a lot of clamoring about the dangers ahead. Some people view the future through the lens of headline news. Their ideas are shaped by the commentators they hear every night, mostly from one political slant or another. Others shape their ideas for the future with extreme voices, warning of disasters around every corner. And a lot of us view tomorrow through the lens of worry and fear. We're anxious about the coming year. We have worries that nag at us.
So let's remember something important: We don't know what tomorrow holds for our world, but we know Who holds tomorrow.
The Great Optometrist
Have you ever considered how poorly people saw things in biblical times? There were no optometrists, and corrective lenses hadn't been invented yet. So, as people aged and their vision deteriorated, they had to live with blurry images — all except one man who had perfect 20/20 vision, thanks to Jesus. It was the blind man of Bethsaida whom the crowd brought to the Lord, asking Him for healing. Jesus led the man away from the crowd, touched his eyes, and asked if he saw anything. He said he saw people in the distance, like trees walking. Jesus put His hands over the man's eyes again and this time his vision was as sharp as an eagle's (Mark 8:22-29).
There was a purpose to this two-stage miracle. In the next paragraph, Peter recognized Jesus was the Messiah, but he couldn't yet see how Jesus would die for the sins of the world. His insights into our Lord's work came in stages.
Jesus is not only the Great Physician, He is the Great Optometrist. We need to look at life through His lens — the lens of biblical prophecy, scriptural promises, and divine reassurance. As He touches our eyes, we see things with more clarity.
The Heavenly Eye Chart
If the Lord is the Great Optometrist, the Bible is His heavenly eye chart. He tells us to look at the letters in His Book and read them clearly, noticing even the smallest of truths. If you need a few lines of Scripture to help you face the future, let me suggest some 20:20 verses for 2020.
And Moses said to the people, "Do not fear; for God has come to test you, and that His fear may be before you, so that you may not sin."
Exodus 20:20
Moses spoke those words at the beginning of a new epoch in Israel's history. The people were at Mount Sinai, and God had descended to the mountain with lightning, the sound of a blaring trumpet, and billowing smoke. The people were terrified, but Moses told them God's presence was a good thing. In the Living Bible, Moses said, "Don't be afraid … for God has come in this way to show you his awesome power, so that from now on you will be afraid to sin against him!"
When we see God correctly — His eternal sovereignty, His indisputable providence, His blazing holiness, His omnipotent power — we worship Him, and that gives us the perspective we need. It's not the kings and presidents and media elites who know the future. It's not the futurists and forecasters who know tomorrow. Our Holy God is with us, and when we see His awesome power it restrains sin in our life. And that's critical for a successful year.
Jehoshaphat stood and said, "Hear me, O Judah and you inhabitants of Jerusalem: Believe in the Lord your God, and you shall be established; believe His prophets, and you shall prosper."
2 Chronicles 20:20
This is one of the Bible's most thrilling stories. In 2 Chronicles 20, news of a coming invasion rocked Jerusalem. The future was bleak, for a vast army was coming against Judah. King Jehoshaphat proclaimed a fast, and the people prayed earnestly for deliverance. As they stood before the temple, Jehoshaphat prayed, "O Lord God of our fathers, are You not God in heaven, and do You not rule over all the kingdoms of the nations, and in Your hand is there not power and might, so that no one is able to withstand You?"
He continued gazing into heaven and worshiping God and beseeching help. Then the Spirit of the Lord came upon one of the prophets, who shouted out to the crowd: "Thus says the Lord to you: 'Do not be afraid nor dismayed because of this great multitude, for the battle is not yours, but God's'" (verse 6).
Heartened by that message, the city spent a tense night, awaiting the coming battle. As the sun rose the next morning, King Jehoshaphat stood and shouted to the crowd: "Listen to me, O people of Judah and Jerusalem… Believe in the Lord your God and you shall have success! Believe his prophets and everything will be all right!" (2 Chronicles 20:20)
Oh, how those words should ring in our hearts: "Everything will be all right!" That's the biblical lens for looking into the future at the coming year. God will work out everything for good by His redemptive power. There's no need to fear.
When He had said this, He showed them His hands and His side. Then the disciples were glad when they saw the Lord.
John 20:20
Talk about 20/20 vision in 2020! If your eyes are on the Risen Christ, your days will be filled with gladness. I've always thought John 20:20 was one of the most understated verses in the Bible. This event occurred on the night of Easter Sunday. Rumors and speculations about the Lord's resurrection were swirling around the apostles, and then suddenly, behind closed doors, there He was! He showed them His scars to prove He was alive.
And they were glad!
Wow! What emotions are summed up in those four little words. They were excited, exuberant, overjoyed, amazed, thrilled, relieved, and elated.
The resurrected Jesus is just as alive for you as He was for the apostles, and when we see the Lord, our heart is glad, to say the least — every day of the year!
I kept back nothing that was helpful, but proclaimed it to you, and taught you publicly and from house to house.
Acts 20:20
In this passage, the apostle Paul was speaking to the church leaders of Ephesus, and he reminded them of this emphasis  —he proclaimed the helpful Word of God to them, both in public and in private. He held nothing back.
That's another important lens through which to see 2020. This year, God has already prepared some people to receive your witness. There are men, women, boys, and girls we can influence for Christ this year, and we must keep nothing back that is helpful to them. This is a year of ministry, a new unfolding era for sharing the Gospel.
We don't know exactly what the future months will bring, but let the Divine Optometrist fit you with the lens of His Word. Don't view the future through faulty spectacles. See your life through a biblical viewpoint.
These are glimpses of reality. Don't be afraid, but fully embrace and see the glory of God, which restrains us from sin. Believe in Him and you will be established. Keep your eyes on the risen Lord who brings gladness to every day. And don't hold anything back — proclaim the Gospel publicly and from house to house at every opportunity.
Dr. David Jeremiah serves as senior pastor of Shadow Mountain Community Church in El Cajon, California and is the founder and host of Turning Point. A New York Times bestselling author and Gold Medallion winner, he has written more than fifty books.