Miracles and physics: Violating laws of nature?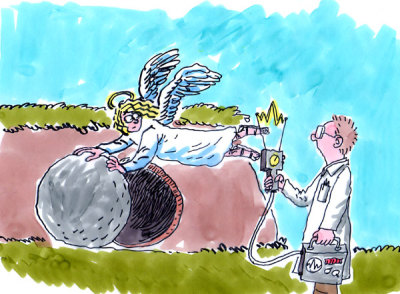 During a recent debate between Dr. Justin Bass and Dr. Bart Ehrman on the topic of Christ's resurrection, Bass immediately got down to the task at hand by asking Ehrman the simple question, "Why don't you think Jesus was raised from the dead?"
"Because it violates the laws of nature," replied Ehrman.
Ehrman then proceeded to provide more color to his comment by asking: "Do you think God can break the laws of mathematics? Can He break the laws of physics? Why don't I believe in the resurrection? Because it violates the laws of physics."
He wrapped up his objection to the resurrection by saying such a thing happened one time and all we have to substantiate it are supposed, ancient eyewitness accounts: "Historians don't argue that something that happened only once in all of history is [a miracle] because someone said it happened."
Is Ehrman right? Is it correct to say that miracles and physics don't mix? And that singular events in history beg to be denied?  
Natural laws and God
Ehrman's arguments are nothing new and have been articulated by plenty of others before him. For example, in the 1600s, the philosopher Baruch/Benedict Spinoza contended that natural laws are immutable, and because miracles violate them, miracles are impossible.
The skeptical Scottish philosopher David Hume followed Spinoza and maintained that while natural events occur regularly, miracles are by definition exceedingly rare. Because evidence for what is regular exceeds that for what is rare, Hume said wise people should not believe in miracles.   
Whether he knows it or not, Ehrman is channeling both Spinoza and Hume with his objection to miracles like Jesus' resurrection, and I respectfully contend he's wrong.
When it comes to arguing that miracles don't jive because of how mathematics and physics operate, William Lane Craig does a good job of explaining why that's incorrect on a number of levels: "There are no laws of mathematics — you have axioms and theorems. The laws of physics are contingent, but they are not an a priori thing like mathematics. Physics informs us what would happen if there were no interfering factors. The laws of nature aren't broken, but rather they do not apply [in the case of a miracle]."
My apologetics professor in seminary, Dr. Norm Geisler, says the same thing when he writes, "We also know that natural laws are not immutable because they are descriptions of what happens, not prescriptions for what must happen. Natural laws don't really cause anything, they only describe what regularly happens in nature."
From a Christian standpoint, it's understood that a miracle is a very special act of God that interrupts the normal course of events that happen in the natural world. Former atheist Anthony Flew agrees and defined a miracle as, "something which would have never happened had nature, as it were, been left to its own devices."
But if God exists, He is more than capable of suspending His laws of physics to do what He wants. Just like we can reach into a box and manipulate things inside that box, He's able to do the same with our world.
What about Ehrman and Hume's argument about evidence for regular things being more plentiful and therefore more acceptable than evidence for what is rare? When examined from a historiographical perspective, the claim quickly falls apart because the past is replete with events that are unique.
Moreover, as apologist Joe Boot points out: "There is an important difference between the scientific and legal [testimony] methods for determining truth. The legal method does not ignore testimony or facts because they are not reproducible or testable … Certain kinds of tests are appropriate for different realms of thought."
The fact is, there is no conflict between physics, rare events in history, and miracles … if you don't, in a presuppositional way, rule God out of the picture. But if you do, like Ehrman, Spinoza, and Hume, then you're just stacking the deck, not playing fair, and not following the evidence with an open mind.
C. S. Lewis said it best: "But if we admit God, must we admit Miracle? Indeed, indeed, you have no security against it. That is the bargain."
Robin Schumacher is an accomplished software executive and Christian apologist who has written many articles, authored and contributed to several Christian books, appeared on nationally syndicated radio programs, and presented at apologetic events. He holds a BS in Business, Master's in Christian apologetics and a Ph.D. in New Testament. His latest book is, A Confident Faith: Winning people to Christ with the apologetics of the Apostle Paul.