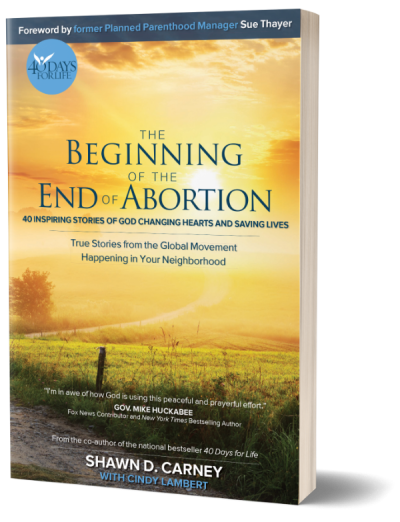 This is adapted from "The Beginning of the End of Abortion: 40 Inspiring Stories of God Changing Hearts and Saving Lives" by Shawn Carney. The book will be released Sept. 12.
I couldn't sleep. The woman's words kept eating at me.
I had just spoken at a banquet for a pregnancy center, and the atmosphere afterward had been cheerful. But when I asked one of the center's employees why she got involved in the pro-life movement, her mood quickly grew somber.
She explained that she had worked at a Planned Parenthood abortion facility near a major city. At the time, she justified her job because it was restricted to bookkeeping and other business tasks that were separate (she thought) from what went on in the rooms next door where the abortions were done.
"But one day," she said, "that all changed in an instant while I was sitting at my desk opening the mail." Her expression became more and more troubled as she continued. "I opened an invoice from the local morgue. It was for $350."
When she scanned the invoice, the reality of abortion hit her. "The service listed in bold, capital letters pierced my heart: CREMATION SERVICE FOR 150 POUNDS OF MEDICAL WASTE."
She looked me in the eye and said, "Shawn, I asked myself a question as I stared at that invoice, and the answer was what first got me involved in the pro-life movement."
"The question that pierced my heart was, 'How many babies have to be aborted to add up to 150 pounds of 'medical waste'?"
I didn't know the answer and neither did she.
She told me how that question triggered her resigning from the abortion industry. She began working for a local pregnancy center to help women in need welcome babies into the world. She went all in to help preserve life.
I often think of that woman when I hear a Planned Parenthood advertisement or see its well-designed promotional materials. They are produced by big advertising and marketing firms, so they look and sound professional and positive.
But the Planned Parenthood staff sees what is really happening, and the world inside an abortion facility is very different than the one Planned Parenthood presents outside. Outside there are rhetoric, talking points and shiny brochures, but inside there is the reality of carrying out the gruesome work required for abortion providers to be abortion providers.
Terms like "choice" and "healthcare" and "privacy" are not found on invoices like the one the former Planned Parenthood employee opened.
Her witness reminds us that no matter how cleverly you spin the "choice" for abortion, or how professional the wording seems or how much you believe those words, the reality of what abortion actually is eventually seeps in. We can avoid it or we can acknowledge it as this woman did as she nervously stared at the invoice in her hands. For her, that sheet of paper broke through the facade.
Many who support abortion rights, including many who have worked in the abortion industry, turn away from that industry because they've had to live in its filth. Imagine waking up to the reality of playing a personal part in the discarding of those tiny human remains.
It's interesting that no one is likely to feel uneasy hearing about the work of a pregnancy center, including the one where this woman now works. Who gets distressed or feels attacked when free ultrasounds or free diapers are offered? The nature of this work is innocent – and it has to be, to be successful.
On the other hand, the nature of abortion, despite the attempts of the advertising agencies working on behalf of the abortion industry to make the industry appear attractive and compassionate, is in reality graphically ugly.
That's why many of those who leave the abortion industry (like this woman) join the pro-life movement. They know better than anyone that abortion kills babies.
Shawn Carney is president and CEO of the pro-life organization 40 Days for Life.