President Biden's immigration policies are placing children at risk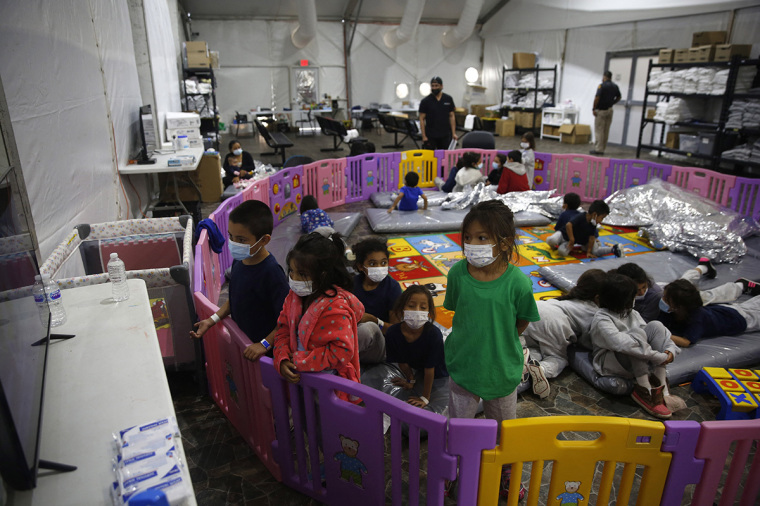 Despite claims to the contrary from the Biden Administration, our country is currently embroiled in an unprecedented and escalating crisis at our southern border that's been primarily brought about by recently enacted policies incentivizing child abandonment.
According to U.S. Customs and Border Protection (CBP), more than 29,000 unaccompanied alien children (UACs) have been encountered at the U.S. Southern Border so far for FY2021, an astonishing 92% increase from the same time period in 2020.
But these numbers don't even take into account the nearly 19,000 unaccompanied children who entered the United States in March 2021 alone. This number far eclipses the previous monthly high of 12,000 in May 2019.
These children have made the trek north without their parents in the hopes of reaching America for a better life. But the journey is perilous, and on many levels. News of sexual assaults and taxpayer funded shelters only adds to the travesty of the situation.
One recently released video showed an abandoned ten-year-old migrant approaching a U.S. border patrol agent, and through his sobs and tears, pleading for help. According to CBP, the Nicaraguan boy was distraught after waking up and realizing he had been left behind.
"Can you help me?" the boy first asked the agent. "I was walking with a group, and they left me behind, and I don't know where they're at."
The agent inquired whether the boy was travelling with his mom or dad. "Nobody," he replied. "I came looking because I didn't know where to go, and they can also rob or kidnap me or something."
The video is both enraging and heartbreaking. No ten-year-old child should be left in the middle of the desert by themselves to either find help or die.
"Scenes like these are all too common, as smugglers continue to abandon children in desolate areas, with zero regard for their well-being," a CBP spokesperson said regarding the incident.
This video only added to my consternation after I saw pictures of immigrant children sleeping on mats, wrapped in aluminum foil in a border patrol facility. I also saw video of two human traffickers dropping two sisters, ages three and five, over a 14-foot-high border wall before abandoning them and running away.
This is a humanitarian crisis, and President Biden should recognize it as such.
In my capacity as president of a family help organization, I visited the southern border in 2019. I was critical then of policies separating children from parents but was favorably impressed with conditions and the management of the facilities. But a challenging situation has since grown much worse.
In remarks to the press in 2014, then-Vice President Joe Biden pointed out the extraordinary dangers faced by unaccompanied children traveling to the United States.
"[UACs are] among the most vulnerable. And the majority of these individuals rely – we estimate between 75 and 80 percent – rely on very dangerous, not-nice, human-smuggling networks," Mr. Biden said at the time.
"These smugglers … routinely engage in physical and sexual abuse, and extortion of these innocent, young women and men by and large. And they profit from the misery of these children and teenagers," he added.
So why hasn't now-President Biden visited the border to see the terrible human cost of this crisis for himself?
And for those minors who do reach the United States unscathed, it's not all smooth sailing from there.
Due to the separation of these immigrant children from their parents, they will likely face negative lifelong consequences.
Indeed, children in fatherless homes are four times as likely to be poor. They are at much greater risk for alcohol and drug abuse and are twice as likely to commit suicide compared to children with both parents.
It's understandable that parents living in poverty in Central or South America may think it best to send their children to the United States, a land of prosperity and plenty. But while America is, indeed, a "shining city" – all that glitters isn't always gold.  
I know what it's like for a child to be separated from their parents. I may not have come across the southern border, but I was left alone at age nine when my mother died and my stepfather abandoned me and my siblings.  
So, when I think about the 48,000 unaccompanied children who have been encountered by border patrol so far this year, that number isn't just a statistic for me. It's personal. 
The Biden administration's policies, which have driven much of the recent migrant surge, have been reckless, irresponsible, and put the lives of immigrants at risk. If the administration wants to truly care for these immigrants, this crisis must be dealt with. Now.
Jim Daly is president of Focus on the Family. Follow Jim Daly on Twitter
@Dalyfocus
Follow Jim Daly on
Facebook
Follow Jim Daly's blog at
DalyFocus