Southern Baptist Convention makes official statement on dangers of AI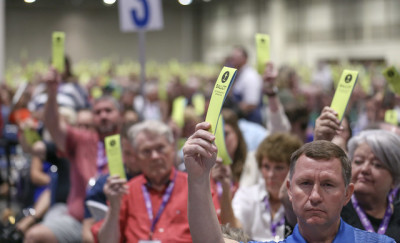 The Southern Baptist Convention is the largest Protestant denomination in the United States, with a membership of 49,842 churches and missions and a total church membership of 13.23 million church members.
The SBC held its annual meeting this past week in New Orleans where approximately 12,800 messengers (representatives) elected by those local congregations across America came together to conduct the denomination's business in the largest meeting run by Roberts Rules of Order, including approving an annual budget of $195.2 million dollars.
The national headlines focused on whether the Evangelical denomination would reinforce its conviction that pastors should be men by upholding the exclusion of several churches, including a nationally prominent one (Saddleback in California which had ordained several women as pastors). The SBC did uphold the exclusion of the churches by an approximately 88% vote.
However, the SBC made other headline-worthy news through actions taken by its Resolutions Committee. Each year, the SBC's Resolutions Committee (made up of men and women appointed by the convention to serve) is tasked with meeting together in the months preceding the convention and interacting with resolutions submitted by various individuals or groups of Southern Baptists concerning issues of importance to the denomination's membership.
It was my privilege to be intimately involved with this often intense process for a quarter century (1988-2013). When resolutions are eventually approved by a vote of the convention messengers, they are not binding on the conscience of any Southern Baptist individual or entity. However, they are instructive, being a serious indicator of where Southern Baptists' consensus is on a particular issue at a particular time and place in SBC history.
During the time I was leading the Southern Baptist Ethics & Religious Liberty Commission (1988-2013), we worked very closely with the Resolutions Committee every year and we kept a book of previous resolutions organized by subject matter close at hand for ready reference as we dealt with the plethora of issues the ERLC was tasked with addressing on a regular basis. 
In the convention this year, the 2023 Resolutions Committee produced a very important resolution "On Artificial Intelligence and Emerging Technologies," which was approved overwhelmingly by the voting messengers in attendance.
Furthermore, it appears this resolution makes Southern Baptists the first religious denomination to make an official statement on the challenges of AI and present a theological and ethical grid for dealing with this complex issue. The Vatican is reportedly hard at work on the issue and plans to have a statement by autumn of this year.
The AI Resolution starts from the foundational premise "that our intrinsic value" as human beings as divine "image bearers — not rooted in what we do or contribute to society — and that human dignity must be central to any ethical principles, guidelines, or regulations for any and all uses of these powerful emerging technologies."
The resolution emphasizes that Christians "must proactively engage and shape these emerging technologies rather than simply respond to the challenges of AI."
The AI Resolution quite soberly acknowledges that "The Fall has adversely affected every aspect of creation, including the development and use of these powerful innovations" and may produce "dangerous and dehumanizing outcomes if not utilized with godly wisdom and discernment."
Thus, the AI Resolution calls "upon civic, industry, and government leaders to develop, maintain, regulate, and use these technologies with the utmost care and discernment, upholding the unique nature of humanity, as the crowning achievement of God's creation."
The Southern Baptist scholars who labored and prayed over the AI Resolution have been used by the Holy Spirit to produce a most helpful "plumb line" to guide Christians and others as we navigate this new and unique scientific domain which is fraught with so much profound promise and so much lethal danger.
I recommend the reading and study of the SBC resolution "On Artificial Intelligence and Emerging Technologies" to every serious human inhabitant of the planet. These technologies will impact you and your progeny. The question is, will the impact be a curse or a blessing? That remains to be determined. We must all get in the discussion if it is to be the latter rather than the former.
Read the full text of the resolution: On artificial intelligence and emerging technology
In what is believed to be the first denominational statement on the ethics of artificial intelligence, Southern Baptists acknowledged the powerful potential of AI and other emerging technologies. They also expressed a desire "to engage them from a place of eschatological hope rather than uncritical embrace or fearful rejection."

The resolution also affirmed the Bible's ability to answer any "ethical challenges, questions, and opportunities" that may emerge from these technologies. In addition, messengers also declared human dignity to be "central to any ethical principles, guidelines, or regulations for any and all uses" of these technologies.

Messengers called on civic, industrial, and government leaders to "develop, maintain, regulate, and use" these technologies with care. Confessing that God alone has the ability to create life, messengers overwhelmingly declared that technology will never be able to "usurp the sovereignty and power of God."

"Our Resolutions Committee deserves all the appreciation we can muster for crafting this first-of-its-kind resolution for any denomination or network of churches. Artificial Intelligence has been a hot topic, both in Washington and on the international stage," said Brent Leatherwood, Ethics & Religious Liberty Commission president.

"This resolution comes at an opportune time and proves once again that even when it comes to the leading edge of emerging technologies, the Bible, as always, gives us principles to guide us in uncharted waters," Leatherwood told Baptist Press in written comments.
Dr. Richard Land, BA (Princeton, magna cum laude); D.Phil. (Oxford); Th.M (New Orleans Seminary). Dr. Land served as President of Southern Evangelical Seminary from July 2013 until July 2021. Upon his retirement, he was honored as President Emeritus and he continues to serve as an Adjunct Professor of Theology & Ethics. Dr. Land previously served as President of the Southern Baptist Convention's Ethics & Religious Liberty Commission (1988-2013) where he was also honored as President Emeritus upon his retirement. Dr. Land has also served as an Executive Editor and columnist for The Christian Post since 2011.
Dr. Land explores many timely and critical topics in his daily radio feature, "Bringing Every Thought Captive," and in his weekly column for CP.