The muscular side of forgiveness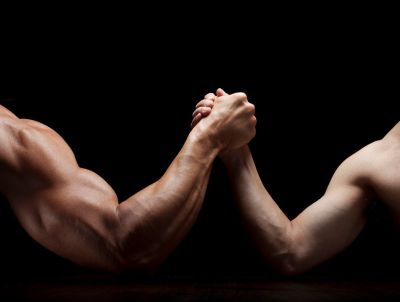 I'll bet there's a teeny-tiny part of you that thinks it's wimpy to be a forgiving person. Heck, maybe a big chunk of you believes that.
If that's the case, don't feel bad. Our culture does its best to condition us at every turn, forcing us into its mold (Rom. 12:2) and currently, it is no fan of forgiveness.
Whether it's in politics or entertainment, we're taught forgiveness is a weakness. "John Wick" doesn't forgive. Neither does Rip on "Yellowstone."  
Maybe you don't either.
You were hurt. Abused. Lied to. Robbed. Cheated on. Ridiculed. Damaged. Used. And maybe it's still going on.
Forgiving all that, you feel, lets the other person off the hook. It allows them to nonchalantly wave away what they've done without giving a second thought to the awfulness with which they've flooded your life.
"Not on my watch," you think to yourself.   
If that's you, then keep reading because you've most likely got the biblical model of forgiveness all wrong. Truth is, it's much more muscular than you might think.
Flexing forgiveness
One of the reasons we bristle at forgiveness is because it conveys a sense that justice hasn't been done. We think forgiveness greenlights the wrong we've suffered and lets the offending party off scot-free, liberated to continue their infractions if they choose.
But that's not how forgiveness is portrayed in Scripture.
Listen to one of the best statements I've ever read on biblical forgiveness, which comes from the Croatian theologian Miroslav Volf: "Forgiveness is not a substitute for justice. Forgiving someone does not mean you demand no change in the perpetrator and no righting of wrongs. In fact, forgiveness provides a framework in which the quest for properly understood justice can fruitfully be pursued."
Does that make you feel any better about how forgiveness is supposed to work? It sure helps me.
Forgiveness doesn't equate to giving someone a pass or blank check to play whack-a-mole with your life. For sure, as most Christians know, God's model dismisses the idea of retaliation (Rom. 12:17), but many overlook that it also kicks to the curb the concept of resignation or just "letting it go".
The "framework" Volf cites (of course) involves evaporating the hate and anger you feel towards your wrongdoer. But then it correctly proceeds down the path of pursuing acknowledgment and justice with that same party.
And there's nothing wimpy about doing that.
This important aspect of forgiveness is a key distinction between Christianity and every other world religion. In every other faith, the god in question dispenses forgiveness at the expense of their justice.
In Christianity, God bestows forgiveness through His justice.
In dealing with the wrongs He has experienced with us, God does not simply "let it go." Instead, He seeks out our acknowledgment of the offenses we have committed and then asks for justice to be done, for reconciliation and payment to be made.
The bad news is we can't pay it. The good news is, Jesus did.
Forgiveness for us and the justice required to make things right were accomplished at the same time at Calvary. Nothing else in history compares to that.
How this translates to us and our battles with forgiveness is that sometimes we might have to pay and assume the burden of 'debt' for an offending party like God has done for us. But that doesn't equate to abandoning a pursuit of repentance in the affronting person just like God does with us before He applies the benefits of His forgiveness to our lives.
Flexing forgiveness in this way is the exact opposite of being wimpy — it takes strength, a belief that you have innate moral value and worth, and deserve the justice needed to restore the broken relationship.
Since that's how God does it with us, let's muscle up our forgiveness in the exact same way and follow His lead.  
Robin Schumacher is an accomplished software executive and Christian apologist who has written many articles, authored and contributed to several Christian books, appeared on nationally syndicated radio programs, and presented at apologetic events. He holds a BS in Business, Master's in Christian apologetics and a Ph.D. in New Testament. His latest book is, A Confident Faith: Winning people to Christ with the apologetics of the Apostle Paul.