The state of our screenage, c. 2021
Once upon a time, new year's resolutions almost automatically involved goals like shedding holiday pounds, exercising more or whipping our budgets into shape. These days, though, there's another category that might be getting some attention in your home: our screen time.
Since smartphone usage became nearly universal a decade ago or so, we've recognized excessive screen time as a grown problem — both for tweens and teens, and for adults.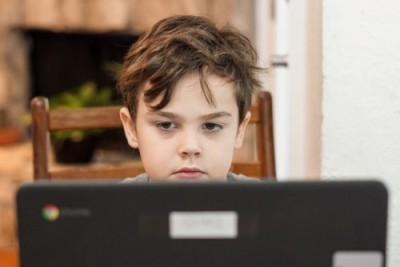 Then came COVID-19. Some of us had kids come home for spring break last year, and they never went back to school in person. Many of us have pivoted toward doing our jobs at home. Whether we're talking about adults working or kids learning remotely, though, there's one common denominator: even more time spent on screens.
An April survey by the group ParentsTogether found that kids were spending 50% more time online than they were before the pandemic. But it's not just kids' screen use that's absolutely surging. In late December, a OnePoll survey of 2,000 adults that was commissioned by Vision Direct found that adults are spending 17 hours a day on screens. Seventeen hours! The survey broke down adults' screen usage as follows: 4.5 hours watching TV, 4.5 hours on smartphones, 3 hours gaming and about 5 hours on a laptop.
And while many industries have struggled during the coronavirus epidemic, the video game industry isn't one of them. Global video game revenue grew by an estimated 20% in 2020, raking in nearly $180 billion according to the market research firm IDC. By way of comparison, that's bigger than the international movie market and the North American sports market combined!
Can you relate to these numbers? I know I can. Working at home with three kids doing remote learning has been a recipe for increased screen usage in our family. And as this new year gets under way, we're in the process of doing a reset on our screen time habits. Just like dieting, budgeting and getting fit, changing our personal and family screen engagement requires a strategy and intentionality.
So what does resetting our tech engagement realistically require of us as parents and as Christians? How do we begin to re-establish boundaries and claw some of this time back from screens and games that are perhaps as likely to have ensnared us as adults as they have our kids?
First, as parents we must embrace the reality that we set the tone for technology usage in our homes. It's easy to pick on "the kids" and their engagement with digital devices. But the bulk of the research out there suggests that we adults indulge in even more "screening" than our kids do. If we want to see change in our families, it has to start with us.
Second, start small. I don't know about you, but when I want to see positive changes in my life, it's easy to embrace sweeping goals to change everything all at once — even if we know better. But making multiple changes simultaneously is a recipe for fast failure. Instead, focus on one or two concrete changes you can begin to implement, then build upon.
There's no one-size fits all answer, but it could be something like no phones at meals, or limiting "double screening" (surfing your phone while watching TV). One friend of mine successfully implemented "No Tech Tuesdays" for his family — which was initially met by fierce resistance but ultimately yielded terrific family time every Tuesdays.
Third — and maybe I should have started here — invite God into this process. Screen usage becomes a habit because it promises a quick hit of satisfaction, but one that ultimate leaves us feeling empty. It's hard to face those empty feelings when we're bored and in search of something to satisfy. But God invites us to see that He wants to fill our hearts (see Psalm 16:11) and to taste and see that He is good (Psalm 34:8)
Changing entrenched habits is never easy, of course. But with God's help, we can reset our family's interactions with screens, carving out more time for Him, for each other and for the things in life that truly matter.
Adam R. Holz is director of Plugged In, Focus on the Family's media, entertainment and technology review website. Adam and his wife are currently raising three children. When they manage to get all the screens turned off, they enjoy a good game of Scrabble.