The worldviews of violence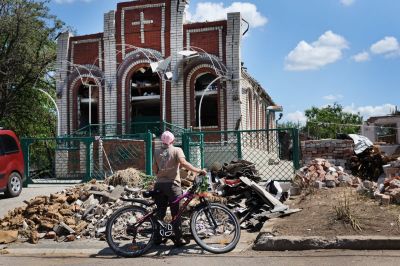 Want to know one of the biggest farces passed around the web? It's that religion causes more violence and war than anything else.
For example, atheist neuroscientist and philosopher Sam Harris once said, "If I could wave a magic wand and get rid of either rape or religion, I would not hesitate to get rid of religion. I think more people are dying as a result of our religious myths than as a result of any other ideology." 
The only problem with his statement is that it's 100% false.
What is true is that serious atrocities have been committed in the name of religion (e.g., ISIS, the Crusades, the Inquisitions, etc.) That said, although terrible, they barely register on history's violence Geiger counter compared to the carnage and body count produced by secular philosophies.
For proof, we can turn to historians Philip and Axelrod's three-volume Encyclopedia of Wars. They write that of the 1,763 wars waged over human history, only 123 have been religious in nature. That amounts to an amazingly low 6.98% of all wars being the result of religion.
Further, when wars carried out in the name of Islam are subtracted, the percentage falls to a shockingly low 3.23%, meaning that all religions combined — minus Islam — have been responsible for less than 4% of all of humanity's wars and violent conflicts.
Ok, fine, but can religious belief condition people to be violent? Augustine thought that might be possible.
In his work City of God, Augustine penned a refutation against the false, polytheistic religions of his day and argued that they helped groom a hostile society. He contrasted Christianity with its one sovereign, loving, and righteous God with polytheism's concept of many gods who were always at odds and war with each other.  
With no supreme power or single lawgiver, the trickledown effect, said Augustine, was a loss of hope and an abandoned pursuit of peace and real justice. The end result, he thought, was a naturally violent world.  
Although aimed at polytheism, Augustine's conclusions apply perfectly to the anti-God, secular worldview where human beings are their own little gods, also at odds and war with each other. It's the same foundational worldview — one we've experienced much of throughout history up to today.
And as we're seeing these days, it takes Ripley's concept of "Believe it or not" and turns it violently into "Believe it or else!"
You can't get there from here
How do you achieve what our culture values the most these days, which is objective tolerance and equality? Let's start with how you can't get there.
You can't attain it with evolutionary ethics. If, as Tennyson memorably put it, nature is a world of strife, conflict, and violence — "red in tooth and claw," an existence where the strong eats the weak with no regrets because that's the nature of the beast (pun intended), then any notion of fairness and charity go "poof."
The philosophies of existentialism and nihilism, which are either explicitly or implicitly practiced today, can't help because everything is meaningless, objective right and wrong don't exist, and the individual creates truth. Thus, there's no reason everyone shouldn't do as they please and you're right back to little gods warring with each other.
Leftism (different from liberal democracy) today champions tolerance and parity, but it oftentimes shows its true self in doing exactly the opposite. This shouldn't be surprising given its birth occurred in the 18th century French Revolution.    
"Like Saturn, the revolution devours its children," wrote one Frenchman in 1793 who was appalled at the madness the French Revolution unleashed.
Remember, the French Revolution of 1789 didn't chase the freedom pursued by the American Revolution but instead sought a different type of liberty — one that was characterized by the desire for absolute power, secularism, and a mob-driven, forceful de-Christianization campaign. Its outcome, and others like it, are summed up by R. J. Rummel in his book, Death by Government:
"Almost 170 million men, women and children have been shot, beaten, tortured, knifed, burned, starved, frozen, crushed or worked to death; buried alive, drowned, hung, bombed or killed in any other of a myriad of ways governments have inflicted death on unarmed, helpless citizens and foreigners. The dead could conceivably be nearly 360 million people. It is though our species has been devastated by a modern Black Plague. And indeed it has, but a plague of Power, not germs."   
These worldviews of violence — evolutionary ethics, existentialism/nihilism, and leftism — are unashamed in their proclamations and those who approach them with open eyes will see them for what they are and the fruit they bear. No grapes coming from those thorn bushes (Matt. 7:16).  
Of course, they do their best to tell you you're not seeing what's actually there. For example, during a time when an estimated 3.5 million North Koreans died of starvation, "supreme leader" Kim Jong-il banned the words "famine" and "hunger."  
Contrast these worldviews with Christ and what He offers. He doesn't cancel, but instead restores; won't murder, but saves and resurrects; can't lie, but rather tells the truth in love.
If Churchill was right when he said, "the empires of the future will be empires of the mind" then what our world needs now was spelled out by Paul thousands of years ago. To avoid the worldviews of violence that do their best to indoctrinate our minds with false teaching, our culture needs to "be transformed by the renewing of your mind, so that you may prove what the will of God is, that which is good and acceptable and perfect" (Rom. 12:2).
The end result of that is what everyone wants and needs: "love, joy, peace, patience, kindness, goodness, faithfulness, gentleness, self-control; against such things there is no law" (Gal. 5:22-23).
And that, my friends, is how you get real tolerance and equality. 
Robin Schumacher is an accomplished software executive and Christian apologist who has written many articles, authored and contributed to several Christian books, appeared on nationally syndicated radio programs, and presented at apologetic events. He holds a BS in Business, Master's in Christian apologetics and a Ph.D. in New Testament. His latest book is, A Confident Faith: Winning people to Christ with the apologetics of the Apostle Paul.