Turkey Complains About 'Islamophobia' in Europe, Persecutes Its Own Christian Community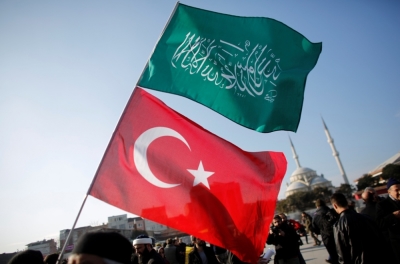 Today, approximately 215 million Christians experience persecution, meaning that one in twelve Christians live where Christianity is "illegal, forbidden, or punished" and "Islamic extremism remains the global, dominant driver of persecution, responsible for initiating oppression and conflict," according to the Christian watchdog group Open Doors.
And yet, Turkey's minister of foreign affairs Mevlüt Çavuşoğlu recently criticized the European public, politicians and media for engaging in "extremist, anti-immigrant, xenophobic, and Islamophobic rhetoric of hate against Muslims."
In its 2017 report on human rights violations, Turkey's Association of Protestant Churches details Turkey's systematic discrimination against its Protestant community, listing the hate crimes as well as verbal and physical attacks against Protestant Christians.
The Turkish government doesn't even recognize the Protestant community as a "legal entity," denying them the right to freely establish and maintain places of worship. Since their meeting places are not officially recognized as places of worship, they are often targeted and closed.
On September 5, for example, the Izmir Cigli Church was closed and sealed in response to negative press coverage concerning the church. Its sign, deemed offensive because it contained the word "church," was removed.
Turkey's Protestant community also faces discrimination in the training of their religious leaders. Current law prohibits the opening of religious training schools. Hence, the Protestant community relies on support of foreign church leaders.
However, the report notes that several foreign religious workers and church members were deported, denied entry into Turkey, refused residence permits, or denied entry visas last year.
Another serious problem is workplace discrimination. "Some Protestant community members who work as public officials in Izmir, Istanbul and Diyarbakir were told that because they were Christians and missionaries, their work contracts would not be renewed."
On 18 April 2007, three Christian employees of the Zirve Bible Publishing House in Malatya were tortured and murdered by five Muslim assailants – a horrific crime which still haunts many Christians in Turkey. Some local media outlets had targeted Christians before the massacre. And it appears that many outlets in Turkey are still complicit in attacks against churches and churchgoers.
There has been a spike in negative local press coverage against churches and their members, similar to the news reports preceding the 2007 Zirve Publishing House massacre. "These new publications have created serious concern and apprehension among the churches," according to the report.
Ironically, "Turkey used to be called Anatolia or Asia Minor and was a Christian civilization," writes Dr. Bill Warner. "Today Turkey is over 95% Muslim. North Africa, Egypt, Iraq, Syria and Lebanon used to be Christian. Afghanistan was Buddhist; Pakistan and Malaysia used to be Hindu. Today they are more than 95% Muslim. Islam does not reach a balance point with the native civilization; it dominates and annihilates the indigenous culture over time."
Even though Christians today comprise only 0.2 percent of the entire population of Turkey, they are still targeted and persecuted. However, the Turkish government tries to portray "Islamophobia" as the real problem in the West and calls on Europe to criminalize it. The same Turkish government did not even invite Turkish Protestant community or church representatives to its meetings of religious groups last year.
This skewed ideology also reveals the enormous differences between Judeo-Christian values and Islamic values. According to Islamic doctrine, any act that helps bring nations under Muslim domination and Islamic shariah law – no matter how violent or deceitful – is "righteous." And Muslims with a political agenda are encouraged by Islamic scripture to reach their goals by any means – including democracy. Early in his career Recep Tayyip Erdogan, now president, made a telling remark addressing this worldview: "Democracy is like a train," he said. "You get off once you have reached your destination."
Uzay Bulut is a journalist and political analyst from Turkey and a fellow with the news and public policy group Haym Salomon Center.