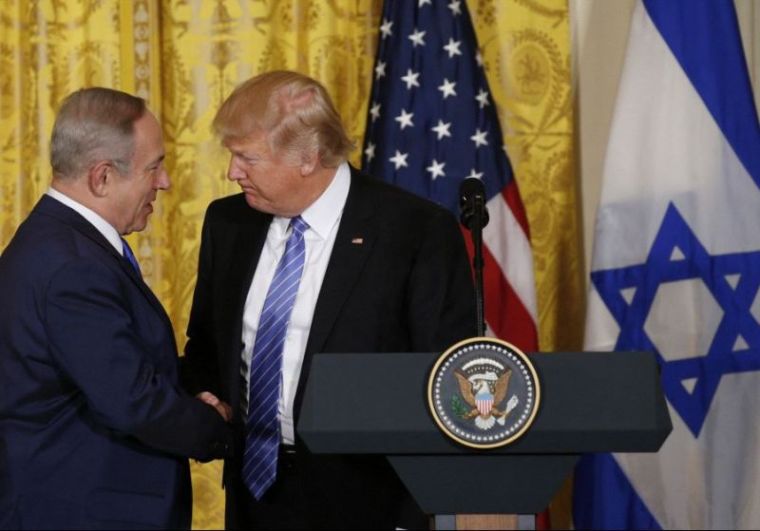 I think one of the major problems with modern Christianity in America is our quick reaction to criticize someone rather than praying for them. Most Americans don't know and will likely never personally meet President Trump, yet so many are quick to judge him solely because of what the media filters to our TVs, smart phones and social media newsfeeds. I dare say, we need to be praying for Trump rather than constantly criticizing him.
The Bible says in Romans 13:1b, "for there is no authority except that which God has established. The authorities that exist have been established by God." The Apostle Paul, who wrote the Book of Romans, also writes in 1 Timothy 2:1-2, "I urge, then, first of all, that petitions, prayers, intercession and thanksgiving be made for all people—for kings and all those in authority, that we may live peaceful and quiet lives in all godliness and holiness."
When was the last time you prayed for Trump, interceded for Trump, or thanked God for Trump? You don't have to align with everything President Trump believes or does. The Bible doesn't say to not pray for your leader if they don't believe exactly the way that you do. Scripture says to pray for them, to intercede for them and to be thankful for them.
I know it would be harder to do so if President Trump was like North Korea's dictator Kim Jong-un. But, let's be honest, he's not. Trump isn't a ruthless ruler bent on being a dictator or making Americans hate living in the United States of America. I'm not going to go into detail about what to do if your leader is like, for example, Kim Jong-un, because that's not the reason for this article. I only bring Kim Jong-un up to make a statement: Trump isn't a ruthless dictator. Regardless of who you voted for, Trump was elected as the 45th President of the United States of America. And he's going to be our President for the next four years. Is Trump perfect? Absolutely not. Are you and I? Far from it. Let's stop judging President Trump as if he's the worst sinner on planet earth.
The Apostle Paul writes in 1 Timothy 1:15b, "...Christ Jesus came into the world to save sinners—of whom I am the worst." Until we come to the realization that we are the worst sinner we know we won't stop judging Trump as if he's worse than us. Here's the thing: Paul was a murderer, yet God's grace was able to redeem him. I'm not going to say I know for a fact that Trump knows the Lord. The Bible does say in Matthew 7:20, "Thus, by their fruit you will recognize them." This section of Scripture is talking about false prophets, but the same can be said of anyone who claims to follow Jesus. Fruit of such a conversion will be evident in the life of a believer. Nonetheless, we need to be praying for President Trump.
Don't know if Trump is really a Christian? Pray for his salvation. It's better to pray for someone to come to know the Lord than to judge them, hate them and wish horrible things upon them.
Don't agree with Trump? That's okay. The Bible doesn't say you have to agree with everyone. But it does say we should be praying for our leaders.
Pray for Trump to make wise decisions.
Pray for Trump to not lash out on Twitter. Let's be honest, we can all be short tempered. Some of us post to social media things we shouldn't just like Trump. Again, none of us does everything perfectly. No one is immune from making a mistake. President Trump is included in that "no one."
Pray for Trump's safety.
Pray for Trump's family.
Pray for Trump's health.
Pray for Trump to listen to his "spiritual advisors."
Pray for Trump to hear God's voice.
Pray for Trump to yield to the Holy Spirit daily.
The time many of us spend criticizing President Trump could better be spent praying for our President. Regardless of how you view Trump, we are blessed to be in America. We have the right to vote, the right to worship without the government interfering, the right to voice our opinions, the right to pray publically. Count your blessings and pray for your President, because that honors God. God honors those who honor those he's placed in authority. If we want to "live peaceful and quiet lives in all godliness and holiness" (see 1 Timothy 2:1-2) then we need to pray often for President Trump, intercede on his behalf, and thank God for him.
This article first appeared on Aaron's blog: AaronHallBooks.com/pray-for-trump
Aaron Hall is the youth pastor at More 2 Life Ministries (More2Life.tv) in Okeechobee, Florida. You can follow his personal blog here: AaronHallBooks.com or connect with him on Facebook, Twitter, or Instagram.
All Scripture quotations, unless otherwise indicated, are taken from The Holy Bible, New International Version®, NIV®. Copyright © 1973, 1978, 1984, 2011 by Biblica, Inc. ® Used by permission. All rights reserved worldwide.