What does Christianity have to do with leaked Pentagon classified documents?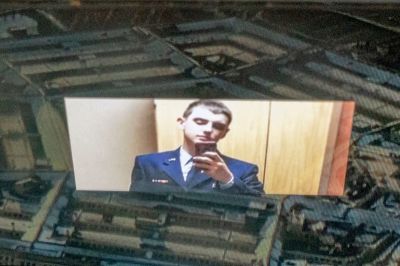 Earlier this month, a 21-year-old Air National Guardsman named Jack Teixeira was arrested for leaking classified documents to an online chat group. The documents contained a wide range of sensitive information, including details about U.S. intelligence operations in Ukraine. Interestingly, this is not the first time that an air guardsman has leaked classified material. 
In 2010, a 20-year-old Air Guardsman named Bradley Manning released hundreds of thousands of classified documents to WikiLeaks. Bradley Manning, an intelligence analyst for the US Army in Iraq, accessed millions of classified documents relating to the war, including videos of US airstrikes that killed civilians. Manning was sentenced to 35 years in prison in 2013, but while in custody, the US military funded his hormone treatment for gender transition to a female. Despite the severity of his offense and the scope of his betrayal, Obama commuted "Chelsea" Manning's sentence and released him in 2017. Is the implication that "Chelsea" is no longer a threat to society because gender reassignment healed his criminal intent or was his debt to society paid through his personal anguish?
After the massive data dumps by Chelsea Manning and the other leaker, Edward Snowden, new systems were implemented to prevent, or at least rapidly track, such unauthorized access to top secret files. The "revolutionizing" technology uses sophisticated artificial intelligence that develops prediction tools to detect insider threats. Obviously, those multi-million-dollar systems did not work so well in the Teixeira case. It took the government months to realize Teixeira was sharing classified records with his buddies on Discord. 
For those of us who have held a TS/SCI clearance, the fact that Teixeira had access to certain internal intelligence products seems nearly impossible. Though he held a TS/SCI clearance, a low-level guardsman in the IT department would not have access to CIA operation center documents, FISA evidence under seal with the court, or briefing slides of the Chairman of the Joint Chief of Staff. These are not products that anyone with a clearance could obtain just by accessing a secure computer. Some former intelligence officers suggest he may have been provided this information to create a controlled leak of the damaging realities in the Ukraine war and the escalating tensions with China. We may never know for sure how this all went down, but the circumstances are definitely strange. 
Nonetheless, the public now knows there is a US military presence in Ukraine, despite no formal declaration of war from Congress. We also learned that China is spying on the US to a far greater extent than a couple of balloons this year. Despite these alarming new facts, the media is not questioning the relevant US officials about the truth of these claims. Instead, they are clamoring for greater control over disseminating classified material. The Biden Administration suggests expanding how to monitor social media sites and regulate speech.  
No one is asking whether the US is backing Ukraine in a losing battle, paid for by the American people. The entire discussion revolves around ways to further erode what remains of our privacy, regardless of whether it undermines our democracy. 
The other focus of the mainstream media is on Teixeira's faith. The Washington Post conducted a video interview with a 17-year-old friend who also was a member of the chat group. He spoke like he was reading off a script. There were no pauses in his speech, no "like" or "umm" as kids often do, and he described Teixeira as charismatic. He called him "patriotic, a devout Catholic, and a libertarian with an interest in guns and doubts about America's future." How many teenagers would describe their online gamer friends that way? Dozens of news outlets repeated this characterization of Teixeira, highlighting his faith and his love for guns. 
If you recall the hundreds of cases of Islamic terrorism that have been reported since 9/11, the media never described those individuals as "devout Muslims who like bombs." Those of us who worked in counterterrorism for the government were not permitted to associate Islam with an increased risk of violence. In the case of Manning or the recent mass shooters who suffer from gender dysphoria, the media refuses to associate their crimes with mental disorders. Could you imagine if there was a major shooting and the reporter said, "Three people were killed and the suspect is Hindu." There would be a public outcry about how inappropriate and stigmatizing that is. Yet, in the present case, Teixeira is painted as a right winger, a Christian who is anti-establishment. The mainstream media does not hesitate to draw his faith into the discussion, implying that it is somehow relevant to the crime. The implication is not only baseless but also inflammatory.   
Unfortunately, this vilification of Christians represents a very alarming trend. Recently we learned of an internal FBI memo authorizing spying on Catholics, claiming they pose a threat of increased violent extremism. Parents and lawmakers fighting against over-sexualization in schools are labeled religious zealots and bigots. 
The Lord warned us of these days.
"If the world hates you, you know that it hated Me before it hated you ... If they persecuted me, they will persecute you also ... They will treat you this way because of my name" (John 15:18-21).
Unfortunately, we see the hatred and persecution increasing as the forces of evil grow stronger.
Hedieh Mirahmadi was a devout Muslim for two decades working in the field of national security before she experienced the redemptive power of Jesus Christ and has a new passion for sharing the Gospel.  She dedicates herself full-time to Resurrect Ministry, an online resource that harnesses the power of the Internet to make salvation through Christ available to people of all nations, and her daily podcast LivingFearlessDevotional.com.