When textual variants become a convenient excuse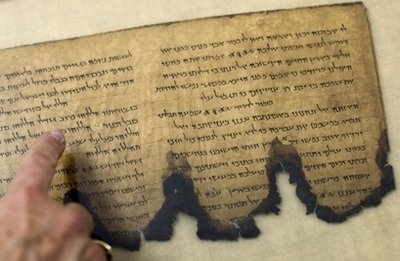 Imagine being sent off to war in a distant land and not seeing your fiancée for 5 years, without a single letter, phone call or email being exchanged as you desperately cling to love, memories and hope. 
You eventually make the anguished assumption that your fiancée no longer loves you and has forgotten all about you. And to make matters worse, you suffer life-altering injuries from a bomb blast on the battlefield.
After arriving home with PTSD, you refuse to meet with your fiancée. You won't budge an inch, even after some friends explain that she wrote to you every day you were gone. "I don't believe it," you say.
Your fiancée's love letters never reached you and are nowhere to be found. Thankfully, your fiancée showed those letters to her friends, and gave them permission to make hand-written copies for themselves. But even after they show you those copies, you still shockingly refuse to accept the truth.
You begin looking for any reason to dispute the historicity of the original letters. After closely investigating the copies, you discover plenty of textual variations in them. You come across the addition or omission of a word here or there. You also find some spelling differences, and the word order is not exactly the same from one copy to another.
Your conclusion? "These textual variants are proof that my fiancée never wrote me any letters. It is a scam. Her friends must have conspired to fabricate these copies. I know she doesn't love me anymore."
Meanwhile, the friends are saying you have it all wrong. "She does love you," they say. "And if you will just be reasonable, you will see that our copies all contain the same message of her never-ending love for you."
A decision must be made. Will you continue to deny the truth, or will you come to your senses and allow what was written in the love letters to soften your soul, heal your heart and restore your relationship? Will you continue to place your unhealthy obsession with textual variants above a loving relationship with your fiancée? Your sister offers you this advice: "Life is too short to believe the lies we tell ourselves."  
This fictional tale illustrates what can happen when a person becomes shell-shocked for one reason or another, and then refuses to acknowledge the truth about God and the Bible. These wounded individuals are often oblivious to the agony the Messiah endured to rescue them from sin and death, and they refuse to accept the clear testimony of God's Word.
The Bible consists of 66 love letters from God detailing specific prophecies and historical events centered around the Lord's astonishing plan of eternal salvation. The 39 Old Testament books and 27 New Testament books were written by 40 different authors over a period of 1,500 years. "To date we have over 5,800 Greek manuscripts of the New Testament, with an astounding 2.6 million pages of biblical text." The manuscripts are copies of the original texts sent out by the biblical writers. 
Since the printing press was not invented until the 15th century, the copies were produced entirely by hand. These manuscripts have thousands upon thousands of textual variants. But as Tim Barnett noted: "It's not the number of variants that's important, it's the nature of the variants. Most variants are trivial, affecting nothing. In fact, more than 99% fall into this category."
Nevertheless, some people choose to put more stock in the textual variants than in the good news of the Gospel as revealed in the New Testament. And rather than being thankful for nearly 6,000 Greek manuscripts, they become completely distracted by the textual variants and take their eyes off the prize. This unfortunate tangent leads many people to reject the One who loves them dearly and endured crucifixion in order to pay for their sins.
Bart Ehrman is a prominent New Testament scholar. In discussing his journey to atheism, he said, "My whole life was wrapped up in the Christian faith. It was rooted in what I thought was a personal relationship with God through Christ. I started realizing the Bible did have problems and that it looked like there were contradictions. Once I said that, I realized there could be other problems in the Bible ... But it wasn't problems with the Bible I was wrestling with. It was why is there so much suffering in the world? That's why I left the faith."
You could say that the war did him in. The reality of suffering in the world led Bart to make faulty assumptions about the Lord. This misinformed mindset about Jesus motivated him to look for convenient reasons to reject God's love letters. And Bart has often pointed to the textual variants in the manuscripts when explaining what changed his perspective about God and the Bible. 
Ehrman had essentially been "engaged" to the Lord, and then textual variants and some philosophical bombs "blew up" what had seemingly been a healthy "personal relationship with God through Christ." (Christian apologist Greg Koukl addressed Bart's concerns about the Bible.)
Here are several questions you would be wise to consider: Can we trust the historical authenticity and accuracy of any piece of ancient literature? And if so, why?
Scottish biblical scholar F.F. Bruce wrote, "The evidence for our New Testament writings is ever so much greater than the evidence for many writings of classical authors, the authenticity of which no one dreams of questioning. And if the New Testament were a collection of secular writings, their authenticity would generally be regarded as beyond all doubt. It is a curious fact that historians have often been much readier to trust the New Testament than have many theologians."
But what about the textual variants?
Even Bart Ehrman admitted: "Essential Christian beliefs are not affected by textual variants in the manuscript tradition of the New Testament." 
So, will you choose to embrace the Bible and its marvelous message of salvation, or will you turn away from the Lord because of textual variants in the copies of God's love letters to us? 
Make no mistake about it. Your decisive attitude toward these letters and the good news contained therein will determine your destiny. Just ask Bart Ehrman.
Dan Delzell is the pastor of Redeemer Lutheran Church in Papillion, Nebraska.