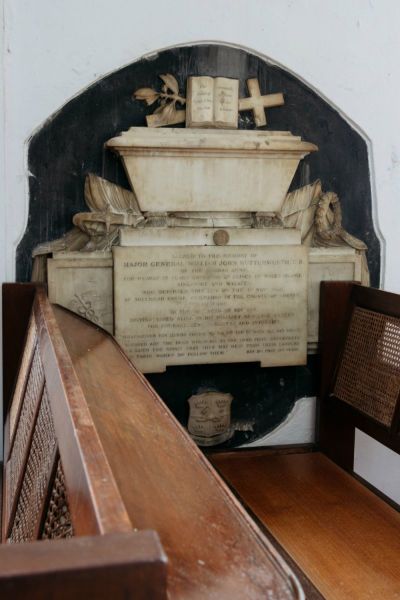 Once one develops an appreciation for the history and architecture of old churches it can become a time consuming hobby — one that many of your friends will never understand.
To them an old church is just an old church. For proof, just look at the visitor book of the historic church near you, in which most church crawlers write that [insert name of church here] is "beautiful" or "incredible." Your guess as to what "beautiful" or "incredible" means is as good as mine, as those words have lost their meaning, at least in common parlance.
Of course, I'm sure curators at art museums will say much the same thing, as few of those who visit their galleries can actually appreciate what they see before them. Perhaps it's our collective habit to document everything via a check-in on Facebook or a picture shared on Instagram, but I digress. (And yes, I plead guilty. Just ask my Facebook friends or Instagram followers, many of whom will tell you that I post a constant flow of pictures from my travels — including countless churches.)
So, here's my list of the top three places, in no particular order, you should visit in year to come that is 2018:
Tallinn, Estonia
The Estonian capital was one of my recommended must-visits before. It remains so for 2018.
That's mostly because Tallinn has an incredibly well-preserved old town, which admittedly can be very touristy at times. Nevertheless, it's a place you should visit, if only because it's well off-the-beaten-path of most Americans who visit Europe.
Wells, England
Chances are you've never heard of what is supposedly the smallest city (population 10,536) in merrie olde England.
Yet, Wells boast one of the United Kingdom's finest cathedrals, a true medieval Gothic masterpiece that is renown for both its west front and its unique chancel arch.
Across the street from what is formally known as the Cathedral Church of St. Andrew is the best-preserved medieval street — the late 14th century Vicars' Close. The façade and chimneys of Vicars' Close await your Instagram capture.
A church near you
Many Americans wrongly believe that old churches can only be found in Europe.
I can understand how a megachurch-going evangelical might think this, but it's simply not the case.
In almost every county in the United States you can find an old church, which is more often than not located in the county seat. I may be bias because I'm Episcopalian, but I find that the Episcopal Church more often than not has the best church in any given county — if only because it was literally and figuratively the church of the one percent in the late 19th century, when many of today's Gothic Revival churches were built.
Spires and Crosses is published every week.
Dennis Lennox writes about travel, politics and religious affairs. He has been published in the Financial Times, Independent, The Detroit News, Toronto Sun and other publications. Follow
@dennislennox
on Twitter.