Craig Groeschel identifies Satan's lies that keep believers 'stuck' in unhealthy habits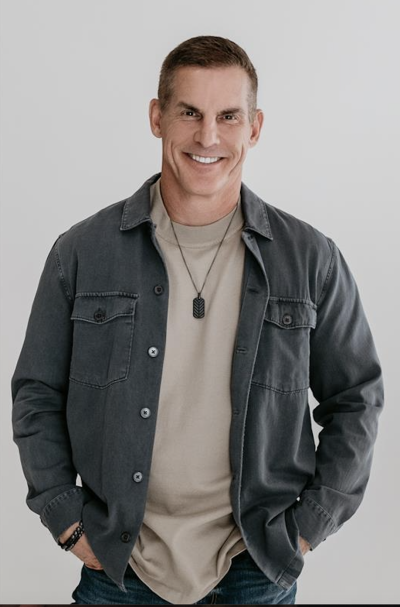 Craig Groeschel is the first to admit that he once lived an "undisciplined life." 
"I lived an undisciplined life, and my family, ministry, and physical health paid the price," the Life.Church pastor and bestselling author told The Christian Post. "Eventually, enough was enough, and I decided that I needed to find the power to make lasting change."
But Groeschel, a seasoned pastor, knew he couldn't change in his own power. So, he turned to Scripture, along with scientific principles, to help him change his habits — a practice he called "life-changing" for not just him, but his staff and church too. 
Now, he's sharing those principles in his latest book,The Power to Change: Mastering the Habits That Matter Most. Unlike many "self-help" books that encourage readers to utilize their own willpower to change, Groeschel's book stresses that both biblical wisdom and science work in tandem to bring about lasting change. 
"It seemed like I had the desire to change but not the power to change. I broke free from the cycle of trying and failing when I realized my willpower wasn't enough to make lasting change. I needed God's power," he said. 
In an interview with The Christian Post, the pastor, husband and father reflected on the series of events that led him to write the book, the devil's role in keeping Christians "stuck," and outlined strategies that he believes will equip others to live a God-honoring life. 
From developing small habits like reading the Bible more to larger ones, such as breaking an addiction, Groeschel stressed that true change is always possible.
"Even when we mess up, our sin's not greater than God's power to forgive. Our bad decisions are not greater than God's power to redeem and restore. Through our new identity in Christ, we have access to the power to change," he said.
"I've spent more than two decades reading, preaching, and writing about habits, and this book brings together everything I've learned," Groeschel added. "I'm excited to help readers discover the same power that's helped us over the years."

The following is a lightly edited transcript of The Christian Post's interview with Pastor Craig Groeschel.
CP: Were there times when you found yourself stuck in a frustrating mental cycle, struggling to manage your thoughts?
Groeschel: Absolutely. One example that comes to mind is how God helped me change my health and my mindset around food. In the old days, I ate anything I wanted to, and it worked for me … until it didn't. I knew I wasn't eating healthy, and I wanted to do better but didn't know how.
I constantly tried to change my diet. I would make a commitment to eat only healthy food and would do really well most of the day, but by evening my motivation and willpower would weaken. I would celebrate how well I had done all day with some bedtime brownies, with ice cream, and maybe something salty like chips and salsa.
The next morning I'd wake up, see the evidence of my failure in the trash and in the sink, and feel guilty. I would decide to do better. So I would eat a healthy breakfast, followed by a nutritious lunch and dinner. But then I'd reason that I deserved another bedtime treat. This cycle would continue until eventually I felt defeated and quit trying altogether.
It seemed like I had the desire to change but not the power to change. I broke free from the cycle of trying and failing when I realized my willpower wasn't enough to make lasting change. I needed God's power.
CP: Why doesn't our own willpower lead us to true transformation?
Groeschel: Willpower is a limited resource that depletes quickly. It's like a muscle. If you work it too hard, it becomes fatigued. When we rely on willpower, we're trying in our own power. When we're tempted or stuck, what we really need is to rely on God's power.
In 2 Corinthians 12:10, the Apostle Paul talks about taking pleasure in our weaknesses because when we're weak, God is strong. I find it incredibly comforting that God's strength begins where my strength ends. It's only when we acknowledge that we can't do it on our own that we unlock His power within us.
We can begin to rely on God's power, and not our own, by shifting our mindset. To do that, just remember: Renew. Remain. Acknowledge. Ask.
Renew: When we allow God to change the way we think, it will change how we act, how we respond to opportunities and temptations, and how we treat people. We renew our minds with God's Word so we can start thinking God's thoughts.
Remain: When you remain in God and stay connected to Him, His power will be unleashed in your life. You'll be able to live the life God created you to live.
Acknowledge: Acknowledge that you don't have the power you need. What you need is the God of resurrection working on your behalf, walking with you, His power coursing through your veins, releasing you from what's holding you back.
Ask: You might feel nervous or embarrassed to ask God for His power, or for anything, because of your weakness and sin. Remember that He is a God of grace and asking God to strengthen you and give you His power in that moment is crucial.
If you renew and remain before the moment, if you acknowledge and ask in the moment, you'll find you now have a power you didn't before. You're taking steps — not in your power — but in God's power.
CP: What role does Satan play in keeping us stuck in our own damaging mental cycles?
Groeschel: Jesus told us exactly who the devil is and how he keeps us stuck. The devil is a liar. He is the father of lies. He'll try to convince us to attach our bad habits and our bad behaviors to our identity. Because if he can get us to believe that we are bad, undisciplined people, then he knows he can keep us stuck, distracted and ineffective.
Our spiritual enemy will tell us lies like, "You're a failure. You will never amount to anything. You don't have what it takes. You'll never change."
These lies don't define us. We are children of God, and we are who He says we are. Even though God knows everything about us and has seen us at our worst and at our best, He offers affirmations and not accusations. God calls us a new creation in Christ. We are forgiven, loved, accepted, chosen and called. We are more than a conqueror through Jesus, who loves us.
Even when we mess up, our sins are not greater than God's power to forgive. Our bad decisions are not greater than God's power to redeem and restore. Through our new identity in Christ, we have access to the power to change.
CP: What are some small habits we can practice that will lead to lasting change?
Groeschel: I've learned never to underestimate how God can start something big through one small habit.
For me, flossing was the first domino that started a chain reaction of 30 years of creating habits.
You're probably thinking, "Why flossing?" Because I hated flossing! For years I had unsuccessfully tried and failed to build a habit of flossing. I needed to start flossing my teeth to convince myself that I was a person who chooses what was right over what was convenient. As odd as that sounds, flossing helped introduce and establish my identity as a disciplined person.
From that foundation, I began adding one new strategic habit a year. Some of the strategic habits that I've added are praying with my wife, Amy, daily, reading the Bible front to back every year, and working out at least three times a week. Every single one of these disciplines are habits for me today because I started small.
For anyone who feels stuck, I recommend picking one thing to focus on. When we pick too many things we want to change, we often end up changing none of them. Think of who you want to become and what that type of person would do. If you want to be a healthy person, maybe start by cutting out soda. If you want to be more positive, try writing down one thing you're grateful for every day. Little by little, you'll develop a habit that you can build on.
CP: What would you say to Christians who are hesitant to "trust the science" when it comes to how our brains work? Why can science and biblical truths go hand in hand?
Groeschel: Some see the relationship between science and the Bible as competitive instead of cooperative. They see it as an either/or, but the truth is that God created both, and they can work together to help us grow closer to God.
As we learn more about how God created our brains, we can use it to our advantage. Psychologists and other social scientists have repeatedly confirmed what God tells us in Proverbs 23:7 — that you do what you do because of what you think of you.
James March, a professor at Stanford University, called this the identity model of decision-making. His research shows that, when making a choice, we essentially (and subconsciously) ask ourselves three questions:
"Who am I?"
"What kind of situation is this?"
"What would someone like me do in this situation?"
Your answers to those questions are the primary reasons why you make the decisions you make. God and scientists agree that you do what you do because of what you think of you. If you want to change what you do, you have to change what you believe about you and allow your God-given identities to drive your behavior.
CP: What is your hope for this book?
Groeschel: My hope is that others find the same freedom I did and start to live the life they've been hoping for, the life God created them to experience.
Ultimately, I am praying that God uses this book to transform lives. I believe He has more for us than our old ways of thinking, and with Him, we can break free from the cycle of trying and failing. Once we can start relying on God's power and not our willpower, we'll find the strength to start doing what matters most.