Why We Need 'Hard-Faith' Movies
Sponsored by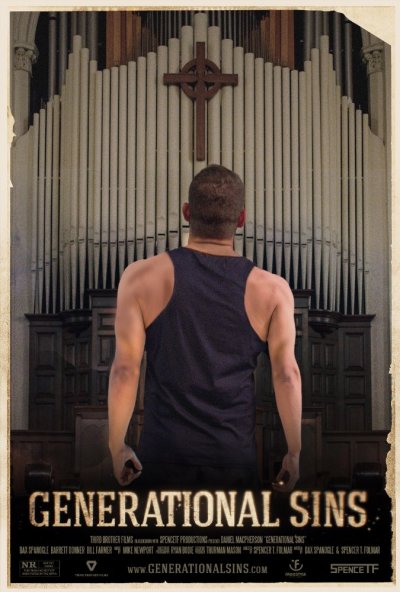 I'm a millennial. And a Christian. Oh and I've been to seminary. But more often than not I detest so called faith-based movies. I really don't think we need that genre at all. Just make good movies, I say. But if we have must have a genre, how about "hard-faith films?" By that I mean, movies that are filled with faith, but also don't shy away from the realities of life. Life is hard, messy, gritty filled with disappointments, broken relationships and sin. Why shouldn't the films we create accurately reflect the lives we lead?
I was reminded of this recently when I read criticism of my film "Generational Sins" by a prominent Christian film maven named Ted Baehr who runs a group called Movieguide. He wrote of my film that "People don't swear that much in public, except maybe in the hallowed halls of Hollywood" and another writer observed that "Baehr contended that along with people and economics, the makers of 'Generational Sins' are ignoring the bible, which forbids 'unwholesome talk,' and 'obscenity,' 'foolish talk,' or coarse joking.'"
I was especially amused by this line since my executive producer, Thurman Mason, and I actually met at a conservative seminary while I was earning my masters degree in Theology. The pursuit of this degree was, in fact, inspired by a deep, personal conviction to better understand the book we both hold so dear.
But his is just one voice and I'm thankful for others like a publication called Church Leaders which observed, "It's uncertain how Generational Sins will perform in the box-office, but one thing the film has done already is brought the conversation about Christianity's ability to address hard questions of faith to a broader, secular audience."
We hope so. It's our hope that films like "Generational Sins" are a new type of film that will move beyond the "faith-based" film industry to encourage films that are gritty and true to life-films that will actually have a chance at being seen by non-Christians who most need to hear and see the Gospel lived out in the real world.
Today, most "faith-based" films are so censored that they portray a world that many would find unrecognizable. This makes it difficult, or even impossible, to invite a non-Christian friend to see the latest "faith-based" film — in many cases, it's even more difficult than inviting them to church.
Our films like "Generational Sins" and other stories coming out of Third Brother Films are not intended for Christian audiences exclusively. They are for all people, everywhere. I promise you that, in our films, you will find things as they truly are, and that we are being as truthful as you would expect your doctor to be about a terminal diagnosis.
We can't change the voices of those whose sole focus seesm to be on preventing bad words from being heard by Christian children, but we can work to make sure that in our quest to shield our children from reality, we aren't sacrificing our Gospel mission in the process, reaching into the highways and the byways to let people know that salvation is possible and God seeks to save the lost everywhere.
After all, isn't that why we're here?
Spencer T. Folmar graduated from Grove City College with a Bachelor of Arts in Communication Studies. He then went on to study at the New York Film Academy. He attended two master classes in editing and cinematography from Oscar-winning and nominated professors at Maine Media Workshop. He earned a Masters in Theology from Reformed Theological Seminary, and was an MFA candidate for Film at NYU Tisch School of the Arts. He has directed and produced three feature films including "Generational Sins" (2017), which has recently been completed. His first two features were made before he was 21. His second film, "Guilt & Sentence" (2010) won Excellence in Filmmaking and Best Screenplay at the Los Angeles Movie Awards. He is the director and producer of Third Brother Films full-time.