Simon Cowell Was So Impressed by This Performance by Bars & Melody on Britain's Got Talent He Gave Them His Golden Buzzer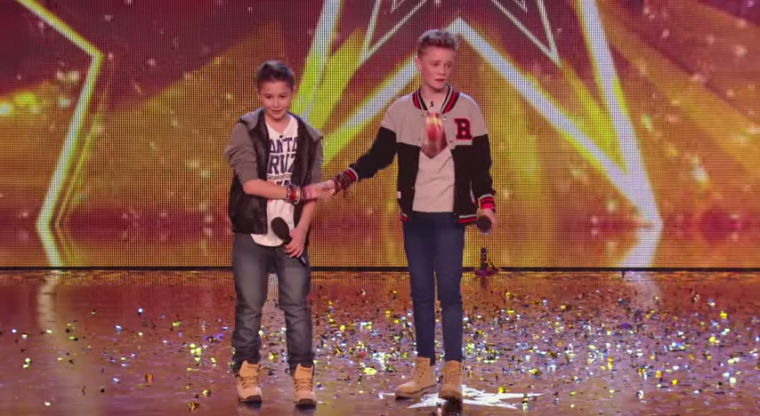 In a recent audition for "Britain's Got Talent," the musical duo Charlie Lenehan, 15, and Leondre Devries, 13, who call themselves Bars & Melody, delivered a performance so moving it forced the notoriously tough show judge Simon Cowell to give them his Golden Buzzer – a decision that sent them straight to the semi-finals regardless of what the other judges think.
The teens combined their rap and singing talent to deliver a powerful anti-bullying message that was inspired in part by personal experience.
"I started rapping because I was having a hard time in primary school. I was getting bullied," Leondre said in a clip of the performance on YouTube that had been viewed more than seven million times as of Wednesday morning. "When I used to be down in the dumps, I used to write my raps. I could express myself through what I was writing down."
"If it wasn't for his music he wouldn't be as confident," added Charlie.
The audience went wild for the touching performance and gave them a standing ovation before chanting for Simon Cowell to give them the Golden Buzzer.
The Golden Buzzer allows the judges – Simon Cowell, Amanda Holden, Alesha Dixon and David Walliams – a one-time opportunity during the auditions to push an act through to the live semi-finals of the talent competition regardless of what the other judges may think. Show hosts Ant and Dec also have Golden Buzzer privileges.
Cowell, 54, explained in a Digital Spy report why he gave the duo his Golden Buzzer.
"It felt empowering. Everyone went nuts and they were really emotional. They are really great kids," he said.
"I like the fact that they wrote their own song based on life experiences. People are going to root for them and they've got this great friendship that is so obvious when you watch them together," he continued. "When you've got that kind of support from the public going into the finals, it helps. So I think they're going to do well."