Black and white pastors share stories of racism, talk reconciliation at Museum of the Bible
'Called to be a change agent'
In third grade, Santora lived in Staten Island, New York, in a predominantly white, Italian neighborhood. He was part of a specialized medical program called Borough, located two districts away from where he lived. The program was designed for students hoping to pursue medicine. 
For the program, Santora attended the Borough School. And even though the school district was a racially mixed population, only white students had been selected to participate in the medical program. 
When Santora wasn't attending the Borough School for the particular program, he attended his predominantly white school in the school district. Santora recounts that there was only one "brown" person in his third-grade class and no black students. 
"I questioned my parents. I said, 'In the [Borough] School, there are so many people who have different skin colors than I do. Why in my class, is there only one person that has a different skin color,'" Santora recounted. "This struck me as a young boy." 
These observations stayed in Santora's mind even when he entered college at Rutgers School of Business. The focus of his college thesis paper was: "Why isn't there more black executives in corporate America?"
"It seemed like ever since I was young, I was called to be a change agent in this area of racial reconciliation," Santora said. "This calling was God's preparation for me to bring change to the Church. As a pastor for the past 25 years, a core value of our church is diversity." 
Santora touted his church as being the most diverse in his community. To find a church as diverse as his in the area, he said someone would need to drive over an hour away. Having a diverse church took intentionality when choosing leadership, he said. 
"The Church here on earth needs to look like the church in Heaven. And for me, this meant openly submitting to not my black spiritual father but my African spiritual father. … My spiritual dad is African, and I openly submitted to Him in front of the congregation as the ultimate authority. I let that filter down into the leadership in my church," he described. 
He cited Revelation 7:9 to state how the gathering near God's throne will be 'every nation, people, tribe and tongue.' 
Santora said that for many church services, Sunday morning is the most segregated time in America.
Although some churches have been "forced" to be one people group, that should not be, according to Santora. 
"In order to feel comfortable in Heaven, we have to learn how to feel comfortable with each other on earth," Santora concluded. "Our responsibility as leaders in churches is to show the world what Heaven looks like. If we can't do this in church, how can we expect the world to do it."
"My challenge to all my pastor colleagues is be intentional on Sunday," he continued. "Make church look like how it will be for eternity." 
'A piece of salt in a sea of pepper'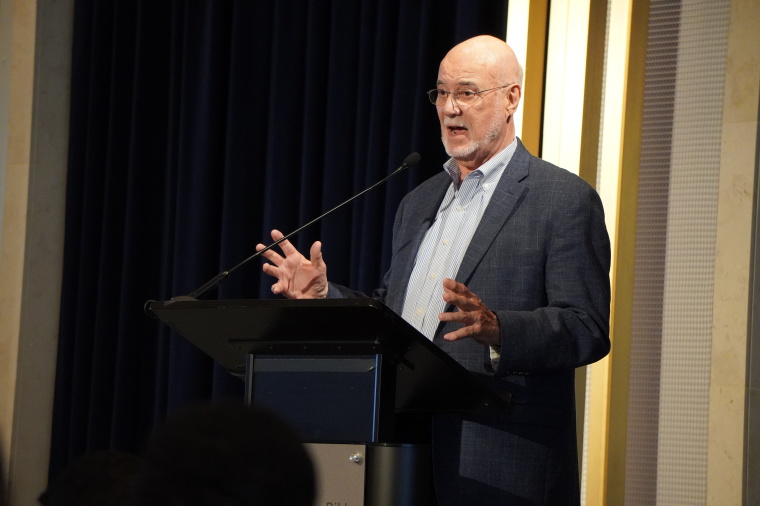 Rev. Don Kroah, the lead pastor of Virginia's Plymouth Haven Baptist Church and the 25-year radio host of "The Don Kroah Show" in Washington D.C., told the audience that "Satan loves vacuums."
"I believe that the culture has captured and has co-opted an issue that the Church should have dealt with a long time ago," Kroah preached.
Kroah said church leaders who don't do what's "right" leave room for Satan to act.
"When we don't model what's right, we leave a vacuum that Satan is happy to co-opt. And now, there's ungodly people trying to solve the problem that only the Gospel can solve," he continued.
"We have to look inside ourselves and say, 'We have met the enemy and he is us.' And I believe this is where we will find healing ... instead of blaming it on this or that or the other politician or someone else."
Before he founded his own church, Kroah recalls feeling led to attend another church that was predominately populated by people of color called First Baptist Church of Glenarden.
Kroah said, one night in March 2010, the Lord commanded him to become a member of the church. He became a member of the First Baptist Church and was later ordained by the pastor. 
"We need to not just say what we're going to do. We need to do it," Kroah said. "I love those people in First Baptist Church. I told the pastor, 'I feel like a piece of salt in a sea of pepper,' but I loved it because this is God's kingdom. This is God's Church."
Kroah said pastors and those in leadership positions have a responsibility to eliminate racism using the Gospel. 
"If every corporate executive, politician, president, member of Congress and judge were born again and filled with the Spirit, we would have the power to change things and do it right," Kroah stated to an ovation. 
Other speakers of the D.C. Talks event included National Association of Evangelicals Chairman John Jenkins, who pastors First Baptist Church of Glenarden; and Pastor Dennis Rouse of the Victory World Church in Atlanta. 
Starting on Dec. 7, faith leaders will join monthly Zoom calls hosted by a team of trained facilitators. According to a statement from organizers, the conversations will "invite real dialogue, full participation and creative approaches to address the issues."