'I'm almost afraid to hand you this,' Pastor James Meeks says in handing over megachurch to Charlie Dates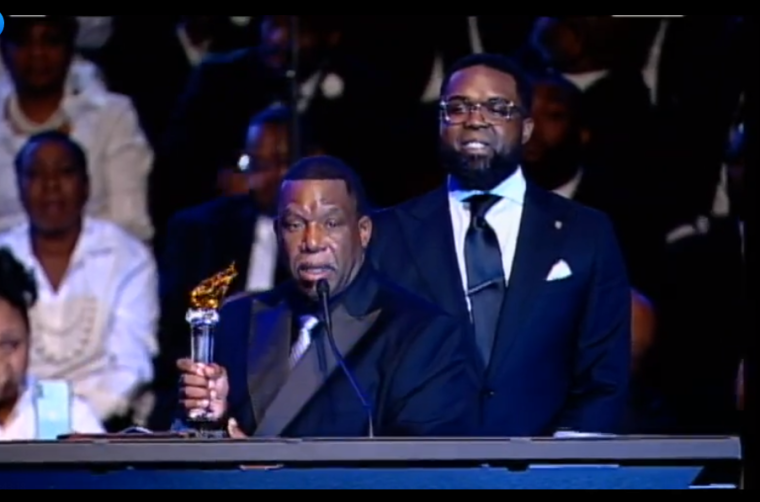 Founding pastor of the 10,000-member Salem Baptist Church of Chicago, James Meeks, said he was "almost afraid" to hand over the reins of the congregation he led for the last 38 years to Pastor Charlie Dates. In an emotional retirement ceremony Sunday, he revealed he is trusting God to give his spiritual son the strength he needs to carry on the ministry.
"I'm almost afraid to hand you this because I know the burden that comes with this moment," Meeks said during a ceremonial passing of the torch before a packed church that included the attendance of dignitaries like the Rev. Jesse Jackson Sr., U.S. Rep. Robin Kelly, D-Ill., and Chicago Mayor Lori Lightfoot, who also addressed the church during the event broadcast on social media.
"I know how many nights you aren't going to sleep. I've looked the devil right in his face. I know how many times the devil is going to tempt you to jump off that pinnacle. And Charlie, the only thing I could tell you is God's word will hold you," he added. 
"I know what it's like to be misunderstood. I know what it's like to walk into a group of people and smile and hug them and not even tell them what you know. I know what it is to keep a secret when a family comes to you and says, 'we know we could trust you.' And the responsibility that's getting ready to come on you is too heavy for any man to bear. I don't wish this on anybody, but I know that God will give you the grace, and you are God's man for this hour to be our next pastor," he continued. "So after 38 years of leading this church, it is with great delight, my spiritual son in the ministry, that I confer upon you the title new pastor of the Salem Baptist Church of Chicago."
Calling him "the greatest young preacher in our nation today," Meeks announced Dates as his successor last June.
Meeks, who is now 65 and served three terms as a state senator, founded the church in 1985 with his wife, Jamell. The congregation grew into one of the largest black churches in the city. 
"It's time for Salem to move forward. It's time for Salem to have younger leadership. It's time for us to bring in new families. It's time for us to bring in young people. We need a new vision. We need new ideas. We need new opportunities," Meeks told his cheering congregation at the time. "And God has blessed us with our own son who has agreed, starting January 15th, 2023, to be the next pastor of the Salem Baptist Church of Chicago."
Dates, 41, is a graduate of Salem's now-closed Salem Christian Academy. Meeks recalls meeting Dates when the young pastor was in the fifth grade. Dates also served on Salem's ministry team for a while before leaving in 2011 to serve as the leader of Progressive Baptist Church in Chicago. 
Meeks titled his final sermon on Sunday, "I Can Never Say Goodbye." In the sermon, he compared his retirement from church leadership to St. Paul's departure from congregations in the Bible.
"Nobody could ever make me stop loving you," Meeks said. "You have followed every crazy vision ... and look where it brought us."
In accepting the charge from his spiritual father, Dates highlighted some of Meeks' accomplishments, including baptizing more than 20,000 people.
"For over 38 years, Salem Baptist Church of Chicago has grown in wisdom and in strength, guided by the caring and insight of our pastor, Rev. James T. Meeks and first lady Jamell Meeks," he said. "Now it is time for us to bless them and release them as God has given them a ministry that will take new shape and focus."