1 Dead, 800 Injured as 3.5 Million Catholics Follow Blackened Jesus Statue With 'Miraculous Powers'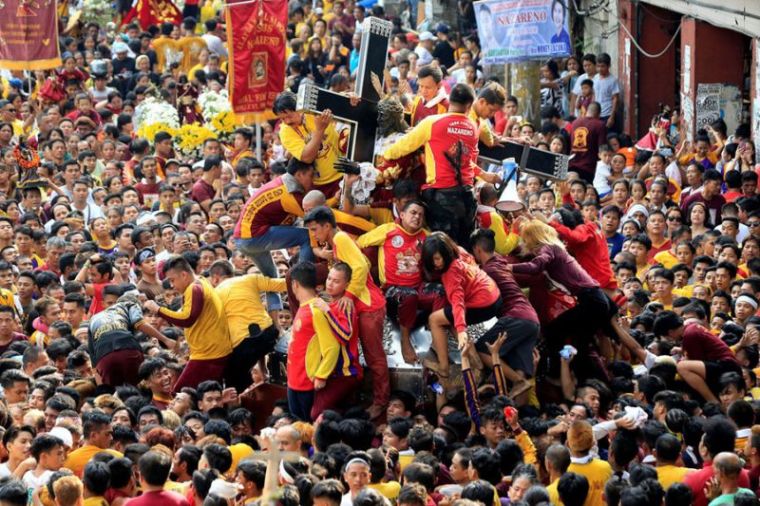 At least one person is dead and 800 others were injured in Manila, Philippines, where 3.5 million barefoot Roman Catholics followed a blackened statue of Jesus Christ, known as the Black Nazarene, which is believed to have healing powers.
The procession, one of the largest Catholics festivals in the world, took place Tuesday, with officials reporting on the mass injuries a day later, despite describing the event as "generally peaceful."
AFP reported that the one known death so far was of a former jail officer, who suffered a heart attack after attempting to climb onto the carriage pulling the centuries-old statue.
The Black Nazarene, brought to the country by Spanish missionaries in 1606, is believed to have 'miraculous powers,' such as healing people who touch it from illnesses. Others seek blessings and forgiveness for sins.
Reuters reports that other processions and religious rites are held across the largest Catholic nation in Asia, with as many as 105 million believers celebrating the major feast.
Over 4,000 police officers and soldiers guarded the procession in Manila, according to police chief Oscar Albayalde.
Some devotees swear that touching the Black Nazarene has made a great difference in their lives.
"My child is now a medicine graduate," one believer named Rogelio Lim told Reuters.
"I have been spared diseases. I have been blessed with a house. Everything we wished for. A good job. Everything. This is why I am here, to thank Him," Lim said.
Alvin Carlos added that he felt stronger after he touched the statue.
"Rain or shine, I gained the strength to continue because of my strong faith in Him," the man said.
As Catholic News Agency explained, the life-size statue of Christ is enshrined in a famous basilica known as the Quiapo Church, part of the Archdiocese of Manila.
The image has survived despite fires that have destroyed the church twice, earthquakes, floods, typhoons, and World War II bombings.
Msgr. Jose Clemente Ignacio, the rector of the Minor Basilica of the Black Nazarene, quoted Archbishop of Manila, Cardinal Luis Antonio Tagle, when describing the great devotion to the Black Nazarene: "To understand the devotee you have to be a devotee. Only a devotee could best understand a devotee."
"Here in Quiapo Church you can witness many stories of the faith of the people, those who are patiently lining up for seven hours without any complaints. They just want to pray and touch the image of Black Nazarene. There are huge queues for confessions," Ignacio added.
Mass injuries and deaths have been reported in past processions as well, with close to 100 injured during the 2017 event, while in 2016 two people died.