10 Nations Where People Suffer Extreme Religious Persecution Exposed in Major Report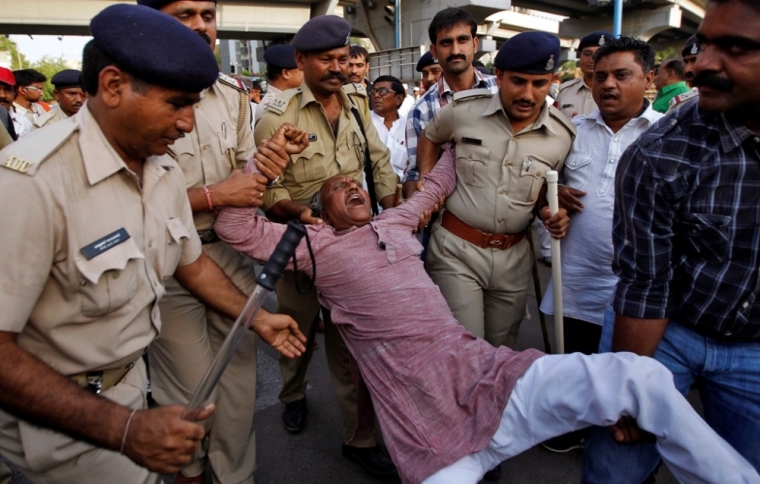 A major report on religious persecution worldwide has exposed the hostilities that Christians and other religious minorities suffer, revealing that as much as 80 percent of the world's population lives under high persecution.
The All-Party Parliamentary Group for International Freedom of Religion or Belief released on Wednesday its latest report, Article 18: From Rhetoric to Reality, detailing the rise in hostilities toward religions.
"Currently, some of the most publicized atrocities are taking place in Africa, Asia and the Middle-East and urgent action is needed to address the violations. Within these regions there are some religious minorities which are publicly condemned," Ahmed Shaheed, United Nations special rapporteur for Freedom of Religion or Belief, wrote in the forward.
"Individual members of some minority faiths are at risk of being put on watch lists, being denied access to public services, receiving corporal punishment in the form of hundreds of lashes or even of being assassinated in targeted killings," he added.
Shaheed explained that despite global efforts to protect religious freedom, "the scale of violations remains enormous, with almost 80 percent of the world's population living in countries with 'high' or 'very high' levels of restrictions and/or hostilities toward certain beliefs."
Among its numerous findings, the report featured a list of 10 countries where different religious minorities face significant persecution.
The list, in no particular order, began with the Rohingya Muslims in Myanmar, who are facing an ongoing ethnic cleansing at the hands of security forces. The most recent violence, which began in August, has led to the deaths of close to 1,000 people, while over 500,000 have had to flee to neighboring Bangladesh.
The oppression of evangelical Christians in Eritrea was second on the list, highlighting how believers are detained indefinitely for their faith.
"Many of them are subjected to torture, for example, by being bound in contorted positions for lengthy periods, or through prolonged beatings. There are credible reports of female Christian prisoners being beaten on their wombs, allegedly to prevent them from bearing children," the report exposed.
Other groups, such as Open Doors USA, have also reported on the extreme persecution of Christians in Eritrea, ranking the nation at No. 10 on its World Watch List.
The plight of Falun Gong practitioners in China; Hindus in Bangladesh; Baha'is in Iran; Jehovah's Witnesses in Russia; atheists and Shia Muslims in Saudi Arabia; and Hoa Hoa Buddhists in Vietnam also made the Article 18 list.
The ninth entry focused on the terror attacks on Coptic Christians in Egypt, with hundreds killed since June 2016.
"Despite positive government rhetoric and attendance at Christmas masses, mob violence and Islamist attacks on churches, Copts and their property have increased over the past two years and no licences to build churches have been granted," the report explained.
"Since 2011, over 550 Coptic girls have allegedly been abducted, converted to Islam and married. Police are reported to have frequently refused to investigate cases against Copts."
Finally, the researchers warned that Jewish and Muslim communities in the U.K. are also being targeted, with the number of anti-Semitic incidents rising by more than a third to record levels in 2016.
They pointed to statements by the Home Affairs Select Committee noting that "most legal provisions in islamophobia and anti-Semitism predate the era of mass social media," with the U.K. government called to "immediately review the entire legislative framework governing online hate speech, harassment and extremism and ensure it's up-to-date."
The report urged the government to "give serious consideration" to implementing a number of its recommendations, such as designating Freedom of Religion or Belief a political priority for Foreign Secretary Boris Johnson, and a strategic priority for both the Foreign and Commonwealth Office and the Department for International Development.